Our house is very much pro-Eurovish, with most of us getting into the spirit of high camp on offer. It is a night, after all, that is guaranteed to be visually stunning – if not always aurally so.
Nay-saying guests usually come round to our point of view, if we feed them enough Danish smørrebrød and Bosnian cheese, washed down with much Moldovan wine.
So if you have already cobbled together a version of a national costume, sourced the snacks and drinks representing each finalist, and compiled your super Euro quiz for this weekend's spectacular, here's some residence-related trivia about our dear European co-competitors, in order to keep you amused between the acts.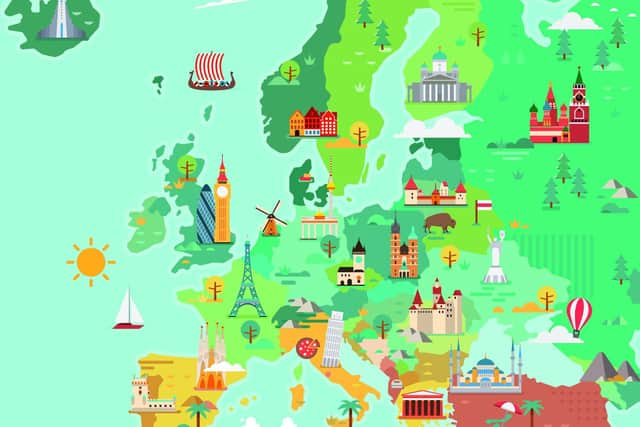 Moldova is the cheapest place to buy property in Europe, being the only country with an average house price under 50K, at £49,673. Paired with an average monthly bill of £84 for basic utilities, it is a very cheap place to live.
However, Eurovision success for Moldova remains elusive... so far.
North Macedonia – best result, seventh place in 2019 – has the highest number of home owners, at 89 per cent of its two-million strong population.
Meanwhile, the most expensive city to have hosted the contest recently is Helsinki, with an average property price of £313,472. No wonder the 2006 winners for Finland, Lordi, seemed a little irate.
Glasgow narrowly missed out on hosting this year's event, and accommodation providers in the city must be ruing the day that Liverpool got the gig instead.
Such an influx of performers, backstage staff and audience members, plus those coming just to soak up the atmosphere, means that there is a massive uptick in hotel prices rippling out from the main auditorium.
Last year's Turin show and even the Covid-era's 2021 event in Rotterdam saw a general increase of £200 to £250 for the contest weekend, making rooms cost about £600 for a two-night hotel stay.
But analysis suggests that the average price paid for a room in Liverpool on the night between the 13th and 14th of May 2023 reached £2,275 just after the announcement.
Boom-bang-a-bang, indeed.
The most financially successful band in the history of Eurovision is – of course – Abba, with a combined net worth of over a billion dollars.
But did you know that in 1982, the group's members Agnetha, Björn, Benny and Anni-Frid designed and built a house in Florida for them all to live in together?
The 4,527sq-ft property was only home to the two married couples for a short time before the break-up of the relationships and then the band.
It was back on the market last year, and it is certainly a curiosity. Designed as a Swedish Long House, it is made up of two identical wings – one for each couple – with a joint socialising space in the middle.
At $3.25 million, it was hardly going for a song but, with such a layout, I bet the members of The Brotherhood of Man were tempted.