Kirsty McLuckie: Going Dutch on moving in
Buying and selling a property often coincides with other milestones in life. Coupling-up, having children or losing an elderly relative can all have a major effect on your family dynamic, your finances and your property requirements.
The announcement of your first bouncing bundle of joy, for example, means that your days in a one-bedroom flat will probably be numbered. The arrival of kid number-three or four might prompt you to consider a loft conversion to make space for all.
And, in a market with a scarcity of available homes, someone passing away – whilst sad – at least could provide an opportunity for a bereft buyer looking to move into a popular neighbourhood.
There is a great line in the 1989 film When Harry Met Sally which proposes combining newspaper announcements of the recently deceased with a property advert.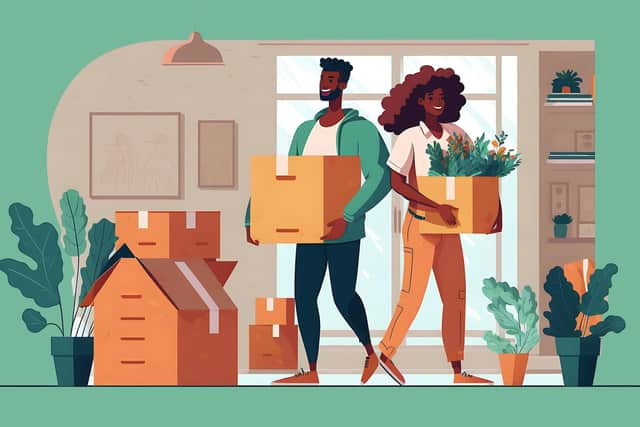 Billy Crystal, as Harry, says: "They should put the two sections together, real estate and obituaries. 'Mr. Klein died today leaving a wife, two children, and a spacious three-bedroom apartment with a wood-burning fireplace'."
But, 30 years on, with rising prices putting home ownership out of reach for many young people, perhaps it is the matching, rather than the hatching or dispatching, sections of the personal ads which should concern someone wanting to buy their first property.
Higher mortgage rates and squeezed budgets mean just 37 per cent of first-time buyers taking out a mortgage now are purchasing solo, according to data from Halifax, with 63 per cent of first-time mortgages being taken out in joint names.
This is a huge change compared to 2014, when 57 per cent of buyers bought on their own.
This decline in the proportion of young people purchasing their first property alone may also be a reflection of the rise in the age of first-time buyers. After all, if we aren't buying until our 30s, we are more likely to be settled in a long-term relationship.
But such a flip in the numbers – in under a decade – shows how difficult it is to get on the property ladder solo, with salary to house price ratios diverging across the UK. Getting a mortgage of about four or even five times your salary for one person on, say, £30,000 a year, is not going to afford much in Scotland, particularly in the Central Belt.
But doubling your purchasing budget – with Mr or Ms Right included in the bid – opens up many property possibilities.
With that in mind, maybe your dating profile should mention your excellent credit score and the impressive size of your deposit.
To a fellow FTB it could prove a lot more attractive than a mere GSOH.
For those who would like to invest in a home before or without finding a life partner, there is another route.
Scots law allows friends or family members to buy as joint owners, meaning you each own a percentage of the property separately, and it doesn't need to be an equal split.
A legal document setting out when to sell, how much notice is needed, and how much of the proceeds each party receives should make it a fairly straightforward process.
So if you trust a pal, and can bear to live together, it's bound to be less of a minefield than a rom-com route.