Kirsty McLuckie: cuddle-up concept of friluftsliv is here
Could a change in your bedroom decor help you get a better nights' sleep? Getting your full quota of shut-eye can be an elusive goal, but it is increasingly seen as a major contributor to physical and mental health.
And while you may follow all the recommendations to help you doze off – eschewing screen time before bed, making sure your room is dark, setting a regular routine for waking – some believe that creating a calming environment in your bedroom's decor can make a major contribution to a good sleep.
As ever, with such routes to wellbeing, much of the advice comes from Scandinavia. While we may have already benefitted from the hygge trend of cosiness in other parts of the house, in our boudoirs we are advised to embrace friluftsliv.
Pronounced "free-loots-liv", this is a Nordic way of living – apparently very big on TikTok – where the idea is to reconnect with nature and encourage the embracement of the outdoors, no matter the season. It roughly translates to "living in fresh air" and has been around for a while – notable Norwegian playwright Henrik Ibsen was a keen proponent.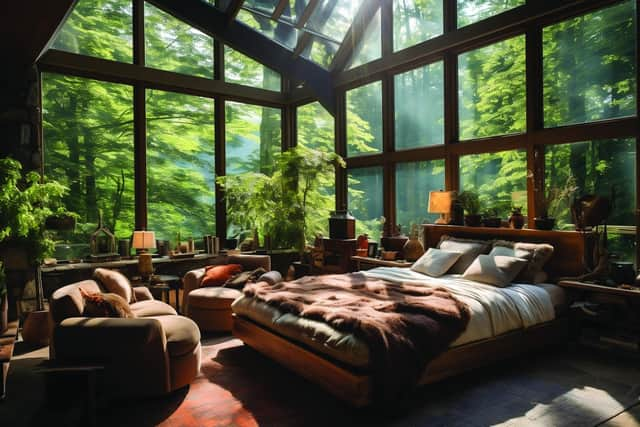 In the case of our bedrooms, while the easiest way to introduce this is to leave the window open, it isn't always practical depending on what your dwelling overlooks.
But the style encompasses everything from colours, sights, smells and textures, and online furniture company Happy Beds has come up with a guide to achieving friluftsliv for a better slumber.
Getting the palette right is key, with pared-back, earthy tones thought most likely to engender a superior quality night's sleep.
The guide advises that warm, neutral colours are perfect for a friluftsliv bedroom, so think green, warm white, light brown, blue and muted orange. These capture the outdoor world, bounce light around the room, and can even help to make smaller rooms appear bigger.
In addition, green is said to help reduce blood pressure, regulate the inner balance of your body, and even help to overcome insomnia due to its calming qualities.
When it comes to bedclothes, you should opt for 100 per cent natural materials, such as cotton or silk. These are more breathable and can prevent sweats or hot flushes that can cause a fitful night.
You should also aim to pick white bedding. Not only does white work perfectly with the friluftsliv trend, but it is the best bed linen colour, being associated with calm and tranquillity.
For the bedroom furniture, wood is believed to provide the best close-to-nature vibe.
Scents are important too. Cedarwood – with its organic, woody tones – and aromas from flowers and plants are said to help regulate the nervous system. And a recent study found that groups inhaling the woody yuzu fragrance before bed went to sleep easier than those that didn't, and even felt better the next day.
Another study suggests that inhaling the smell of coriander can reduce your REM latency, or the time it takes you to fall into the first sleep stage, which is particularly important for learning and memory. If you aren't keen on the scent of coriander, other sleep-inducing plants include snake plants, spider plants and gardenia.
Also, biophilic or plant-patterned wallpapers and artworks in the bedroom are said to elicit strong, positive emotions, and lead to better relaxation than other imagery.
If all else fails, try counting sheep, leaping – of course – through fresh air.​