Whether the trend is inspired by Their Majesties, the latest period drama, or as a backlash reaction to the very thin times we are living in, sumptuousness is on the rise in home decor.
Chris Harvey, interior expert at radiator specialist Stelrad, says online searches for velvet curtains and furniture, tasselled pillows, and bold patterned fabrics and wallpaper have risen considerably, while householders are also researching Regency paint colours –powder blue, lavender, blush pink and mint green.
In terms of big-ticket items, both clawfoot baths and four-poster beds are attracting attention.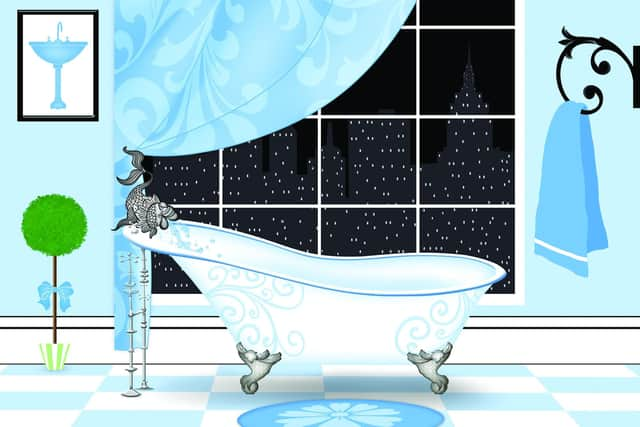 Certainly soaking in the former before turning in for the night in the latter would be a surefire way to add some regal decadence to your nightly routine.
But, while the public parts of the royal residences are indeed bedecked in damask, gilt and brocade – all the better to showcase the priceless art – behind the scenes, the Royal Family's private apartments are more pared down.
Tina Brown wrote about the personal style of the late Queen and Prince Philip in her book The Palace Papers. She says both had the attitude of "wartime thrift" where nothing was ever replaced unless absolutely necessary.
At Balmoral, Brown reported: "Any damage to the walls is patched up by wallpaper bought more than a century ago by Queen Victoria."
And she claims Prince Philip's taste was the very opposite of Regency opulence: "The study in his private quarters on the Sandringham Estate, where he spent much of his retirement years, was as minimal and uncluttered as the boardroom of a ship."
King Charles is apparently fervent when it comes to sustainability. Upon his second marriage, the interior designer Annabel Elliot –Camilla's sister – was employed by the couple, bringing a style that is reported to be less chintz, more comfort, with a focus on local craft.
Zoom interviews during lockdown allowed the viewing public rare glimpses of the other royal houses.
The interior of Anmer Hall, home to the then Duke and Duchess of Cambridge, appeared with soft and neutral decor – creams and beiges, with a plethora of lamps and family photographs.
There are rumours that the children's bedrooms contained IKEA furniture, which fits with Kate's approach to her wardrobe of mixing high-end and high-street.
The somewhat controversial refurbishment of Frogmore Cottage when the Sussexes were in situ did include spending £5,000 on a William Holland copper bath.
Harry and Meghan also installed a yoga studio – which might be luxurious, but hardly Regency.
Checking the US-based couple's documentary for style tips, rather than insider chat, reveals that their current Montecito pad has a very West Coast Modern-vibe, with Hermes blankets, stripey cushions and monochrome artwork.
Perhaps they have realised – like anyone else who is thinking of embracing Regencycore with its furbelows, antiques, ornate frames, and panelling – it may look opulent, but it is a royal pain to dust.