Kind-hearted builder completes DIY SOS-style renovation for West Lothian actor after horror pick-axe attack left him a double amputee
A kind-hearted builder completed a DIY SOS-style renovation for a West Lothian actor after he was brutally attacked with a pick axe and left for dead.
Gary Kerr of Jax Design & Build in Dunfermline renovated the bungalow for local author and actor Ian Colquhoun, who had to have both legs amputated after the horrific ordeal.
Ian, who has starred in TV shows including Taggart, was brutally attacked with a pick-axe during an unprovoked assault in Ireland in 2002 and left for dead, while the home he was in was set alight.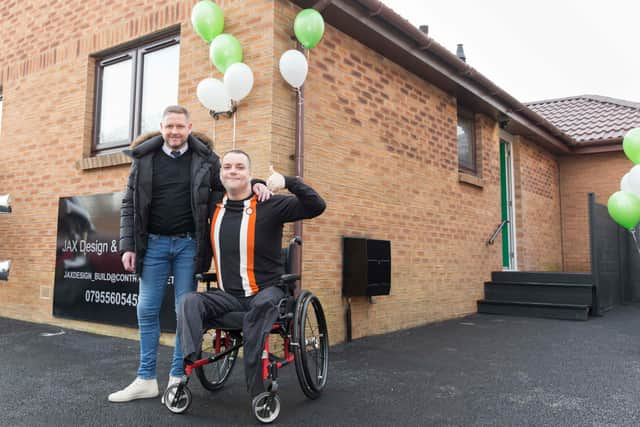 Luckily, he was pulled out of the wreckage by a local police officer and survived, but his injuries meant a double amputation of his legs and partial loss of one hand as well as suffering 65 per cent burns to his body.
After living in council accommodation in Edinburgh, Ian became unwell and moved back to West Lothian to be nearer family in 2015.
Although he felt extremely lucky to have been given council housing in both Edinburgh and West Lothian, these weren't fully accessible and so he started looking for his own place.
Speaking about his previous homes, Ian says: "West Lothian council was absolutely brilliant, so were Edinburgh, but these weren't houses with a wheelchair user in mind - there were just the basics (for disabled tenants). The last place I was in was really small and it was hard to turn the wheelchair. The council did what they could to make it accessible, they were great, but my new place - it's like night and day."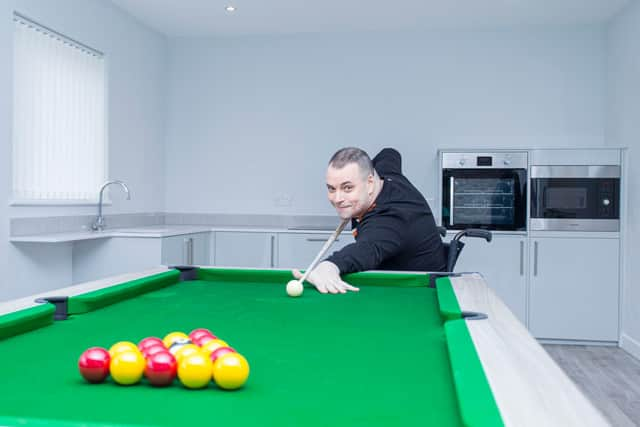 'He took care of everything'
In April 2019 Ian was introduced to Gary, who had completed work at Ian's sister's home. Gary took on the job of finding, buying and renovating Ian's new house to help alleviate any stress Ian may feel in the process, due to his PTSD.
Ian says: "There was no way that I was up to dealing with all the stress of buying a house. I'd have been relying on friends and family not only to help buy the house but getting it adapted in dribs and drabs. But Gary took care of everything - he came to see me, found a house that I liked, negotiated the sale and from then on, every step of the way, he took care of everything.
"Everything has been finished to a high standard and (this new house) has immeasurable improved my quality of life. If it wasn't for him, I don't know where I'd be right now."
Gary and his team took into consideration important aspects of Ian's home in Livingston, such as turning circles to things such as accessibility - from outside and in the bathroom - as well as sourcing special sliding doors and, on Ian's request, a pool table.
Commenting on the project, Gary said: "By the time that I met Ian, he, along with his mum Betty, had been looking for a new home for him for about two years. I spoke to him - we got on well as we are Hibs fans - and found out what properties he liked and where he was looking to buy, which was east of Livingston towards Edinburgh. I researched a few places and finally found the house, and negotiated the sale. Once we had the house I picked Ian's brains about what he needed and wanted.
"My architect John and I designed the whole thing from scratch. We extended the house to over 100 square meters.
"Certainly working on this job, you realise what you take for granted. I worked my way through it by learning and being with Ian most days.
"Slowly we progressed and got planning permission and built the extension and we've recently finished his garden, which is about 80 square metres of maintenance free decking."
Gary quickly realised he needed to take into consideration was the ventilation in the home and how Ian was going to move things around himself.
"One thing I didn't realise was the burns victims don't sweat, so we had to make sure the house was as cool as possible for Ian in the summer," Gary said.
"The kitchen has been fitted with appliances that are at Ian's waist height and easy to access. Plus we designed and built him a bathing room."
"The whole thing has been life changing, not just for Ian but his family as they've had to witness him going through, not just the effects of the attack but life afterwards. When Ian saw the house for the first time his mum was with him and it was great to see her son finally having a lovely place to stay.
"Working on this home was a unique experience for me both professionally and personally. I've learned so much from this job and I hope that I could maybe help someone else in a similar way."