Interior inspiration: inside a stylish family home in a sought-after Glasgow location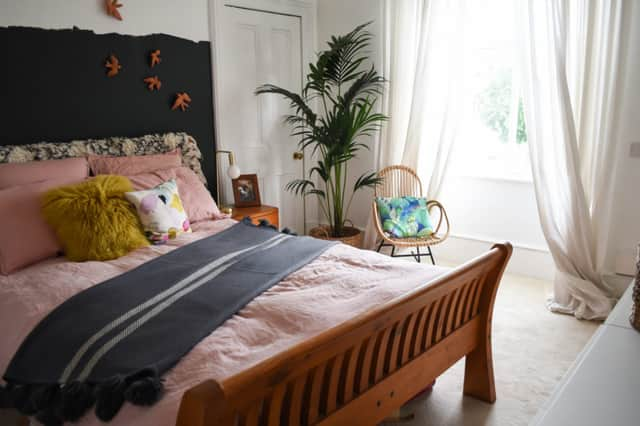 After renting their flat in Glasgow's West End, Wendy Gilmour and her husband Scott seized the chance to buy it and design the interior to their eclectic taste to create a stunning family home
"It was the huge, high ceilings, period features, big rooms and views of the park that really sold us on our flat," says Wendy Gilmour.
"This was why we were over the moon when we had the chance to buy it after renting for nine years."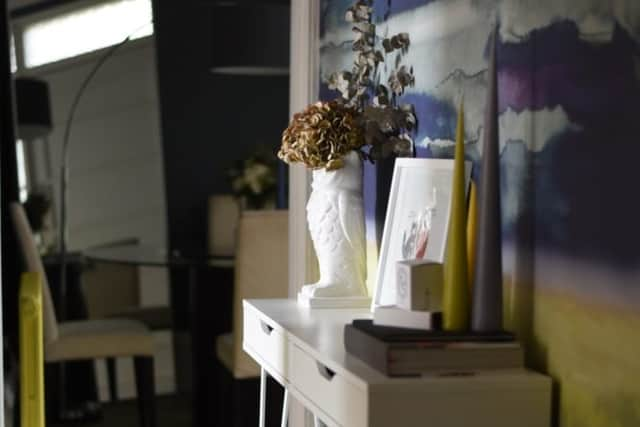 The two-bedroom flat on Royal Terrace in Glasgow's leafy Park district is on the Finnieston side of Kelvingrove Park, and, along with her husband Scott and baby Hunter, Wendy lives here with her two Finnish Lapphund dogs, Karhu and Tux.
As well as running a lifestyle blog, Thankfifi.com, she works for Glasgow-based fabric and interior company Bluebellgray which she says has influenced her home.
"Being involved in a company like Bluebellgray and going to trade shows you become exposed to different brands and up-and-coming designers that you might not have come across otherwise.
"I would never have thought to have a yellow radiator [sourced from Cast Iron Radiators] in my house if I'd not worked somewhere like Bluebellgray."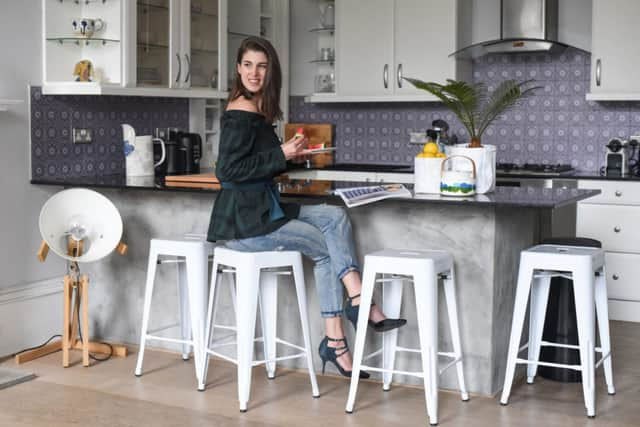 After buying their flat, the couple set about putting their stamp on it. "After we bought the flat we did everything in the space of a year," says Wendy.
"The first thing we did was put in wooden floors as we had cream carpet throughout the living room, kitchen and hall, and about the same time we purchased the flat, we got our second dog.
"I said I can't do cream carpets any more. So we put down engineered oak flooring. Then we painted and everything went from there."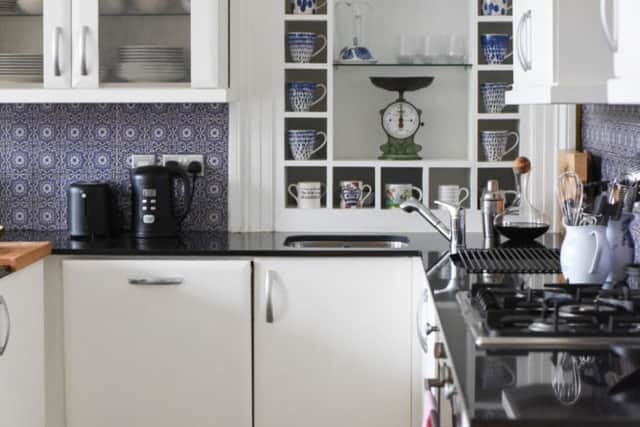 She knew what she wanted to do in each room, but convincing Scott, her family and the occasional builder was the challenge.
"I was always trying to convince everyone that my ideas were going to work out," says Wendy.
"First of all, I had a bit of hassle with the concrete around the kitchen island. I wanted to cover two sides of the island in concrete, which was met with resistance and confusion.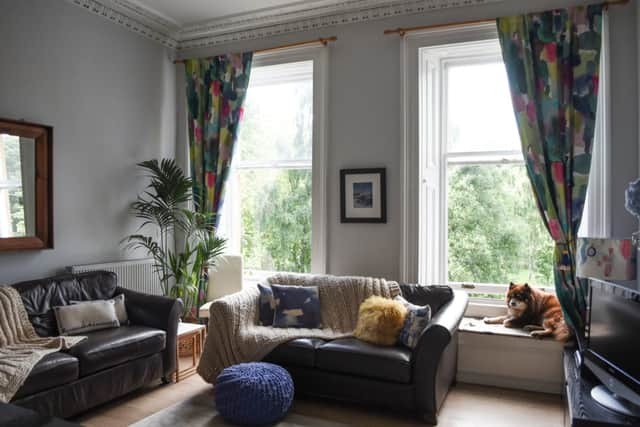 "My father-in-law did the work for me – he investigated how to do it and made friends with the guys from the builder's yard when we were working out what we needed.
"He was asking them how to do it and they were asking 'why are you doing this?' He said he didn't know, but everyone liked it once it was done – plus it gives me a great backdrop for photographs for the blog."
As well as the concrete island, Wendy was keen to given the kitchen a refresh, something she has done on a budget.
"The kitchen is my favourite space, it's so much brighter now and it wasn't too hard or costly to do," she says.
First the brown cabinets were painted with Annie Sloan Pure White chalk paint, then Wendy chose tile stickers from Beija Flor World, which instantly transformed the old tiles without too much hassle.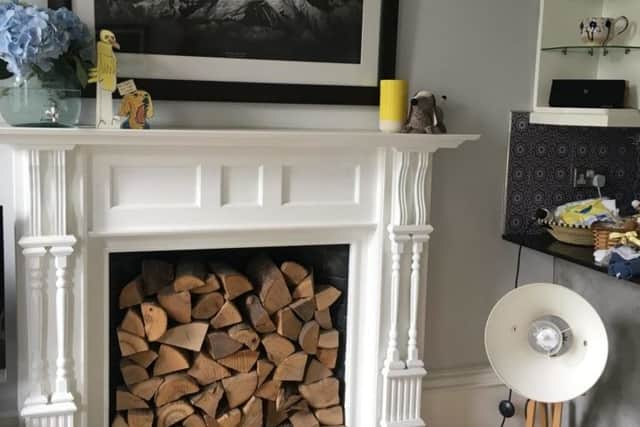 The living room is open-plan with the kitchen. "The vibe in the living room is a collection of things and a mixture of styles, from art pieces picked up on travels to the old classic furniture and a whole lot of Bluebellgray," says Wendy.
"Other than the views over Kelvingrove Park, my favourite thing is the fireplace.
"Two years ago we painted the varnish in matt white, poured a concrete hearth – and got concrete dog bowls to match – and filled the whole thing with logs: if I can't have a real, open log fire, I might as well have the next best thing. I love it."
Another makeover was the master bedroom. "It would be fair to say we started with a blank canvas – white walls, cream carpet, white Ikea units, and I wanted to create a feature wall.
"So I pored over the Farrow & Ball colour charts for a long time before eventually choosing the super dark Studio Green. I painted a broken line with the roller around eye level to create the feature.
"The colour is really dark and matt, and looks thick, green in the daylight and almost blackish by night – perfectly matt. I'm really happy with how it turned out.
"The finishing touch was the terracotta swallows, which I stumbled across in a little Portuguese boutique, Casa Cubista," says Wendy.
The half-painted walls and the pink bed linen were ideas that met a bit of opposition, though Scott now likes the finished room.
The pink washed bed linen is from La Redoute, as is the wicker rocking chair – a purchase that Wendy decided on when looking for a nursing chair.
"The washed linen is so muted that, apparently if you dress it up right, you can even get it past the man in your life.
"Green and pink are one of my favourite colour combinations and against this wall it's far from feminine," says Wendy.
So how does she plan to overcome any future opposition to her ideas?
"What I have started doing now with my husband is, I'll show him an inspiration picture on Pinterest and say 'this is what I am thinking'.
"Then I'll show him the product, colour or whatever it is so he then has a reference in a visual setting and how it'll look when it's finished," says Wendy.
"Pinterest is my best friend. Although sometimes you see something and think, 'that is exactly what I want', and it doesn't matter how hard you research but you can't find it anywhere."
For the next project she is keen to start on the bathroom. "I want to go for something like a crazy herringbone patterned jade green tile on the walls and floor," she says.
But for now she is happily enjoying her home, motherhood… and Pinterest.