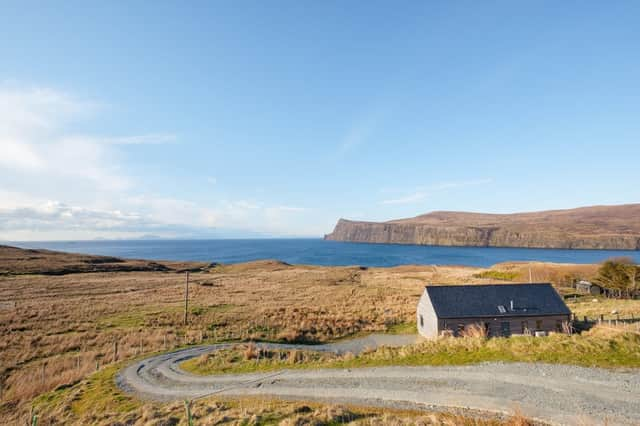 The Bolds have had some unexpected visitors since building the Wood House on Skye
A kit house provided the perfect opportunity for Sarah and Jason Bold to create their own holiday home on the northwest of Skye.
"Sarah and I first came to Skye about 20 years ago," Jason explains.
"For about four or five years, we kept renting the same cottage, and eventually we decided we should try and realise something for ourselves."
The couple did their homework and in 2006 managed to purchase a plot close to where they had been renting.
They then set about finalising what they could afford and what they could actually build with that money.
"We looked at the project initially as very much a holiday house for ourselves," says Jason.
"We were living in London with young children and it was an opportunity to escape the city.
Sarah is from Australia and for her I think part of the attraction of Skye was big skies and horizons, which you don't get in London.
Indeed, the one thing that was really important to us in the design of the house was that it had a floor to ceiling window in the bedroom. We wanted to drink tea in bed on a weekend morning."
Although the couple's home in London was a Victorian property, their passion is modern architecture and they wanted to create a holiday home that reflected this.
"Our budget didn't allow us to go down a completely bespoke route, but through Dualchas Architects we found Hebridean Homes, who have a portfolio of kit houses designed by Dualchas.
"The design we chose has quite a compact footprint but it's a great use of space and feels larger than it is," says Jason.
"There's a double-height living area which is open plan to the dining room and semi open plan to the kitchen.
"Elsewhere on the ground floor is a utility/boot room and two bedrooms – one of which we've made a bunk room, which is great for kids, and the other is a king size bedroom with en-suite.
Upstairs there are another two bedrooms and one en-suite.
Much of the holiday accommodation being built on Skye is with two or three bedrooms and adding the fourth bedroom was one of the tweaks we made to the design to suit our needs."
Underfloor heating has been installed throughout the ground floor although the heating system has recently been upgraded, as Jason explains: "Ten years ago technology was a bit further behind and we had a heat recovery system, which was great at the time, but we've just changed to the air source system over the winter and it's super warm and more energy efficient."
While the property was designed for the family's needs, in 2010 they decided it made financial sense to start offering the property to guests.
"Visiting three times a year wasn't enough to justify the expense, but it is still very much a reflection of our tastes and personalities," says Jason.
"The antique dining table with the contemporary Tom Dixon lamp above is very much what we're about.
It's a mixture of modern and antique but not having too much clutter, just everything you need.
"For us, the Wood House still feels like a home rather than a holiday rental, which is what we were aiming for.
"It's also incredibly private, which was important to us. There is a scattering of houses nearby, but we are about as far west as you can go on Skye, so we're pretty secluded.
"It's a very beautiful and dramatic location. We positioned the house so the view is all about the sea."
And the sheep apparently, as Jason explains: "A sheep cracked one of our windows last year. It was the window that we call our 'widescreen TV', it's 3.5 metres wide and this sheep kept headbutting it until it cracked.
"We liked the sheep coming up on to the deck, but the insurance company suggested we did something to ensure it didn't happen again.
"So, we've recently planted 100 trees and put up livestock fencing around the plot perimeter, which has helped the trees get established, without getting eaten.
"However, we've made sure the fence is low enough that it doesn't detract from the view."
The view at the Wood House isn't something the family need as much as they used to, as four years ago, they moved to Skye permanently to live on a croft.
"Sarah is an artist and she paints from the croft. We keep livestock and I work mainly from home as a business consultant.
"The kids, who are now nine and 12, love island life and the freedom it affords them. They like to go to the city, but Skye is home for them."
The crofter's cottage the family call home required a lot of TLC but again it didn't really fulfil their love of contemporary architecture, and two and a half years ago, Jason and Sarah started another, more modern, project.
"Our new self-catering property, the Black House, has just launched and this time we've had a lot of input on the design, self-built the house with our own chosen trades and chosen all our interiors," says Jason. "I feel like we've almost come full circle."