Five Sisters Zoo sets up new landscaping company to fund care and rescue missions for endangered animals
A Scottish zoo, which has agreed to rescue a bear found near to death in an abandoned facility in Ukraine, has started an entrepreneurial fundraising venture.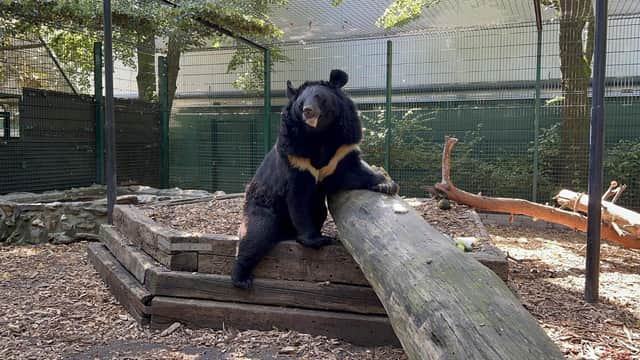 In the heart of West Lothian, Scotland, lies a sanctuary of hope and transformation. Five Sisters Zoo is a place where the mission is not only to protect and care for rescued and re-homed animal, but is also committed to running special and compassionate projects that make a difference. Projects like the rescue of Yampil – an Asiatic Black Bear left to perish amidst the war in Ukraine.
When Ukrainian soldiers entered the village of Yampil, Ukraine, after five months of Russian occupation, they discovered an abandoned zoo on the outskirts. Out of nearly 200 animals at the zoo Yampil the bear was one of the few animals to survive the invasion. A Belgian organisation took him and appealed for a forever home for him.
Having rescued bears and other animals before, and caring for more than 160 different species from all over the world since 2005, the family-owned zoo knew it had to jump in to save Yampil the bear – named after the village he came from in Ukraine.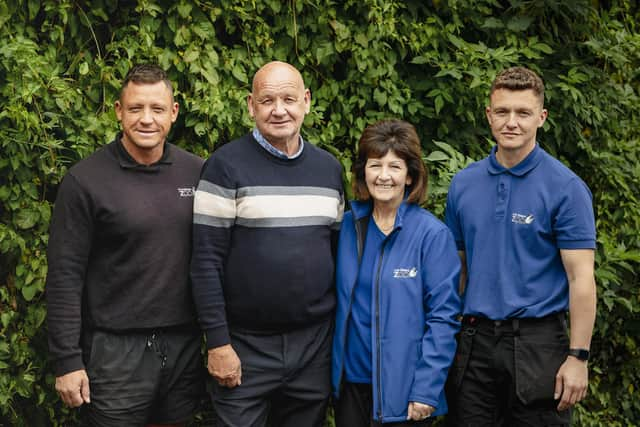 It needs to raise around £200,000 for a brand new enclosure for Yampil, and is inviting people to donate to help with this as well as the cost of his future upkeep and veterinary care, at Five Sisters Zoo for the rest of his life.
To try to raise the money Five Sisters Zoo has announced the launch of Zoolutions – a new dynamic arm of the business dedicated to raising funds for such extraordinary undertakings in an entrepreneurial way. By offering the landscaping services of their extremely talented zoo team, Five Sister Zoo created Zoolutions to help raise money for an incredible initiative. Brian Curran, owner of Five Sisters Zoo, told us more.
A hero's journey: The Yampil rescue project
"When we were made aware of the awful treatment and conditions Yampil was subjected to, our hearts broke; we were just so amazed he was still alive and well," Brian said.
"When the volunteers found Yampil, a shell had not long exploded near his cage, and he was concussed. He was in terrible condition; five more days and they wouldn't have been able to save him."
Although the zoo has rescued bears before and has facilities for them, this will be the first Asiatic black bear and will need a whole new enclosure.
"We are well aware of the cost-of-living crisis and of people's difficult financial situations, but should anyone be in a position to help, we would really welcome their support and generous donations."
A multifaceted approach: Zoolutions' expertise
Zoolutions is more than a fundraising arm; it's a powerhouse of talent and skills that extend far beyond the borders of the zoo. With over 40 years of experience in landscaping and building, the team possesses a wealth of expertise in transforming ideas into reality. By supporting Zoolutions, you are not only getting a quality landscaping service – you're ensuring that Yampil's tale ends in a place of love and care.
"Whether you have a vision for a garden makeover or need expert landscaping services, we are here to make it happen," Brian said.
Garden Design: From conceptualisation to execution, Zoolutions will bring your dream garden to life, ensuring every detail is meticulously crafted to your satisfaction.
Landscaping Services: They specialise in garden tidy-ups, grass cutting, tree and hedge pruning, topsoiling, turfing, grass seeding, and various types of planting.
Weed Control and Lawn Treatment: Say goodbye to unwanted intruders in your garden. They provide expert weed control and can pamper your lawn with the care it deserves.
Water Features and Garden Styles: Whether you desire a tranquil water garden or an oriental-inspired oasis, Zoolutions can turn your vision into reality.
Fencing and Hard Landscaping: Their skills extend to fencing, sandstone paving, monoblock installations, driveway tarring, and the construction of free-standing brick and stone walls, including retaining walls.
Quality assurance: Their promise to you
At Zoolutions, customer satisfaction is a priority. Brian said: "We take immense pride in our work, which is hopefully evident through our extensive list of hundreds of satisfied customers. Our commitment to excellence even extends to our payment policy; we never ask for a partial payment until the work is completed and the customer is entirely content with the results. This is our way of ensuring your peace of mind and demonstrating our dedication to delivering quality craftsmanship."
The expertise and dedication of Zoolutions extend far beyond the borders of Five Sisters Zoo. Any landscaping or building work within the zoo premises was most likely have been carried out by its skilled team members, who are now available to bring your outdoor dreams to life.
To request a quote or discuss your landscaping and building needs, please reach out to Brian at [email protected] or call 07584324920. They offer free estimates and cover most areas across central Scotland.