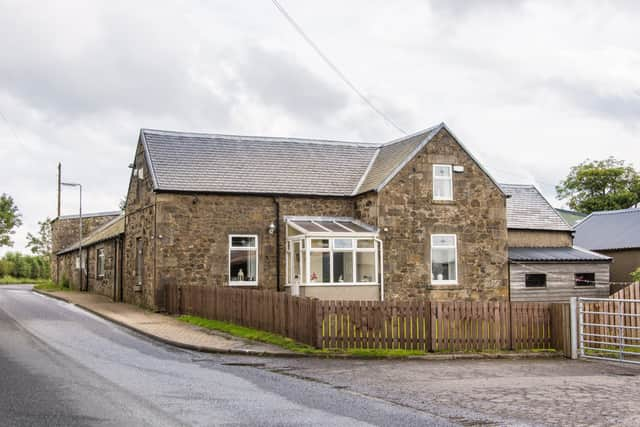 Scottish property consultancy, Galbraith has launched a productive amenity farm and farmhouse to the open market in central Scotland.
Loch House Farm is located in a sought after rural yet accessible location close to Falkirk.
The farm comprises a traditional farmhouse, productive area of pasture land and amenity woodland, as well as an extensive range of modern storage buildings with an area of additional land and builds offering longer-term development potential.
Picture: Loch House Farm farmhouse, Galbraith
The farm, which extends to some 90.03 hectares (222.46 acres) in total, is for sale as a whole at offers over £715,000 or in three separate lots and will be of interest to a number of potential parties.
Duncan Barrie, head of farm sales at the Galbraith Stirling office, said: "Loch House Farm presents an excellent opportunity for someone looking to purchase a productive farm offering a stable investment option whilst being able to enjoy family living in a rural setting.
"The sale also presents a number of longer term development prospects and in splitting the sale into three lots it may attract those seeking a new business opportunity or to expand their current holdings."
Lot 1A compact amenity unit including the traditional farmhouse with a range of outbuildings and block of land extending to about 19.02 hectares (47.0 acres) in total.
Lot 2A productive block of farmland extending to approximately 39.99 hectares (98.82 acres).
This land includes a mix of grade 4.1 and 5.1 which is currently laid down to permanent pasture, having been let out for grazing on a seasonal basis.
The land offers longer-term development potential subject to necessary planning consents.
Lot 3A compact block of farmland and woodland extending to about 31.02 hectares (76.65 acres) sitting to the north of the property.
The majority of the land is classified as grade 4.1 by the James Hutton Institute.
Situated 2.5 miles to the west of the village of Avonbridge and 8 miles south from Falkirk, Loch House Farm is ideally located to enjoy a scenic rural setting while being within easy reach of central Scotland.
The surrounding area offers a good level of local amenities and is the perfect place for outdoor enthusiasts with Loch Lomond and The Trossachs National Park being only a short drive away.