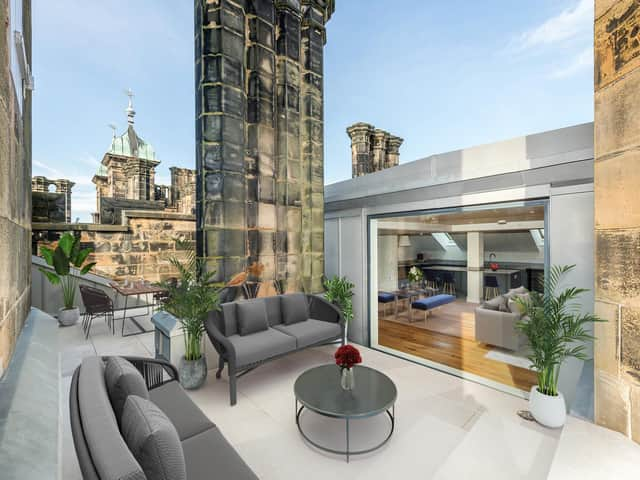 Picture: submitted
Our featured property this week is a three bedroom Penthouse apartment at The Playfair at Donaldson's and is unique in its layout and design amongst the properties being built in and around the former school which was in use up until 2008.
The property, on the market for a fixed price of £1,550,000, comes with a terrace, spacious master bedroom with dressing room and ensuite complete with a shower and free-standing tear drop bath.
There are two further double bedrooms, both with original features, generous storage space and benefit from a close-by stylish bathroom.
There is also a snug room on the mezzanine level which could be used for a home office or private cinema room.
Olivia Hutley, marketing manager at developers City & Country, said: "There is a romance about Donaldson's with its history and how it sits at the edge of the city separate from everything else.
"Our in-house conservation architects have restored the building sensitively and have made sure that the essence of it hasn't been lost.
"People love the fact that Queen Victoria said she would swap her home at the Palace of Holyroodhouse for Donaldson's which is a nice fact you can tell someone when you welcome them into your new home.
"The layout of the penthouse is quirky and fun and this is shown in the terrace which is spread over three levels with the upper level featuring a turret room.
Donaldson's Hospital was built on land bequeathed to a list of trustees by Edinburgh Advertiser publisher James Donaldson who had specified that grounds be used to build an orphanage.
James Playfair was selected to turn Donaldson's vision into a reality and created a building modelled on an Elizabethan palace which resembled a rural estate on the verge of the city.
Playfair is credited with designing many of the buildings that make Edinburgh's skyline what it is today including the Royal College of Surgeons, National Gallery of Scotland and the City Observatory on Calton Hill.
The Playfair development today retains this feeling of being part of the city but completely separate and, according to Olivia, it is this impression that has proven popular with buyers,
She said: "Donaldson's sits within 16 acres of private parkland and you have the feeling that you are in the city but stepped back from it.
"The land is completely private and for residents to enjoy, be it walking around the grounds or having a picnic with a view of the Pentland Hills."
Our featured apartment is one of around one hundred that is being built at Donaldson's with a range of properties available including studios, one bedroom apartments, duplexes, corner plots, triplexes, penthouses and apartments that are being constructed in the site's former chapel.
Olivia said the development had attracted interest from a range of buyers.
"There has been a real range of buyers with the penthouses, she added.
"It has particularly appealed to people that want to downsize and want something that is luxurious and does not require a lot of maintenance."
For more information on the penthouse featured contact Rettie & Co on 0131 291 0202.