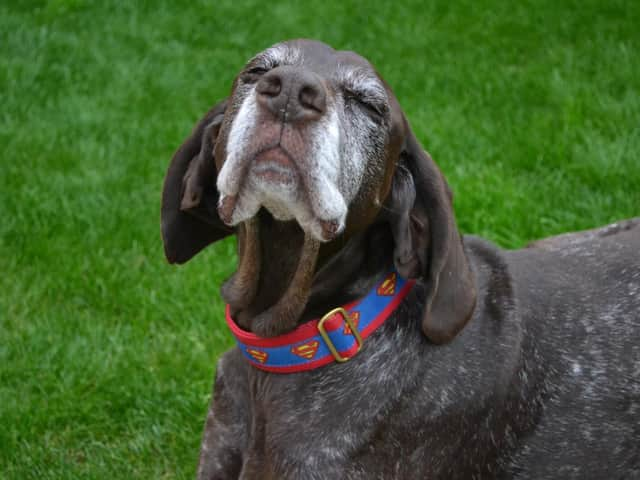 Picture: Dog Aid Society
Now, the Dog Aid Society of Scotland an independent charity which marks its 65th anniversary this year, is launching a new award to recognise the great things these loyal animals can achieve.
Today, the Edinburgh-headquartered dog re-homing charity, which promotes responsible ownership and relies solely on the generosity of donations and legacies, launches Scotland's K9 Bravery Award. It is open to anyone who owns or knows a dog who has acted in a brave and courageous way.
Clare Dymond of the Dog Aid Society of Scotland says: "Our new award really celebrates dogs being fantastic! As well as marking 65 years of our charity, I see this as a bit of a morale booster for people during this pandemic.
Enter Scotland's K9 Bravery Award >>"We're encouraging people to apply, and it can be for such things as a dog saving someone's life, an alert dog which has helped prevent their owner from having a diabetic episode. But it doesn't have to be full-on heroics, it could just be a nice feel-good story of how your dog has responded in a difficult situation."
Dymond has being going through the archives of the Dog Aid Society of Scotland looking at the work the charity has done since it was established in 1956 by Paul Pease to support the welfare of dogs and offer help and guidance to their owners. Some of the stories she found inspired the creation of Scotland's K9 Bravery Award.
For instance, in 1957, the charity recognised the courage of Scot, a working border collie who saved his farmer owner's life when an adult Ayrshire bull attacked him. Scot held the bull at bay until his owner could crawl under a fence and get safely out of the field.
More recently, in the 1990s, the Society saluted another outstanding example of a clever canine. German shepherd Kai was walking off -lead on Leith Links in Edinburgh with his owner and refused to come when called. When the owner went to investigate, he found Kai beside an elderly gentleman who had collapsed on the ground and had been there for a some time in freezing weather. Happily – and thanks to Kai – the stricken man recovered well.
As well as launching this new bravery award, the Dog Aid Society of Scotland continues to be busy, despite the restrictions of Covid-19. While it has temporarily suspended its re-homing service, the charity is still providing its Neutering Scheme, started in 1958, its Veterinary Aid Scheme, established in 1996, and offering advice on responsible ownership.
"Our schemes are there to help people who are financially unable to afford to pay their bills, and will hopefully enable them to keep their dogs and look after them well," explains Dymond. "Although we haven't re-homed a dog since last March, as the way we work means we would have to go into people's homes, our schemes have been as busy – if not busier – during the pandemic. We've seen people who have been furloughed applying for our dog Neutering Scheme, and our welfare officer is happy to give advice."
Entries for the Scotland's K9 Bravery Award close on 1 October, and the winner will receive a trophy at a special ceremony on 25 October, which will be held at a venue to be confirmed and will adhere to whatever official guidelines are in place at that time.