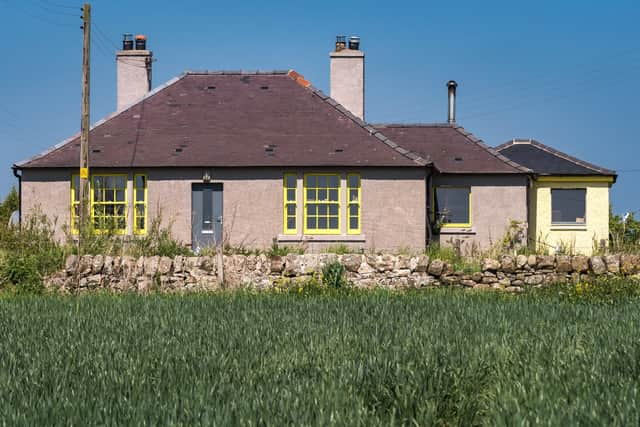 Chromotherapist Susie Kinnear used healing hues to turn a rundown property near Crail into a warm and stylish cottage.
While working as an artist in London in the mid-1990s, she tackled two renovations in Peckham and Camberwell, and more recently, when living in Edinburgh, she refurbished two flats, one after the other.
In 2013, she was looking for a new project to get stuck into and was considering a piece of land by the East Neuk conservation village of Crail in Fife, but it didn't have planning permission to build.
Picture: Crail cottage, Galbraith
"My dad was from Crail so I loved the area, and I realised I had to find a house here," says Susie. The next day she spotted a property online and made an offer before she had even seen it in the flesh.
"I knew that even if it needed to be bulldozed, the plot was worth it," she says.
The property, 17 Thirdpart Holdings, is situated at Troustrie, just to the west of Crail, and has stunning views to the Isle of May and the Bass Rock and beyond.
Although it was in a poor state when she bought it, Susie finds it easy to visualise how spaces can be developed and redesigned, and here she opened up the existing rooms, installed more windows and added two extensions.
Picture: the living room, Galbraith
The living room at the front spills into the kitchen at the rear, and Susie opened up the wall here and installed a structural beam to create an open plan layout.
There are three bedrooms: one off the hallway, the second behind the kitchen, and a third which is open to a large seating and dressing area. The latter has an en-suite shower room, and there's also a separate bathroom.
Picture: the living room leads on to the kitchen, Galbraith
Throughout the process, she was intent on transforming this building with a sustainable ethos. Ecotherm wool was used to provide high levels of insulation, while the sash and case hardwood windows were handmade with Planitherm double glazing.
The internal paintwork is by ECOS (available through Lakeland Paints), an environmentally friendly and hypoallergenic paint, and the new timber floors were finished using ECOS varnish.
Picture: the kitchen with wood burning stove, Galbraith
"Had I been staying, I'd probably have added solar and PV panels to the roof," says Susie
"I wanted to keep the character of the building. Even though it isn't a typical stone cottage, it has always had a lovely feel."
One of the most striking features here is the use of colour, including fluorescent yellow windows. "I wanted a bright colour and I love fluorescent colours, having used them before in London," says Susie.
"I was thinking of pink first for the windows, but I couldn't find one that was right, and then I realised that yellow was better because it's in nature."
Picture: the wood burning stove was one of Susie's many eco installations, Galbraith
Susie says: "This house was the first time I used colour in such a balanced and expressive way. Before I had gone extreme, using colours and materials as an extension of my art work or used neutrals to sell a renovation project.
This is my fifth renovation and I feel I've really put my experience to good use."
Internally she began with a green hue for the hallway. "Green is the balance in colour light therapy; if you think of nature, it's the colour around you," she says.
"I haven't used green in an interior before, but I went for a vibrant green as it's a darker space."
She has also used yellow throughout the house, while in the kitchen the glossy black cabinetry and dramatic black walls – painted in black chalkboard paint,"as I like that idea of being able to write things on the wall" – are offset by a warm orange ceiling colour.
Picture: one of the three bedrooms, Galbriath
"The whole house is about bright and neutral," says Susie. "My last flat in Edinburgh was very neutral, but this one I did for me." Blue also features, with a rich cobalt hue in the shower room.
Picture: the striking blue bathroom, Galbraith
The vibrant turquoise shade in the bathroom, used both on the walls and the Japanese-style 'Imersa' soaking tub by Cabuchon, was bespoke and colour-matched to a scarf Susie sent to the company. "In colour therapy turquoise is very healing," she says.
The property came with sufficient land – about a third of an acre – to create a wild garden, which now has a mix of trees, plants and shrubs and includes a polytunnel and a pond that was dug by the builders while constructing the first of the two extensions.
Picture: the cottage sits in a rural area near the village of Crail, Galbriath
The garden is a haven for wildlife and there's also a summer house, painted in Farrow & Ball hues, and a semi-derelict outbuilding that might offer development potential for the next owners here as Susie is now moving on, intent on tackling another project.
Picture: the views from the cottage, Galbraith
"I'm going to miss my Japanese-style bath and the colours, but it's the location and the uninterrupted views I'll miss most," she says.
Susie's cottage is on the market for offers over £249,000 with Galbraith
Words Fiona ReidPhotographs: Galbraithgroup.com