3 of the best homes for sale in Scotland with beautiful gardens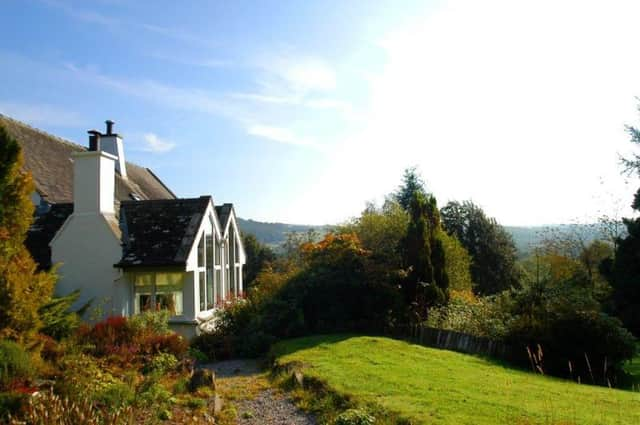 With summer on the way, a spectacular outside space and gardens enhances a home, says Kirsty McLuckie
Whether you are seriously green fingered, yearn for land to offer privacy or just a space for the kids to let off steam, to some buyers the garden is the most important aspect when considering a property.
It has been estimated that beautiful and practical outside spaces can add 20 per cent on to the value of the whole property so getting it right is important.
While the talented participants of the Chelsea Flower Show, which opens next week, are able to create masterpieces in just a few days, for the rest of us, planning a garden from a blank canvas can be expensive and take years of hard work.
Fortunately there are properties on the market with outstanding gardens which have sometimes been laid out over decades or even centuries.
Picture: Strutt and Parker
Moulinalmond in Perthshire is an exceptional family-sized country house surrounded by beautifully maintained gardens and grounds.
The policies include one of the finest selections of specimen trees from the 18th century onwards to be found in Scotland.
Picture: Strutt and Parker
The garden has a large number of azaleas and rhododendrons, which present a blaze of colours in the spring, as well as a wide range of mature trees including beech, oak, lime, maples, silver firs, birch, Norway spruce, wellingtonia, yew and a variety of rare trees, including some original introductions from the early 19th century.
Picture: Strutt and Parker
The grounds retain the original formal layout with flowerbeds and herbaceous borders surrounded by well-kept lawns and gravelled paths.
There is a pretty sundial set in the lawn but one of the main features of the garden is the outstanding topiary beech hedge.
Picture: Strutt and Parker
It isn't just a beautiful garden, but a useful one. Within the grounds is a charming summer house with fitted sunken barbecue and seating.
The walled garden is reached through the central arch in the castle hedge and is still a functioning part of Moulinalmond with a variety of raspberries, gooseberries, strawberries and fruit trees including plums and apple.
Picture: Strutt and Parker
The 12 acres of grounds include an enclosed field, ideal for ponies or sheep.
The house is an impressive Georgian villa with an Edwardian addition, with seven bedrooms, a drawing room, dining room and library plus a dining kitchen and it has its own two-bedroomed cottage and outbuildings.
Mansewood in Kirkcudbrightshire is a more modest affair but has access to a wide acreage.
It is a charming four-bedroomed villa in a quiet and privately maintained area to the west of Gatehouse of Fleet.
It has over an acre of private mature landscaped garden, plus woodland and a one-fifth share of a central amenity area with lawns, benches, shrubs and trees.
Barnhill is a beautifully quaint former croft cottage on the west coast within walking distance of Glenelg, close to the Isle of Skye ferry.
Sitting in an elevated position, it has wonderful views over mountains and two or three bedrooms and a sitting room.
The manageable garden measures an acre and comes complete with burn, sun terrace, raised vegetable beds and outbuildings including a potting shed.
The famous Glenelg Inn is a half mile walk from the cottage – an ideal place to be refreshed after a day's gardening.
At a glance
Picture: Strutt and Parker
Where is it: Moulinalmond, by Almondbank, Perthshire.What is it: A seven-bedroomed Georgian house with nearly 12 acres of land.Good points: The house is beautiful and packed full of period features but it is the garden that really sets Moulinalmond apart. Originally laid out in the 1800s, it has kept its form and been well maintained and added to more recently. As well as mature specimen trees, it has a walled garden, a sizeable beech hedge, a productive kitchen garden and paddocks, as well as a sun trap terrace.Bad points: Certainly not a property for sufferers of hay fever.Price: Offers over £950,000.Contact: Strutt & Parker on 01738 567892.
Where is it: Mansewood, Gatehouse of Fleet, Kirkcudbrightshire.What is it: A detached villa, built in the 1960s and extended recently to create a sun room, intergral greenhouse and a garden room.Good points: One and a half acres of lovely gardens, plus woodland and a share in central amenity land.Bad points: You need green fingers to make the most of it.Price: £450,000.Contact: Galbraith on 01556 505346.
Where is it: Barnhill, near Glenelg, Highland.What is it: A two-bedroomed cottage with an acre of gardens in a spectacular location.Good points: The cottage is very sweet, with an extension that could be used as a third bedroom or a sunny summer sitting room. The gardens of around an acre have a burn, patio, raised vegetable beds and a potting shed, which could be converted or extended.Bad points: The rooms are cosy, but not vast.Price: Offers over £215,000.Contact: Goldsmith & Co on 07826 201429.