"This is a distillery that has been founded by whisky fans" - what to expect from the Port of Leith distillery ahead of it opening
What started as an idea between two lifelong friends over a drink is now about to be realised.
Ten years ago, Ian Stirling and friend (and now business partner) Paddy Fletcher decided 'it'd be great' if they could make their own whisky in their hometown of Edinburgh. Next month, they're due to open the doors to the Port of Leith distillery.
This huge, vertical structure has been taking shape for the past few years, but it hasn't been plain sailing, Ian explained: "It has been an incredibly, incredibly long road. We originally had a different site, we found investors, we lost investors, we lost the site, and we had to start again. It was in 2017 that we finally secured this site where we have built our distillery and secured our seed funding, but that was six years ago, so from then it was a really long journey."
Part of the challenge has been the building, which is the first vertical distillery in the UK. "Because no one's ever built a building like this before - there is another vertical distillery in Sweden owned by a company called Mackmyra - but ours is a vertical distillery with visitor facilities on the floors above, which causes a huge amount of complications on an incredibly tight site.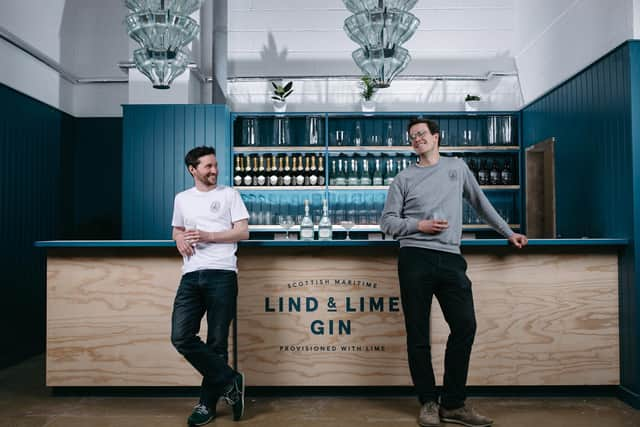 " It has been a very slow, difficult, complicated process," said Ian. But the duo have preserved, with a crowdfunding effort breaking records in June 2022 after its target of £2 million was reached in three hours through a Seedrs campaign - increasing the total raised to £13m across the duration of the project.
The success of Port of Leith is undoubtedly the hard work of Paddy and Ian, but also down to the huge success of their gin, Lind and Lime, which Ian said "we wouldn't be here without." It was because of the success of Lind and Lime, that they were able to raise the investment for the whisky distillery, despite never setting out to make a gin.
As self confessed whisky lovers, what do Ian and Paddy have in mind for the whisky they'll create at Port of Leith (the stills were installed in March of this year)?
"We came to this with loads of questions as whisky fans. We had questions about barley, questions about yeast and fermentation, and questions about casks and maturation. What we've done with (the distillery) is really unpick every element of the whisky production process and ask ourselves, what opportunity is there to do this better or to find more opportunity for flavour and complexity, because we want to make the most balanced complex whisky we possibly can because whisky, more than any other beverage in the world, is capable of carrying so many different flavours."
Paddy and Ian have worked with Heriot Watt University on a research project into yeasts and fermentation and have found two specific yeasts (trialled from 24 different types) that they are 'really excited about and are going to start working with, to begin with.'
Barley will come from a single farm just outside of Edinburgh (Ian suggested they could go organic in the future) and casks have come from sherry bourbon and port suppliers that they love, and whose products they'll sell in the distillery - a nod to Leith's import and export past. They are also not focusing on continuity and consistency in their bottlings, but instead will release vintages so that customers can see how the whisky has evolved over time.
Ian explained this, saying: "Every other whisky distillery out there is looking to achieve consistency and put out a flagship product. Our journey is to make a better and better and better whisky every year. We want to release our whisky, in the future, in vintages, so every year we'll put out a vintage release of our whisky. This means consumers should see it evolve over time, as maybe we change what we're doing in the farm, with our yeast, or make changes with the wood strategy with the casks. We're not looking to make a whisky that's wildly different every year but for it to evolve and hopefully improve and change with every passing year."
Tickets for tours of Port of Leith are on sale now, for dates in early October and some previews will be available sooner. Which begs the question, what can visitors expect when this dream really is reality? Ian explained: "There's a drama to the architecture, and having the production process laid out as it is, it's just a cool building. Whilst other visitor attractions might use lots of audio visual tricks, ours is definitely a more analogue experience where we're taking you as close to the production process as possible, telling you the story of how our company was founded and how this crazy thing came together.
"Visitors will get to fill a little bottle of our new make spirit, and then they'll be taken upstairs to our tasting room where they will be tasting their way through the production process. My hope is they'll understand whisky production in a way that they never have before, just by going through our new make spirits, and then the ports in the sherry from the casks that we use to mature our spirit, and then tasting some whisky as well. And then after that, of course, we have an incredible double height bar on the top floors with us across the Firth of Forth. In the bar we've put together a range of over 200 new wave whiskies from around the world which show the excitement, creativity and innovation of the whisky world beyond our walls."
With such a lengthy process to get to this point, Ian said it feels 'unreal and amazing' to be at the point of opening. But he hasn't been put off building distilleries, as another may be on the cards in the future: "Watch this space because we're completing the Port of Leith distillery, but we've got other quite exciting plans up our sleeve as well," he said.
"But for now, Ian's focused on his and Paddy's initial plan.
"We set out to make this business as exciting and educational as possible, and I think this building will do that."
Comments
 0 comments
Want to join the conversation? Please or to comment on this article.