'Stockbridge has been very good to me': Edinburgh's popular Taisteal restaurant is on the move to the New Town
Head chef, Gordon Craig, is taking his globally-influenced small plates up town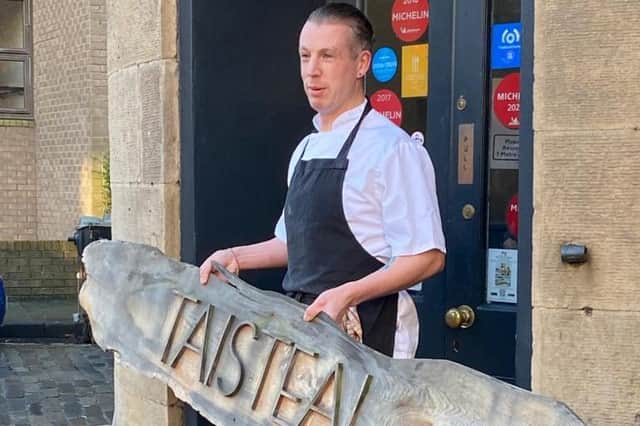 Gordon Craig of Taisteal
Don't worry if you've spotted Taisteal's owner and head chef, Gordon Craig, up a ladder, taking down their sign on Edinburgh's Raeburn Place.
This popular restaurant, whose name means "journey" in Gaelic, isn't yet another hospitality casualty of lockdown.
On the contrary, they're upsizing from their corner spot in Stockbridge.
Buy as many game pithiviers and olive oil cakes as you can, as they'll be continuing to offer these takeaway treats until their doors close, which should be any day now.
They will reopen, hopefully in a couple of months time ("June, at the very latest", says Craig) in the former premises of Le Roi Fou on Forth Street.
Their staff, some of whom have been on furlough through lockdown, will be coming with them.
"Stockbridge has been very good to me," says Craig, 36, who also co-owns The Walnut restaurant in Leith. "Some people have said it's a shame we're leaving, but our new place is only a 10-minute walk away. We've been here for five years, which is a long time for a chef, as we usually spend a couple of years somewhere before moving on".
Taisteal salmon and courgette dish
Those who are familiar with fine dining restaurant, Le Roi Fou, which sadly closed in September 2020, will know what a beautiful space it is.
Craig hopes to make the most of it, "brightening up" the decor, with salmon pink, blue and gold accents.
There's room for 30 covers upstairs and there will be private dining downstairs, to seat 20. They'll be serving a similar globally-inspired menu to their original venue, though there will be a focus on small plates, so people can visit them before a visit to the Playhouse or St James Quarter, if we ever return to those levels of normality.
They'll also have a bar area, so they can cater for those popping in for lunch, which was always difficult in Stockbridge. As Craig says, there were, "so many cafes and way too much competition". However, this chef, who also helped establish Field on West Nicholson Street and Field Grill House (the Raeburn Place resident before Taisteal), seems most excited about the kitchen.
Their working space in the Stockbridge venue is small and L-shaped. Although Jerome Henry, chef patron of Le Roi Fou, took most of his kit back to Switzerland, Craig is excited to take ownership of Henry's state-of-the-art oven and a kitchen that's triple the size of the one at Taisteal. There will be room for three chefs, instead of just two, which offers opportunities for them to refine their dishes and "improve on what we did before".
The additional member of staff also allows Craig, who has a 10-week-old daughter, Iris, to have a better work life balance.
For now, he hopes there will be a cross-over period between one place shutting and the other opening.
As the new father says, "I haven't had any time off since before the pandemic and I really need a break".
Follow Taisteal on Instagram @taistealstockbridge for updates
A message from the Editor:
Thank you for reading this article. We're more reliant on your support than ever as the shift in consumer habits brought about by coronavirus impacts our advertisers.
If you haven't already, please consider supporting our trusted, fact-checked journalism by taking out a digital subscription.