Sophisticated restaurant in the heart of Scotland's capital offers luxurious dining, drinks and cocktails
This stunning Edinburgh restaurant has embraced the spirit of Fringe by devising a special cocktail in collaboration with Edinburgh Gin.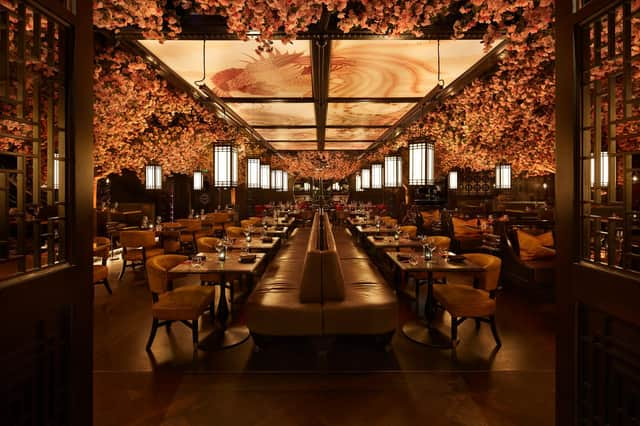 Tattu Edinburgh is an exquisite dining experience that combines modern Chinese cuisine with stunning contemporary design. Located in the heart of Edinburgh, the restaurant offers a unique and captivating ambience that will leave you mesmerized from the moment you step through the doors.
The restaurant prides itself on an exceptional menu, crafted with the upmost care and attention to detail. Its talented chefs have artfully blended traditional Chinese flavours with innovative techniques, resulting in a culinary journey like no other.
The £28 Moon Stand Lunch showcases the elegance and sophistication of this cuisine – promising to take diners on "a journey through the spiritual world of balance and harmony creating a transcendental dining experience".
Edinburgh Fringe Cocktail
The Cannon Fire is a cocktail which has been specially curated for the Fringe Festival in collaboration with Edinburgh Gin which will be on offer throughout the festival period.
Paying tribute to the firing of the Castle's cannon, this £10 cocktail includes Edinburgh Cannonball Gin, Szechuan and Raspberry and its own cannonball ice – tasting notes describe it as a fruity and refreshing cooler with subtle spice at the back.
This is a feast for the eyes as well as the tastebuds – Tattu have harnessed the power of Feng Shui to transform your day with this beautifully presented and carefully curated menu featuring 14 dishes, ranging from light and refreshing to indulgent and decadent – the perfect luxury for lifting your lunch break or indulging in a leisurely afternoon at the weekend. It is available daily- Saturday Noon– 2.45pm and Sunday – Friday Noon – 4.30pm. Guests can choose 3 dishes for just £28.
Among the choices are Tattu's signature heroes, including the exquisite Seven Spiced Seared Tuna with Truffle aioli, caviar, and citrus ponzu. Another must-try is the spicy Wok Fired Angry Bird, featuring flavourful crispy chicken, roasted peppers, and a delectable sesame honey soy sauce. For those seeking fresh spring flavours, the Coconut Chicken Salad is a perfect choice that offers a refreshing combination of coconut sweetness and the zesty aromas of mint, coriander, and shallots. The Sugar Snap and Broccoli Salad with Sesame, soy and chilli is a vibrant vegan option, boasting a crispy texture from the sugar snap peas and broccoli florets tossed in a savoury dressing with sesame oil, soy sauce with a hint of chilli.
Tattu is an independent family run business founded in Manchester in 2015 by brothers Adam and Drew Jones. The group now has 5 locations in Manchester, Leeds, Birmingham and London as well as Edinburgh.
Located at 18, West Register Street, the Tattu Edinburgh venue has a stylish and sophisticated vibe, designed to transport you to a world of elegance and opulence. The interior showcases a mix of modern and traditional elements, featuring luxurious furnishings, intricate artwork, and striking lighting that creates an atmosphere of refined luxury. Every corner of Tattu Edinburgh is carefully thought out to provide an immersive dining experience that goes beyond exceptional cuisine.
Whether you're visiting for a romantic dinner, a celebratory occasion, or a gathering with friends and family, Tattu Edinburgh caters to all. Their knowledgeable and friendly staff are dedicated to providing you with impeccable service, ensuring that your every need is met throughout your dining experience.
As you browse through the menu, you'll find an impressive selection of dishes that cater to a range of preferences and dietary requirements. From expertly prepared meat and seafood options to delectable vegetarian and vegan choices, Tattu Edinburgh offers something for everyone. Each dish is a masterpiece, carefully plated to showcase the beauty of the ingredients and crafted with passion and precision.
To complement your dining experience, the Temple bar offers an extensive selection of signature cocktails, premium spirits, and a carefully curated wine list. Tattu's mixologists are masters in their craft, creating innovative and captivating drinks that perfectly harmonize with our cuisine. Sit back, relax, and allow the bartenders to take you on a journey of flavours that perfectly complement your meal.
Book your table today and embark on a culinary adventure that will delight your senses and leave you longing to return to Tattu Edinburgh season after season. Visit the website here