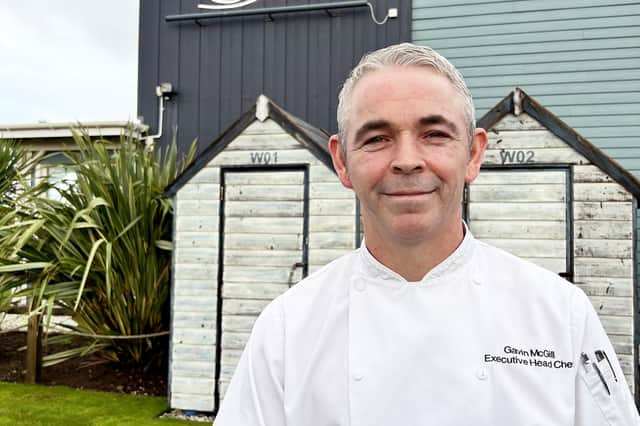 What's your favourite ingredient and why?
You can't beat the quality and flavour of Ayrshire bacon. We get ours from Robertson's Fine Foods in Ardrossan, which is located just a few miles from our hotels.
Do you have a guilty food pleasure?
I have a sweet tooth, so my guilty food pleasure always has to be chocolate. I also like to munch my way through a bag of crisps in the evening.
Tell us about your first food memory?
Growing up on the west coast, I always remember regular visits to the iconic Nardini's art deco ice-cream parlour on the beach at Largs. My favourite treat would be their famous knickerbocker glory served in a tall glass with a dollop of fresh whipped cream on top.
What's your favourite Scottish restaurant, deli or cafe?
Again, it has to be Nardini's in Largs as it holds so many nostalgic food memories for me.
I usually choose a starter, but I do love a sticky toffee pudding served with a scoop of Arran Dairies ice cream.
What would be your last supper?
It would be a traditional Sunday roast with all the trimmings. My passion for food has always been based around classic dishes with home comforts and modern twists. I've been cook­ing with amaz­ing Ayrshire produce for more than 28 years, but the Sunday roast brings back memories of my mum's cooking. I loved the smell of the kitchen every Sunday. The smell of the Yorkies was heavenly, and I loved nothing more than tasting the ham hock and the beef. The best bit was, of course, licking the cream straight off the whisk. It's those memories, tastes and smells that gave me my passion for this industry and to this day I am still trying to make lentil soup that tastes like mum's.
Do you have any food hates?
I'm not a big fan of offal. The smell and the texture puts me right off.
What starters, main and dessert would be served at your dream dinner party and who would you invite?
We'd have Scottish wild venison carpaccio for starters. For main, I'd have tournedos Rossini, a classic French steak dish, which is named after the 19th-century composer Gioachino Rossini. It was popular in the '80s and '90s, but is still served in many high-end restaurants. The dessert would be a knickerbocker glory.
I'd invite my Granny Pad, who has a special place in my heart. I'd also invite rock legend, Bob Marley and Scottish footballer, Jimmy 'Jinky' Johnstone.
What's your favourite geographical foodie destination?
My favourite food destination has to be Hong Kong. It's located on an island the same size as Arran, but has more than 7,000 restaurants, which serve everything from street food to high-end cuisine. The food is just out of this world. I just love it.
For more information on the hospitality group, SimpsInns, who own venues including The Waterside Hotel in West Kilbride, see www.simpsinns.com