There are 16 category awards to recognise Scotland's flourishing dining, drinking and hospitality sector and we want to hear about the individuals, establishments and products that make the Scottish food and drink sector what it is.
You can nominate your favourite restaurant, chef, spirit, whisky, influencer or gastropub now. The awards celebrate and recognise the hardworking individuals and organisations involved in the hospitality industry and how they shape our food and drink scene.
Categories include Scottish Restaurant of the year, Best gastro pub, Scottish Chef of the year, Sustainability Award, Newcomer of the Year, New Product of the Year and Best Whisky. All finalists will be invited to attend a special awards ceremony on June 19 in Glasgow.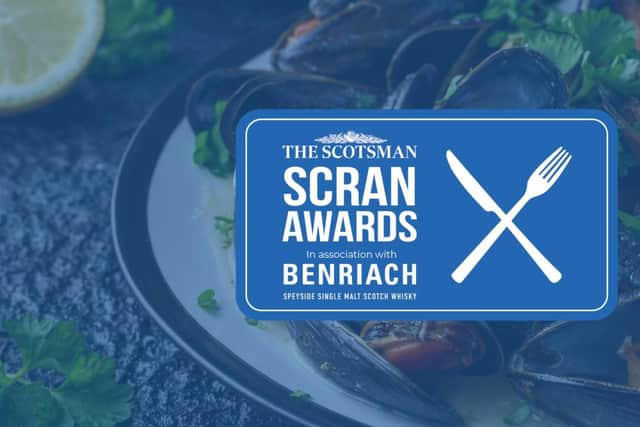 The Scotsman has been championing Scottish food and drink on its dedicated site for almost ten years, and, in 2019, launched Scran, its food and drink podcast, presented by food and drink editor Rosalind Erskine.
The Scotsman Scran Awards have partnered with Benriach Speyside Single Malt Scotch Whisky, while category sponsors include Chef Works, Scotch Whisky Association and Glasgow Distillery, without which the event wouldn't be possible.
Scotsman editor Neil McIntosh said: "Scotland's food and drink sector is a vital part of our national life, and economy, and The Scotsman has been a staunch supporter of the industry through some testing times. So I'm delighted that we're able to launch The Scran Awards this year to celebrate the very best the scene has to offer, and share some of its inspirational tales with our readers."How to nominate and closing date
Nominations are now open. To find out more and nominate for free, visit www.scranawards.co.uk. We are looking for nominations from the industry as well as our readers who want to recognise the sector they enjoy.
Nominations close on Friday 19 May and the awards dinner and celebration will take place on Monday 19 June in Glasgow.