Scottish whisky's links to art and how taste and location inspire artists
As an old, rare and arty bottle of Macallan looks to fetch more than £1 million at auction this month, Rosalind Erskine looks at whisky's enduring relationship with the art world.
A bottle of The Macallan Adami 1926 is due to come under the hammer at Sotheby's in London this month, with an estimate of £750,000 to £1.2 million. But what makes this item extra special is the bottle is adorned with a label, illustrated by artist Valerio Adami – hence the whisky's name.
Adami, born in 1935, was recommended to The Macallan by their Italian agent, Armando Giovinetti and he has become renowned for his graphic style of painting, using blocks of flat colour bordered with pronounced black lines.
Limiting his palette to black and white for the label, Adami produced a design that has since become iconic in the world of whisky. This is just one example of whisky's enduring relationship with art, which may not come as a surprise, as over the years – and especially now – the liquid in the bottles has been up there alongside fine art as an investment.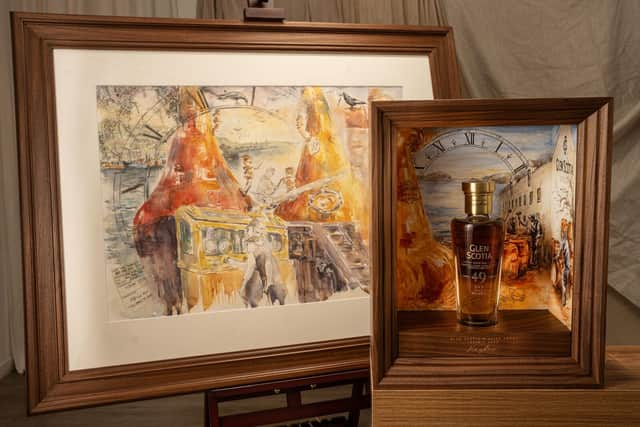 But instead of being comparable to art, many brands such as the now highly sought-after Macallan have chosen to work alongside artists. Hannah Ingram, head of marketing at Eden Mill, whose latest release is in collaboration with illustrator Jill Calder, explained the business's take on whisky's relationship with art.
She said: "Whisky and art have the rich heritage of centuries of tradition in common. They combine a contemporary approach with traditional techniques in order to create something people will love. Whisky making is a lot like art in that a large part of it is all about exploring and layering, being creative and often applying a modern approach to a traditional craft."
Artist Alice Angus, who was the artist-in-residence at Glen Scotia in Campbeltown, produced an artwork that sold along with a 49-year-old bottle of whisky for over £33,000 at the recent Distillers One of One auction. She agrees whisky and art share similarities, adding: "The process of making art, like whisky, is a slow considered process and involves careful attention to detail and process in the creation of something unique. There is a long tradition of distilleries working with artists, craftspeople and artisans and, I think, a strong appreciation of each other's crafts."
What might seem like clever marketing can offer a different perspective to those who work in whisky creation daily. This can be seen in the artist-in-residence programmes, where the artist visits or stays at a distillery for an extended period of time.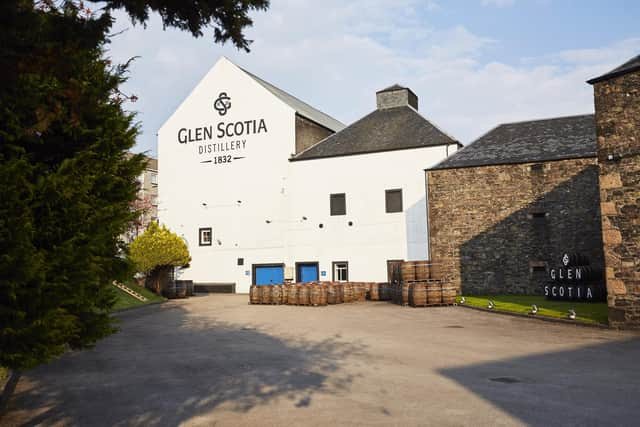 Nick Bradley, senior brand manager at Glen Scotia, said Ms Angus's time at the distillery has left a lasting effect on the team and that she is a "member of the family for life". He said: "Her sketches, language, and interest and delight in the everyday processes and occurrences of distilling, prompt us to reconsider and reflect on the magic of what we do here at Glen Scotia. There are parts of the distillery that she now knows more intimately than anyone, and that is evidenced in her four final 'Spirit Safe' works, which are simply breath-taking."
While Ms Angus's work is a beautiful documentation of life at the distillery, as well as a snapshot of it at a given time, some artists are commissioned to create a bespoke look for new releases, usually in the form of label design and packaging, much like Adami.
Morrison Distillers, whose brands include Old Perth, Mac-Talla, Bruadar and Carn Mor, recently worked with Marzia Sileno, an artist and former tastings manager at Milroy's of Soho. Working in collaboration with Mac-Talla and their range of Islay Single Malts, Ms Sileno produced a series of striking visuals which have been used on the labels of a recent limited release.
A spokesperson for the brand said: "We were very careful to give Marzia no information on the liquid in each expression as we didn't want her to be influenced by anything but the taste of the whisky. Interestingly, between the Mac-Talla team we had already begun to call one whisky 'spring' and the other one 'autumn'. When we received the finished works from Marzia, we were amazed at how clearly each work connected to the seasonal themes we all felt the whisky conveyed."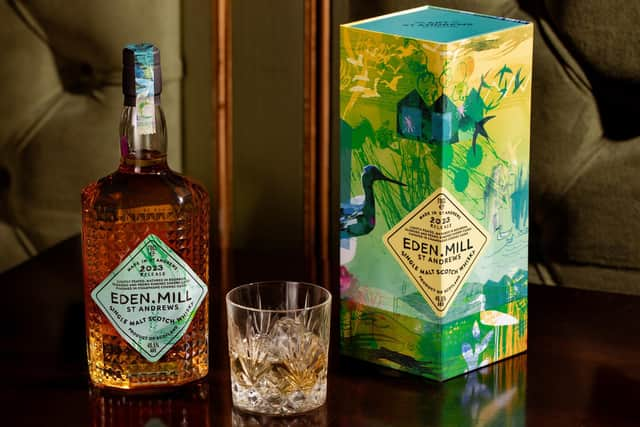 For Ms Sileno, working with the brand was ideal as she felt a 'kinship' to Mac-Talla as it launched at the same time as she embarked on her art business.
When it came to inspiration, she said this came directly from the whiskies, which she blind sampled. "It was an incredible experience to sit down with these drams and attempt to dissect their complex flavours, connecting them to the colours I would later use on the canvases," she said. "I even incorporated a few drops of the whisky into the canvases themselves."
Location can also act as inspiration. Illustrator Jill Calder said: "It was important for me to look just beyond St Andrews [Eden Mill's home] and find little things that are unexpected that people might not know are there already. I love animals, flora and fauna and I wanted to bring that to the design as well as the surrounding area, the landscape and the environment. I also wanted to include a wider look at where the whisky is being made and where the distillery is, but also really zoom in on little moments and visual stories that are happening as well."
For Ms Angus, it was both location, whisky and the processes that inspired her work. She said: "I stayed in Glen Scotia drawing for many hours, inspired by the workings, sounds and smells, talking to the team, studying the craft and dedication of the people that work there, and marvelling at the combination of ingredients, chemistry, engineering, people, craft and knowledge that is involved in whisky production.
"I was also inspired by the atmosphere, sounds, temperature, humidity, light, vibrations and smells that I would have missed on a shorter visit. It all gave the distillery the feel of a living creature."
Comments
 0 comments
Want to join the conversation? Please or to comment on this article.