The classic gin and tonic has, over the last seven years, gone from something your mum or gran drank to having its own menu in some bars and restaurants. Gins from local areas, landmarks and celebrities have cropped up, not to mention liqueurs, flavoured gin and pink gin. Tonics too have been taken along for the rise, with a range of flavours for the perfect serve. Gone are tall glasses with a bit of lemon as garnish, gins now come in huge balloon glasses with everything from rosemary to berries as an accompaniment – all part and parcel of today's G&T.
The rise in gin sales since the start of the boom led to the number of distilleries in the UK almost tripling, with 361 registered in 2019 compared to 128 in 2012 according to HMRC data. Scotland plays no small part in the popularity of gin, which has gone hand in hand with the rise of whisky. As new distilleries have been set up, gin has been a quick way to start making money as the whisky matures. As with whisky, each gin comes with its own story – of botanicals, place and people – as well as its own taste. Consumers are being into an experience, as well as a drink.
There has been chat of the boom leading to bust, with rum constantly being flagged up as the "new gin". But how true is this? The industry hasn't been immune to the past few years of Covid, Brexit and the cost of living crisis, with some well established names including McQueen Gin and Loch Ness Spirits have closed down, with Linlithgow Distillery up for sale. Edinburgh's Secret Herb Garden and Distillery also sold last year. Linlithgow cofounder, Ross Jamieson explained that their sale was due to retirement and the need for new investment, and that he thinks that although gin is in the back end of its boom period, it's levelling out more than completely dropping off.
Figures from the Gin Cooperative, a business that has been established to educate and inspire consumers and industry about Scottish Gin, showed that In 2020 only three new Scottish gin distilleries opened – a drop of almost 84 per cent, but online sales were up. In 2021 there were fewer new Scottish gin brands launched but the number of gins released was up, while in 2022 the Gin Coop estimate that 95 new Scottish Gin were launched, comparable to the estimated 84 releases in 2017. In terms of new Scottish Gin brands or distilleries, they only counted one. Martin Reid, cofounder of the Gin Cooperative, explained that Scottish gin producers and brand owners have been living through the perfect storm, but he's positive about the industry outlook. He said: "With Brexit, Covid, the cost of living crisis and now the Scottish Deposit Return Scheme looming in August, many (Scottish gin producers) have had to adapt and overcome some serious business hurdles and where possible adapt their portfolio of spirits, rebrand or seek additional revenue streams for example offer contract distillation services or work with other businesses outwith the world of spirits and Scottish Gin. A great example of this is Suonare Gin that marked the 60th Anniversary of the Scottish Opera, created and produced by the team at The Biggar Distillery.
"Some might say Scottish Gin is in decline. We don't agree. There's a long life ahead for the Scottish Gin category, and many of the challenges being faced by producers and brands in Scotland are also being felt across the wider gin category and in other spirits categories in the UK. And although 2023 may see brands and distilleries being put up for sale, for example Linlithgow Distillery announced their business is up for sale, many brands have continued to invest in their brands, products, visitor experiences and set great foundations for continued growth. As demand for Scottish food and drink continues, Scottish Gin will still be sitting front and centre as a great example of the care, skill and investment that many have put into the category, especially more so over the last 10 years."
Adam Hardie, Chair of the Scottish Gin Awards and Head of Food and Drink at Johnston Carmichael agrees that Scottish gin is still in a strong position but advises that the period of feverish growth is now "correcting" and will settle into a more stable and manageable level of growth. He highlights that the UK is still the world's biggest gin producer and Scottish producers have a very important part to play in that success. He said: "There is still investment, innovation and opportunity across the UK and abroad for high quality Scottish gins to make sales. Smart producers will be focusing on core high-quality products which have a compelling story to tell and have export potential. A brand story and market differentiation are key when it comes to getting distribution and multiple sales. Investing in sales related marketing and networking with buyers and suppliers in events like the Scottish Gin Awards continues to make sense and we know opens doors.
"It is worth remembering that the UK is still the world's biggest gin producer and Scottish producers have a very important part to play in that success. Amazon have just won a licence to sell alcohol online in India. There is opportunity out there for those who have strong performing businesses and are prepared to work in the long term."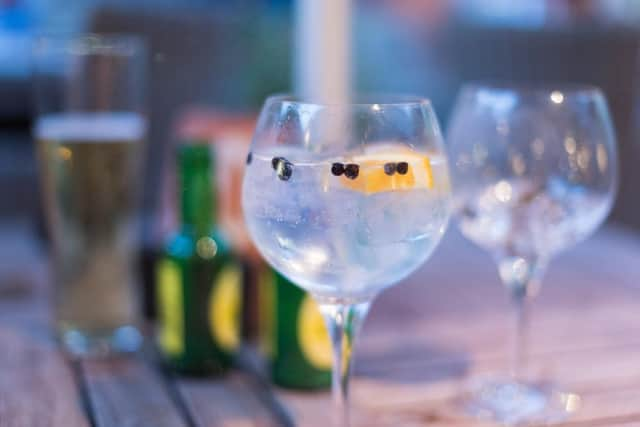 So while we may see some more producers sell up, or shut down, Scottish gin is unlikely to become less desirable or die off. Clever marketing and continuing to tell the unique stories of the gin's location and people will sell, especially as new markets open up.