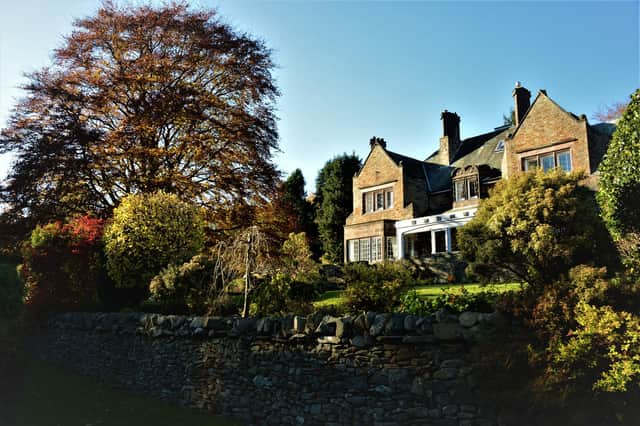 Hotelier welcomes positive news for the Borders
The owners of the five-star Windlestraw say they are delighted to hear of the formation of the South of Scotland Destination Alliance, which is funded by South Of Scotland Enterprise to promote the Borders and Dumfries and Galloway as tourist destinations.
John and Sylvia Matthews relocated to the Borders from the Middle East in 2015, and have built up a luxury, award-winning destination with their restaurant and rooms, nestled in rolling countryside near Walkerburn.
The new body, John said, is long overdue. "We have witnessed places like Skye promoted as culinary destinations worldwide and other established regions reach out to and attract visitors seeking five-star experiences. The Borders has beautiful scenery and outdoor spaces, but it also has more to offer than muddy boots and mountain bikes!
John and Sylvia Matthews have developed a luxury hotel
"We are extremely proud of what we and our small team have achieved at Windlestraw, having established modest Walkerburn and the Tweed Valley as a true culinary destination. Our chef Stu Waterston has consistently presented high quality cuisine worthy of accolades and many other local chefs are following suit,'' John added.
Windlestraw has already reached out to the SSDA team and John and Sylvia are looking forward to supporting their efforts to establish the Borders as a world class destination worthy of wider attention.
John said: "We encourage the new body to build upon creative initiatives such as the Scotland starts here app and position the region to compete with other regions of Scotland across all market segments. We have every confidence the new body will recognize the opportunity to do so."
As one of the region's most exclusive hotels, John and Sylvia were determined to re-open post-lockdown by providing and oasis of luxurious normality, which didn't force awareness of rules onto their guests, to the detriment of a relaxing get away.
Award-winning food is part of the Borders' charm
They've put together a four step guide for other Borders hospitality businesses.
It's all about the experience.
Focus your marketing message on the experience you will provide. Follow government advice, but it's not the reason most guests will book.
If the choice is between reduced occupancy and a quality experience or reducing your offering, choose the former. Many guests will be first time visitors, take the opportunity to showcase our region's ability to provide an exceptional experience.
Believe in The Borders! Our region can compete with the best, not just in Scotland, or the UK but the world. It's time to start believing this. Talk about it and back up the talk with world class product and service.
Work with others in the region
Seek advice if needed and cooperate. Don't be shy in recommending local attractions and restaurants you enjoy on social media and of course book out if you are full. We need to work together to create awareness of the Borders as a unique destination.
An exclusive offer for Borders residents – 25 for the 25
To celebrate the launch of the South of Scotland Destination Alliance, Windlestraw wants to do something special for people living in the Borders. The hotel is offering 25% off a gourmet stay for two (worth up to £100) to anyone residing within one of the twenty-five Borders postcodes.The offer will run for stays during November. Call or email and quote ''25 for 25''.