Scotsman Scran Awards 2023: Full list of winners - from Scottish chef of the year to best whisky
Last night (Monday 19 June) The inaugural Scotsman Scran Awards took place at Platform in Glasgow.
Business owners and teams from across Scotland's vibrant food and drink industry came together to celebrate the sector, and have a great night. There were 14 award categories, with nominations whittled down to the winners by an expert panel of judges.
The night, which welcomed 200 people from across the industry, started with a drinks reception by sponsors Benrich and Smugglers Spirits before host Julie Lin got things underway, followed by a speech from The Scotsman editor Neil Mcintosh. Food, dishes of which included Korean fried chicken, haggis neeps and tatties tacos, patatas bravas and dessert of Benriach 12 chocolate cremeux with shortbread, were thoroughly enjoyed ahead of the awards ceremony.
The Scotsman editor Neil Mcintosh said: "At the Scotsman, we believe that Scotland's food, drink and hospitality industries represent something very important about the country. We love your products of course and we salute the enormous contributions the food and drink businesses make to the national economy." Scotsman food and drink editor, and host of Scran podcast, Rosalind Erskine added: "It has been a great pleasure to judge these awards which celebrate the wonderful businesses and people that make up Scotland's food and drink industry. When we started Scran in late 2019, our mission was to tell stories of these people, places and businesses that help shape what we eat and drink, and it's amazing to see some of those people here tonight."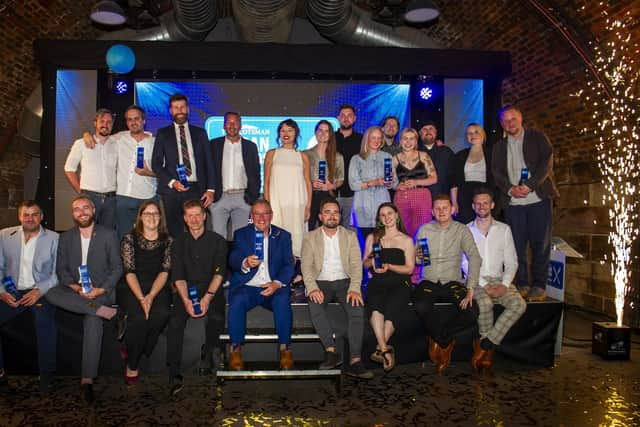 A spokesperson from headline sponsor, Benriach said: "At Benriach, we seek out an eclectic mix of casks from around the world, so chosen for the exceptional character and flavour notes they lend our whisky. Once brought back to Speyside, we fill them with one of our three styles of distilled spirit: classic, peated or triple distilled. And then we wait. Our spirit matures; flavours collide, combine and intertwine. And only when we are satisfied our whisky is ready, can you enjoy a dram that is richly multi-layered and full of character. The Benriach range is waiting for you to discover, alongside the best in Scotland's dining, drinking and hospitality sector at The Scotsman Scran Awards. We are so honoured and excited to acknowledge the hard-working individuals and organisations who shape the food and drink scene here in Scotland."
The Scotsman Scran Award winners were as follows:
Sustainability Award winner: Dear Green Coffee Roasters
Scottish food and drink influencer of the year: Coinneach MacLeod, the Hebridean Baker
Newcomer of the Year: Amuse by Kevin Dalgleish
Best gastropub of the year: Bag O Nails
Best Spirit: Smugglers Gin
Fish and seafood product of the year: Amity Fish Company panko scampi
New product of the year: Mackie's Strawberry Swirl
Artisan product of the year: East Coast Cured black garlic and oloroso sherry salami
Best whisky: Nc'Nean organic single malt
Hidden gem: Gavin's Mill, Milngavie
Scottish chef of the year: Caulm Montgomery, Edinbane Lodge, Skye
Scottish restaurant of the year: Killiecrankie House
Outstanding contribution to the industry: Stephen McLaughlin, Restaurant Andrew Fairlie
A huge thanks to sponsors without whom the awards won't be possible. These are: Benriach Speyside Single Malt Scotch Whisky - Headline sponsor & Newcomer of the Year, Glasgow Distillery - Sponsor of New Product of the Year, Chef Works - Sponsor of Scottish Chef of the Year and the Scotch Whisky Association - Sponsor of Sustainability Award.