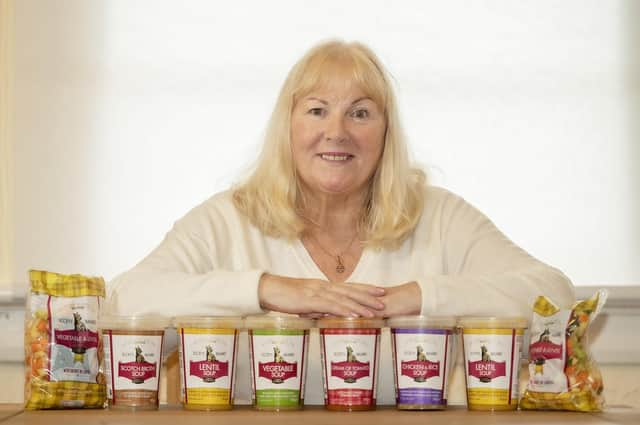 Anne Fraser, from East Kilbride, learned that she has been named Scotland's Soup-er Gran over the festive period after being nominated by her granddaughter Emily Clancy.
The competition, which ran throughout December, saw readers put forward their family members and friends whom they say are legendary soup makers.
With January marking National Soup Month, Anne will now work closely with Airdrie-based Scotty Brand to promote their soups and mixes across their website and social media channels.
The 71-year-old will also enjoy a two-night stay in a luxury yurt at Kelburn Castle and Estate, near Largs, with Emily and daughters Stacey Clancy and Sonja Mills.
The 3,500-acre estate is set around a 13th-Century castle, which received a vibrant makeover by Brazilian artists in 2007.
Its unusual trees, including a 1,000-year-old yew and a 180-year-old weeping larch, plus a magnificent 20-foot waterfall, attract visitors throughout the year.
"Honestly it was the best Christmas present ever to win the prize, especially with my beautiful granddaughter Emily (now 21) nominating me," explained 'souperstar' Anne. "It was such a lovely surprise!
"I've been making soup with the Scotty Brand mixes since Emily was a wee girl. I used to look after her after school and the mixes were so easy, especially as the veggies are all chopped up for you already – as I have arthritis in my hands, it's tricky cutting up vegetables myself.
"We'd always get the Scotch Broth mix and make it together. Emily used to love picking parsley from the plant in my kitchen to add into it. I still make soup once a week to this day, freezing extra portions for when the family comes over. I even make it in the summer – I believe it's so important to eat lots of veggies for your health."
Scotty Brand says its mission is as simple as the honest, wholesome food it provides.
The company sources the very best seasonal produce from across Scotland to deliver the most natural, wholesome and nutritious food to people's tables.
And it all began in 1948 when Albert Bartlett boiled beetroot in his shed to then sell.
The seasoned team also knows that time is precious and so has a prepared range of soups and mixes, including vegetable, scotch broth, and chicken and rice.
Anne added: "My own mum used to make soup as well and one lesson she taught me was never to add salt – you don't need it, there's enough in the stock already. She'd add lots of herbs for flavour instead, and I try to follow that example.
"Of course, it wasn't nearly so easy in her day to make soup – she'd steep the mutton overnight and then spend a lot of time chopping veg. She'd have loved how easy it is now with the mixes."
Anne buys her soup mixes locally at Asda and Scotty Brand's products can be found on shelves at supermarkets including Co-op, Morrisons, Tesco and Sainsbury's.
Other products include smoked salmon from the West Coast, Ayrshire new potatoes and sausage rolls made by the Sword family in Cumbernauld.