Scotland rugby legend launches Gen!us craft beer in draft for Rugby World Cup
As the Rugby World Cup gets underway, former Scotland and Lions legend Finlay Calder OBE pulls the very first pint of Gen!us at Teuchters Bar in Edinburgh.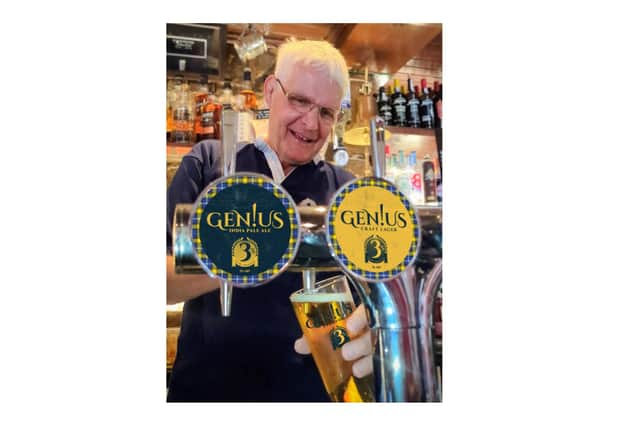 An original trustee of the My Name'5 Doddie Foundation, Calder toasted 5p from every pint of Gen!us going to help to find a cure for Motor Neurone Disease.
Glasgow-based Genius Brewing, known for their distinctive gold and blue cans, recently celebrated its five-year anniversary. As the trend for healthier drinking grows, it's now offering Gen!us light craft beer beers in draft to the hospitality industry, with both Gen!us Craft Lager and Gen!us IPA available to pub-going, rugby fans from Friday September 8.
The brainchild of founders Charlie Craig and Jason Clarke, their 'eureka moment' anticipated how healthy lifestyle trends would lead beer lovers to demand healthier options. Brewing great-tasting craft beers with less alcohol and low calories seemed a no-brainer. Charlie and Jason call it #SmartDrinking.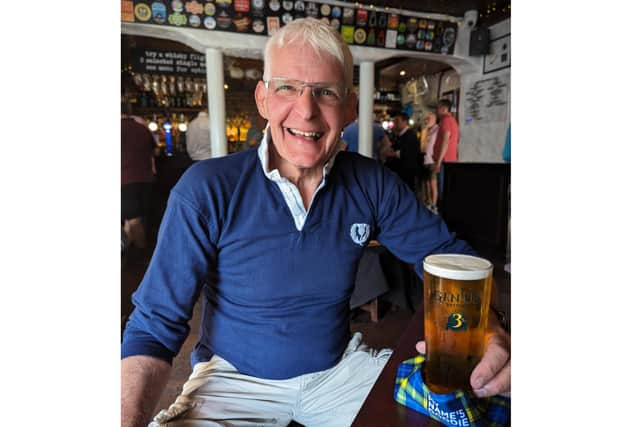 "Our mission is simple," says Jason, "To make healthier drinking a pleasure, not a compromise."
"While no-alcohol beers certainly have their place, most moderating drinkers still want a real beer, especially in the pub. Brewed to 3% ABV with the best ingredients, Gen!us beers offer the flavour, body and 'feel good' of a real craft beer but with 40% less alcohol than many brands."
Charlie Craig points out that calories also count, "Alcohol is very calorific, carrying 7 Kcal per gram. Being lower-ABV and thus lower-calorie, Gen!us beers really deliver that 'Better For You' option."
Genius Brewing are big supporters of Scottish rugby, both as sponsors of Stirling County and StewMel Rugby but also as Fundraising Partners of the My Name'5 Doddie Foundation, donating 5p from every pint to Doddie Weir's MND charity.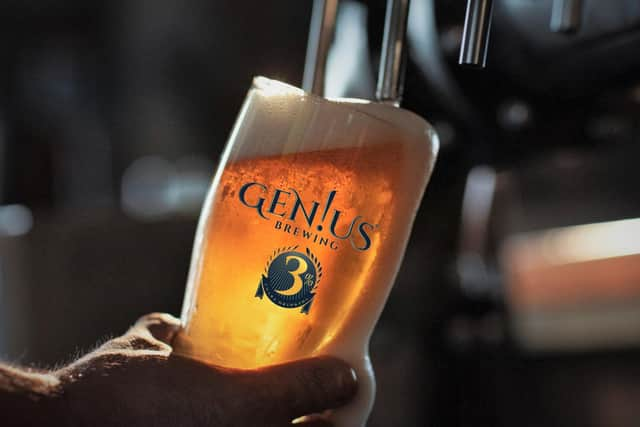 "Rugby and beer go hand-in-hand," notes Jason, "And so the Rugby World Cup gives rugby fans the ideal opportunity to enjoy a pint of Gen!us while watching the match, and support Doddie's foundation."
Gen!us Craft Lager and Gen!us IPA will initially be available in some of Edinburgh's finest pubs including Montpeliers, Teuchters, Ryries Bar, and The Abbotsford as well as rugby clubs across the Central belt.
Reflecting on the launch, Charlie Craig said, "Launching Gen!us in draft is an exciting new chapter for the business, bringing our #SmartDrinking craft beers to bars, hotels, sports clubs and restaurants. With the healthier drinking trend now well established, our ambition is to become the UK's number one light craft beer brand."
Please remember to be Drink Aware and drink sensibly