Restaurant review: White Horse Oyster and Seafood Bar, Edinburgh
Sharing the love for Valentine's Day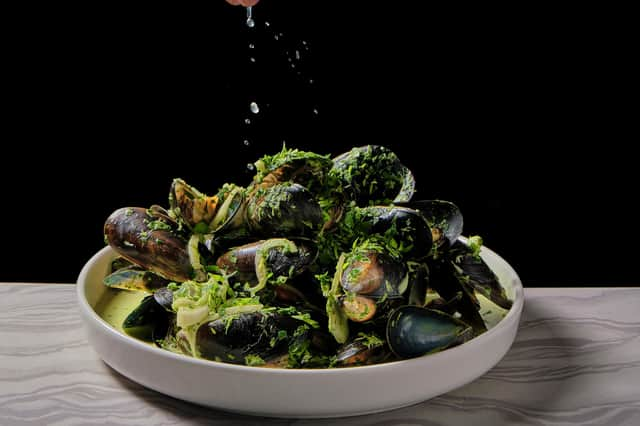 266 CanongateRoyal MileEdinburghEH8 8AAT: 0131-629 5300Valentine's Day, eh? If you're reading this and have only just realised that it is the Special Day of Lurve, then there are a few options still open to you. There might still be time for you to sprint to the garage and snap up that wilting bunch of carnations.
Or you can, as Mr Turner has in the past, proclaim that you don't need any Hallmark sanctioned holiday to proclaim your devotion and that I am worth so much more than forecourt flowers.
Wait, what?... He has surpassed himself this year. As we are having a spot of covid safe redecoration carried out, he arranged to have a selection of carpet tiles sent to me – or, as he chooses to put it, a bunch of floors. Trust me, no-one laughed as hard as he did.
Given the, erm, lengths he had gone to for this particular romantic holiday, I thought I'd better show him how it's done – so I ordered a deluxe box from the White Horse.
As you may know, the White Horse is a fabulous little oyster bar on Edinburgh's Royal Mile. While other restaurants have, shudder, 'pivoted', to working under current conditions – changing their menus and becoming posh takeaways, the White Horse has continued serving exceptional seafood done amazingly well.
Seafood isn't the easiest thing to do as a takeaway/cook at home dish. The first problem is getting the stuff to you. No-one wants a big smelly box pitching up on their doorstep. It, naturally, has to be cold and has to be simple enough for you to manage in your own kitchen. Not everyone has oyster shuckers in their kitchen drawers.
The box that arrives is, frankly, enormous. So enormous that I can't actually bring it into the house on my own. Which turns out to be a mistake, because once Mr Turner sees it - he wants to start it immediately.
Inside the large box is another, cool safe box packed with frozen gel packs to keep everything at the correct temperature. On the top of the box are placemats, napkins and towelettes along with an A4 sized card with clear instructions printed on it. It makes it easy to prop up beside the cooker so that you can follow the directions.
As if that didn't make it simple enough, each and every dish is vaccu-sealed and clearly labelled. Even an eejit like me could easily follow this.
We had gone for the Seafood Feast for two (£125) which comes with a bottle of Cava as well as a beautiful house cocktail (with accompanying garnish)
Our box contained: lobster thermidor, garlic and sauvignon mussels, baked scallops, monkfish satay, hasselback potatoes, seaweed 'slaw and bread with seaweed butter. I had managed to go a bit mad when I ordered and had popped in an additional seaweed slaw (£4.50) as well as a portion of their salt and vinegar chips (£4).
The timeline instructions begin well – "we recommend pouring yourself a large glass of fizz at this stage" – and they are set out so that each of the dishes is ready at the same time for you to have your seafood feast. However, looking again at the vast amount of food on offer, we decided to split it and keep some for the following evening. Mrs Creosote isn't a terribly romantic look on me.
We started with our warmed bread and seaweed butter served with the baked scallops. The shells had been held together with pastry, so that when you popped them in the oven, the scallops could gently steam within their own shells.
Once cooked, you split the shell, discard the pastry and dress the with the accompanying lemon segments and lemon balm. I know this sounds odd to say, but I've never liked lemon on seafood, but I still had a wee taste of this. It seemed incredibly sharp and tart to me and I was glad that I had only put the lemon balm on my scallops – which were plump and juicy and perfectly done.
We then moved on to the mussels. A large bag of decently sized mussels had a great garlicky sauce. Everything goes into your pot and after 2-3 minutes (or when all your mussel shells have opened) you garnish with the chopped herbs and serve.
Mussels are so often a disappointment in restaurants. They are too small and the sauces that generally accompany them aren't enough to made up for that deficiency. Here we had fantastic mussels – a good size with a lovely, clean taste all of their own – dressed with a fresh and substantial sauce. Mr Turner's only complaint was that he needed more bread to soak up every last drop of the sauce.
We had already popped the hasselback potatoes in the oven and so cooked the monkfish satay skewers to accompany them. Once they have been sealed in the pan, they transfer to the oven for five minutes, adding the satay sauce for the final few minutes.
When plated, they're garnished with the spring onions and toasted peanuts. The potatoes have sour cream and chives spooned over them and then they're topped with a generous spoonful of black caviar. Satay isn't a favourite of either of us – it tends to be sweet and claggy on the tongue. This, however, was light and the toasted peanuts gave it a real depth of flavour.
The seaweed slaw that accompanied it was rich and – as expected – salty, but not overpoweringly so.
By now I was quite glad that we had kept something back for the next night as I was stuffed – although when I turned to say this to Mr Turner, he was back at the cooker, dipping bread into the pot that the mussels had been cooked in.
We had the lobster thermidor with the salt and vinegar fries and our second helping of the seaweed slaw the following evening. The lobster tails and claws are all ready for you just to pop onto a tray and grill. The fries cook in the oven before being dressed with the vinegar flavoured salt (which is amazing –where on earth can I buy this?)
Lobster thermidor is one of those dishes that is a byword for luxurious dining – and this didn't disappoint. Although we were very grateful for the moist towelettes once we had scavenged every last piece of lobster out of the claws. Even then Mr Turner wasn't done. He popped the shells into the freezer for a decadent future lobster bisque.
So, if your beloved hasn't had that special piece delivered from Tiffany or Intaflora has failed to knock at the door this morning, get yourself a seafood feast ordered – because you're not the kind of person to forget, are you? You're the kind of person whose love – just like this feast – obviously isn't limited to just one day.
The Whte Horse Oyster Bar
The Royal Mile, 266 Canongate, Edinburgh EH8 8AA
£133.50 for two with drinks