Restaurant review: Polentoni, Edinburgh
There's an episode of the excellent sitcom 30 Rock where the writers' room, around which much of the plot revolves, is once a year treated by fellow workers to a delivery of mindblowingly good sandwiches from some mysterious Italian deli in Brooklyn.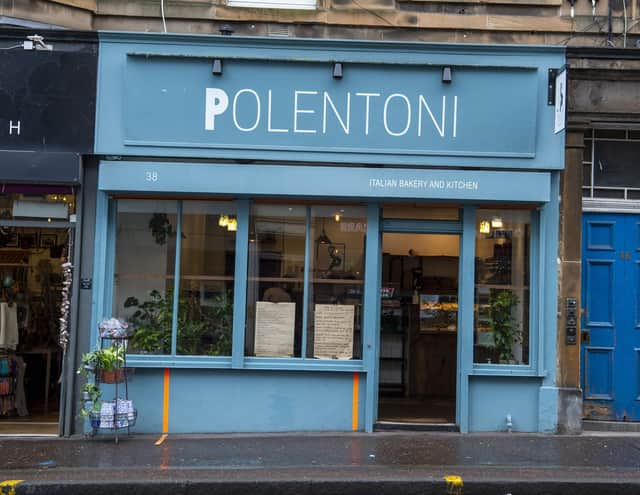 Polentoni - Easter Road, Edinburgh
"My, it's the most wonderful day of all," says Frank – who adds that nobody knows what the deli is called or where it is. "But they buy us these sandwiches, oh such sandwiches!"
The show may be set in the heart of Manhattan, but Edinburgh's Polentoni – part of the regentrification of the top of Easter Road, an area now also home to a branch of Twelve Triangles – could easily be a contender for a similar sandwich heaven.
I have selflessly, thoroughly researched this, often sampling its fresh, crunchy-crusted ciabatta housing, say, salami, some kind of artichoke puree and/or roasted vegetables, while there are those round, pizza-styles ones with bacon and egg, for example. Every one's a winner.
Polentoni - Easter Road, Edinburgh
I've also previously tested their brunch offering in pre-covid times – now it's only doing takeaways – while their crispy-edged, light-centred Nutella pastries are responsible for a large share of my carb-led "corona stone".
But now it's time to let Polentoni cater for my evening meal, after I've often seen the seafood feast they advertise in the window and online, available on Fridays and Saturdays. I decide to stop drooling over it and start ordering – particularly as the week I dive in it's my favourite-sounding one yet.
The menu is reassuringly compact, with three options each for starter and main, and one pudding only – Nutella tiramisu. There could have been 100 pudding choices and I would still have gone for the tiramisu.
Polentoni - Easter Road, Edinburgh
The starters include a chilli cod calzone with polenta chips, aioli and salsa verde, and smoked cod, mussel and saffron chowder with a lemon and parsley gremolata. However, I choose the Shetland mussels in a creamy shallot, white wine and thyme sauce.
For mains, there is crispy-skinned sea bream with red pepper and hazelnut salsa, roast potato and cherry tomato, olive and red onion, or halibut with tarragon salsa verde, breaded celeriac, beetroot and caper salad. They both sound excellent, but the mazzancolle – pan-fried tiger prawns with lime, ginger and coriander, plus fried polenta – are all I can think about.
I've overheard other people requesting a collection slot on previous visits, so I figure I need to act fast, and on a Friday I arrange to collect it at 3pm the following day – and cannot wait for this low-level treat to enliven my Saturday evening.
When the allotted time comes around, my order is handed over the counter the second I walk in. A few days after my meal I call to confirm the set-up – the Italian chef is Franco, from Padova, while the word Polentoni is an "affectionate" nickname for people from the north of Italy – meaning people who eat polenta.
Polentoni - Easter Road, Edinburgh
Appetising
And on that polenta-related note, I've made the rookie mistake of assuming my order has been prepared to be heated up at home yourself later when it is actually ready to eat immediately. If I hadn't just had lunch, I'd have happily demolished the whole thing as soon as I crossed the threshold of my home – or very possibly before.
I would therefore strongly recommend arranging to collect it when you are just about to eat it, with the restaurant opening until the evening on a Friday.
A couple of hours after collection I reheat everything despite a little legitimate if ultimately unfounded fear about reheating seafood, and it's a sublime feast. The mussels are fresh and tender, not dry and chewy as such dishes can often be, with the thyme packing a pleasantly fragrant punch and elevating it beyond your average moules marinières. It's accompanied by two small slices of ciabatta, which I dip in the broth after a quick blast in the oven.
Polentoni - Easter Road, Edinburgh
As for the main, the prawns are also cooked for not a second longer than needed, arriving unexpectedly, pleasingly still in their coral pink shells, tucked up with slices of lime and a salad, plus the two yellow slices of crispy polenta – a highly successful combination.
The Nutella tiramisu is pretty good, but I find the addition of the chocolate spread makes it overall a little sweet for my palate, an issue somewhat remedied the next day when I eat the remainder with the acidic balance of some raspberries.
I have had many a takeaway in lockdown – including the sublime (the late, great Le Roi Fou) to one that was both overpriced and underwhelming. In the middle has been a succession of offerings that, like my workouts at the gym, technically did the job – but in unenthusiastic, somewhat mediocre, box-ticking fashion.
Polentoni, in contrast, has been one of my favourites – marrying reasonable pricing (especially for seafood) with excellent quality, and a true cut above the usual Italian fare. As good as 30 Rock, and in my book that's high praise indeed.
A message from the Editor:
Thank you for reading this article. We're more reliant on your support than ever as the shift in consumer habits brought about by Coronavirus impacts our advertisers.
If you haven't already, please consider supporting our trusted, fact-checked journalism by taking out a digital subscription.
Want to join the conversation? Please or to comment on this article.