Restaurant review: Nok's Kitchen on the Castle, Edinburgh
You can tell a lot about a restaurant based on when they choose to open – right in the middle of a global pandemic for example tells me that Nok's Kitchen on the Castle overflows with confidence, they know that they are worth a visit.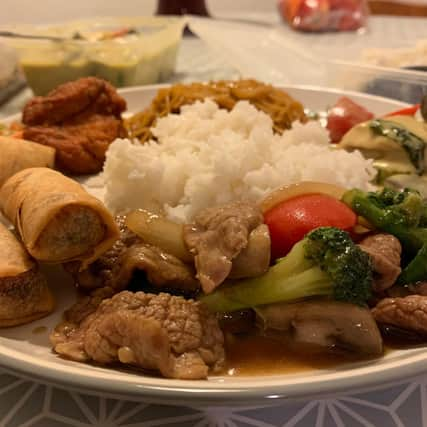 The sister of already popular Nok's Kitchen in Stockbridge, this new restaurant promises to provide delicious Thai food to customers at home while coronavirus restrictions are still in place.
As I sit here, on the living room floor taking long deep breaths, trying not to move too much having just made my way through half of their menu – I'm very grateful that they took the chance and opened their doors.
I can never resist a simple vegetable spring roll (£4.95) to start a meal, my flatmate thinks I'm boring but if you can't get that right, I don't hold out much hope for the rest of the meal. Thankfully, these didn't disappoint. Five crispy rolls in a portion served with a chilli sauce was the perfect opener for the feast that awaited us.
When I see a menu, I like to know what I'm working with. I once spent 45 minutes in a Sainsbury's local and left with nothing because I couldn't decide what I fancied for dinner. Nok's Kitchen on the Castle held my hand and walked me through their choices with ease, impressively.
Jeannie chose a starter of Thai fish Cakes (£5.95), I had a bite and while they ultimately were my least favourite part of the meal, they were by no means poor. Four bitesize haddock, lime and chilli fish cakes served with salad and chilli sauce sprinkled with an unidentified substance, we guessed crushed peanuts, but can't be sure.
While the flavours were all there, what tripped this dish up was the texture. They were slightly chewy and the coating was tough to bite through. Jeannie saw past this and commented that the lime and chilli complemented the fish well and kept a pleasant balance, preventing the haddock from becoming an overpowering flavour.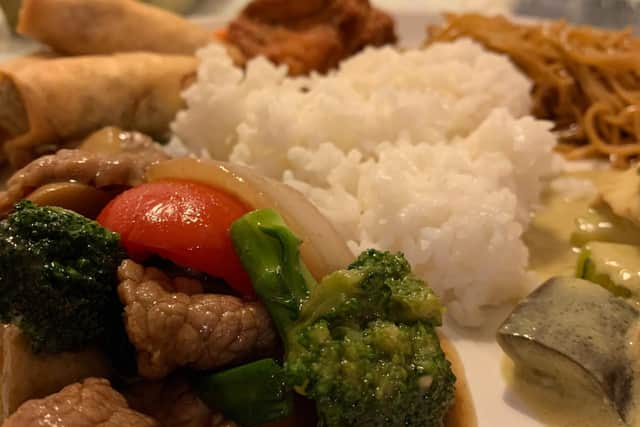 We like to try a bit of everything in this flat, so we shared our mains. Our first pick was Thai Green Curry (£8.95) with chicken, you can't review a Thai restaurant without giving this classic dish a whirl. They offer the choice of beef, king prawn, chicken or vegetable and tofu.
Opening the container, we were hit by the subtle perfumed scent of warm chilli and sweet Thai basil emitting from the vibrant green curry.
The restaurant perfected the delicate balance of making this dish a rich, saucy curry while also offering light and fresh flavours. The taste of basil was prominent, the chicken had soaked up the flavour and was soft and tender. This curry was incredibly moreish with a gentle heat going on in the background, the fresh chilli took me by surprise a couple of times and brought out the rest of the flavours.
To accompany this, we ordered a side of coconut rice (£2.60). It was soft and sticky, and again, so sweet.
A break between courses was the ideal time to snack on the complementary Thai Prawn Crackers that they added to the order. Fresh and crispy with a little bit of a kick.
The next dish stole the show for me, although Jeannie argues that it doesn't beat the classic that we just devoured. Pad Nam Man Hoi (£8.95); a stir fry with onions, sweet pepper, long red chilli, broccoli, garlic and spring onion in oyster sauce with your choice of chicken or beef, we went for beef this time.
Although not the most visually appealing dish, the strips of beef were tender and flavoursome, the vegetables were crisp not soggy, and the sauce was thick and full. Onions are one of my favourite ingredients in a stir fry and I'm delighted to say the chef had an incredibly generous hand.
This is going to be the focus of my daydreams for the next few weeks, the dish I might attempt to replicate to no avail before crawling back to Nok's Kitchen on the Castle to get my next fix. A side of egg fried noodles (£3.25) was the perfect accompaniment.
Scraping the bottom of the Pad Nam Man Hoi container brought us to the end of the meal, sadly. We couldn't help but fancy something a little bit sweet and refreshing to finish off, unfortunately there are no dessert options.
The only notable downside in my opinion to this otherwise blissful takeaway was the lack of delivery service. For other non-driving, public transport relying individuals, it is worth considering that you have to make the trip to the restaurant and get home with the precious cargo before you can sit and enjoy it.
On the flip side – this fact alone makes the food even more worthy of this glowing review, how they managed to create a spring roll so crispy that not even half an hour in a sealed, steamy bag can wilt it, I'll never know.
Niks's Kitchen on the Castle
EDINBURGH, Scotland EH1 2PW, GB
TOTAL: £34.65 for two excluding drinks
Ambience 8/10 (my living room)
A message fron the Editor:
Thank you for reading this article. We're more reliant on your support than ever as the shift in consumer habits brought about by coronavirus impacts our advertisers.
If you haven't already, please consider supporting our trusted, fact-checked journalism by taking out a digital subsription.