Restaurant review: Kezban, Edinburgh
I always thought that the glittering salons of yesteryear were consigned firmly to the pages of old books.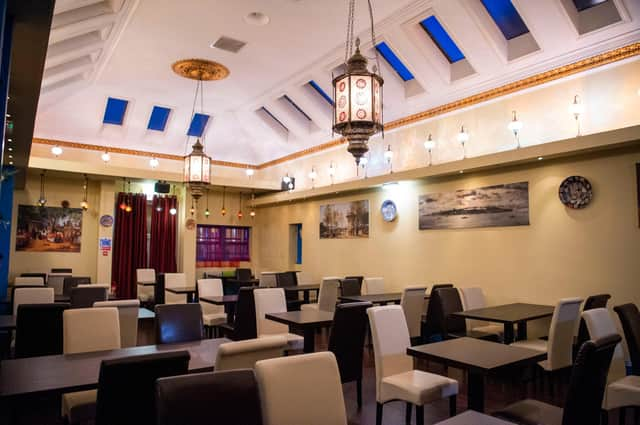 Kezban, Commercial Street Edinburgh
The gatherings of the great and the good. Of style setters and makers chewing over the heavyweight issues of the day in the drawing rooms of society hostesses as they tossed out sage words and witty bon mots.
I was thrown into this just the other day, when Mr. Turner sighed and said just how much he missed his old watering hole.
The pubs and bars of Our Nation's Capital have been closed for some time now and, truth be told, Mr. Turner is finding it tough going.
PIC LISA FERGUSON 03/12/2020 KEZBAN, COMMERCIAL STREET, EDINBURH
Not that he's stopped indulging or anything quite so radical. (Jings, St. James's Gate would be derelict by now if that were the case)
But, when pressed as to what exactly he missed, it would appear that - amongst other things - my gay repartee isn't quite up to the standard of the sparkling banter that would be found in his usual establishment.
I must have been busy those evenings that he popped on his velvet smoking jacket and took his cigarette holder with him to the pub in order to engage in witty badinage with his fellow imbibers.
And, despite having had some truly spectacular food during this lockdown period - he has also confessed to missing his post digestif kebab.
Kezban, Commercial Street Edinburgh.
Yes, it would seem that when one takes one's leave of the glittering salon that he claims to have frequented in Before Times, one liked nothing quite so much as an overstuffed kebab, on occasion complete with chilli sauce.
Well, I'm open to most things - but I believe I have previously stated my unshakeable belief that no sober person can actually eat a chip shop kebab - so I wasn't keen on the idea of one for my tea.
What I was happy to do was give Kezban a whirl. A mediterranean restaurant down in Leith where all the mezes are handmade and the meat is cooked fresh on a charcoal grill - rather than rotated slowly on a rotisserie as the grease drips down into a tray.
to make it easier for you, Kezban offer a selection of banquets – this should surely keep my social butterfly happy.
Kezban, Commercial Street Edinburgh.
We started with the three hot mezes – Three decent sized pieces each of Hellim (grilled haloumi cheese) with a hint of the flavour of the charcoal, it's no wonder that we Brits manage to eat more Halloumi than anywhere outside of Cyprus when it tastes as good as this.
The Kalamar (calamari rings) unfortunately, didn't travel all that well. The batter was doughy and the calamari itself was bland. The Sigara Boregi (Deep Filled Filo Pastry with Feta Cheese and Parsley) I don't know that these were that deeply filled - but what was there was very tasty. The sharpness of the feta had a lovely balance with the parsley.
We then moved on to the three cold Mezes – three quite large tubs of dips
Ezme (Chopped Cucumber, Parsley, Onion, Tomato, Roast Pepper, Garlic, Olive Oil, Lemon Juice and Pomegranate Syrup). while the pomegranate added a lovely jewel tone to the dip, it was actually a bit on the grey and gloomy side, with nothing really punching out for me, I'm afraid.
Cacik (Chopped Cucumber with Creamy Turkish Yoghurt, Mint, Olive Oil and a hint of Garlic) Think taziki or raitta, with a little Turkish spice.
Biber Ezme (Roasted Peppers, blended with Celery, Mint, Parsley, Carrot, Sundried Tomatoes, Olive Oil, Lemon Juice and a touch of Garlic) which had a kick similar to a Mexican salsa, but smoother.
All served with the most amazing hot Turkish bread. Which was a sort of glazed focaccia, and we'd both gladly have scoffed quite a bit more of it. although, this may prove to be a bit of a blessing as we still had the main part of our feast to go.
Never underestimate the power of a properly used charcoal grill. forget your barbeques of the summer where all the chicken was charred on the outside and raw in the middle. Every piece of this meat was cooked to perfection - with a fabulous crisp exterior - but each managing to taste different.
The main part of our banquet was a huge tray of mixed grill of Adana, -Like a large lamb shish kebab - with onion, parsley and chili flakes.
There were Lamb sis – pieces of lamb which have been skewered and put on the grill and simply cooked. Lamb Chops, which were generous and tasty with Lamb Ribs, which – as long as you're good with sucking bones – were delicious.
Chicken sis and Chicken Wings completed the feast from the grill. Both were properly cooked and finger licking good. Everything came in a large container, sitting on a bed of onion flavoured Rice, - along with Salad.
It was just as well that we hadn't opted to add any of the desserts (Baklava, Turkish Delight or honey with yoghurt) because I was well and truly stuffed at this point.
In truth, this was exactly the kind of blowout you'd expect to have on holiday. Simple, tasty and satisfying. A really hearty offering that was great value for money. forget witty gatherings – all I needed now was a sunlounger to doze away the afternoon. If anyone attempted to indulge in drollery, they'd be met with nothing more than a gentle snoring. How terribly witty….
Set banquet for two...£54