Restaurant Review - Kauai, Edinburgh
Forrest Road venue brings a taste of Hawaii to student land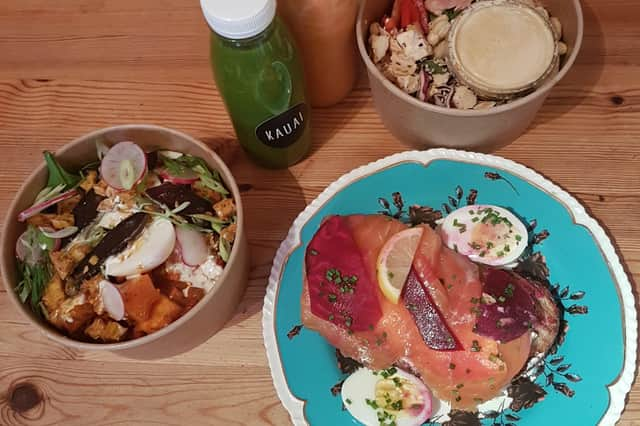 My body is not a temple, it's a ransacked supermarket.
Forget Veganuary, I've been doing Junkanuary, and it's time to get back on the wagon.
I just have to remember where I parked the shonky three-wheeled wonder, with its Magic Tree that smells like broken resolutions and nachos.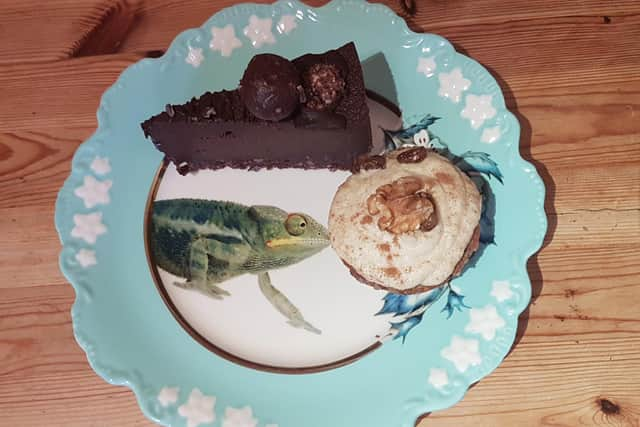 Probably somewhere on Forrest Road, where this chain popped up towards the end of stinking old 2020 (*spits*).
Owned by one of the people who launched Edinburgh's Tribe Yoga, it's part of a healthy-eating vegan and vegetarian-friendly concept that was founded 23 years ago by Hawaiian surfers. Next it landed in South Africa, and is now bringing its wares closer, with 30 branches in the UK, Ireland and Sweden.
In normal times, you'd be able to sit in the clean-looking space with its shark-coloured livery, and feel smug as you eat healthily, with a direct view to the pizza munchers outside Civerinos Slice and pint drinkers at Sandy Bell's.
However, lockdown necessity meant we had to order through Deliveroo, so we could have a cyclist whizz to our door, like a wheelie in The Wizard of Oz.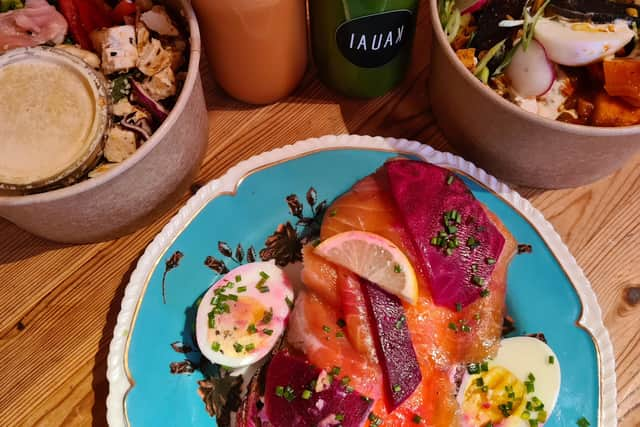 There are a few All Day Brunch items on the menu.
I had dodged The Kimchi Kick (£8) and Sunshine Bowl (£8) since I don't understand how scrambled eggs can possibly travel well. Instead, we tried The Pickled Scotsman (£9).
In one of this brand's biodegradable pots was a cold combo of chunky toast (not too chewy, considering its journey), which was topped with a layer of cream cheese, coral-coloured smoked salmon from Peterhead Fish Market, a halved free-range boiled egg, chopped chives and acidic half moons of pickled beetroot.
It warmed my fatberg of a heart.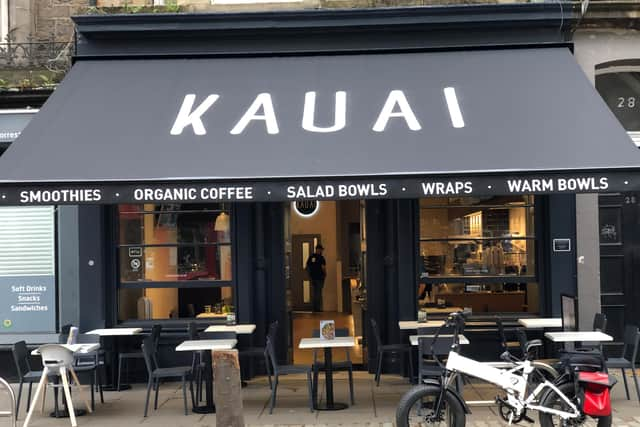 We also shared a Thai crunch salad (£9).
I wasn't hugely into the compressed cubes of free-range chicken, which always remind me of a Sheba advert, but they were serviceable, as was the rest of the vibrant and bouncy greenery.
There was a scattering of curly cashews, red cabbage, broccoli, carrot and a few spinach leaves, but also mint, folded reams of baby pink pickled ginger, and a mild and creamy magnolia-coloured peanut dressing. Our pot contained enough zing and textural interest to prevent the healthy eating aspect from being a punishment.
Same goes for the chakalaka warm bowl (£8.50). It was a tepid mixture of cardboard-coloured and chewy "Scottish cured beef" - a bit like biltong - another egg, chunky cubes of soft butternut squash, radish, sweetcorn, a coriander yoghurt dressing and an earthy base of brown rice and quinoa.
As they stock a few Scottish brands, I took this opportunity to try Nuisance's Sparkling Nettle Presse (£3) - a lovely and twinkly light drink, with just a hint of greenery.
There was zero eau de cockapoo, so they obviously harvested their nettles from a pristine area.
We also had a Vitamin See Superfood smoothie (£6.50), which contained a zingy mango, pineapple, carrot, orange juice and added vitamin C mixture, as well as a chlorophyll-hued Daily Green juice (£5) featuring apple, kale, spinach, cucumber, celery and chia seeds.
They were both great and not too watery or thick, so it wasn't like gulping river silt.
I think each of them added an additional three years to our life spans, which refunded a tiny proportion of the time that the last year had wiped off.
I'm not a huge fan of mushed up dates in cakes, as I find their sweetness a bit too cloying. That's my bad.
I'm sure most people would enjoy Kauai's selection of raw and vegan desserts, made by Edinburgh business Coca Nova Raw Bakery.
The fist sized carrot cake (£4) was a pulpy mixture of carrots, dates, walnuts, raisins and cashews, with a slather of coconut cream icing and a single walnut pressed onto its lid, like a wax seal. Death by Chocolate (£4) was a bit of a misnomer, since this rich and super sweet triangular slab only contained good things - cocoa, cashews, peanut butter, dates and a nibbly biscuit-y base of oats, maples and cocoa nibs. Eternal Life by Chocolate.
Anyway, Kauai has given me a leg up onto the wagon, though I'm not quite ready for total clean living yet.
I'll take my stabilisers off once I've finished this packet of crisps.
(0131 305 0455, www.kauai.co.uk)
How much? Lunch for two, excluding drinks, £34.50
15/20Places to try nearby
This is one of our favourite pizza stops and it's opening another branch in Corstorphine soon. Order via their own app or Deliveroo. You don't have to be a Neneh Cherry fan to fancy their Buffalo Stance pizza (£12.50) with buffalo mozzarella, cheddar, diced tomatoes, buttermilk fried chicken, spring onion, black pepper and supercharger mayo.
It's been there for a couple of years now, but we sometimes forget there's a second branch of El Cartel, with its original on Thistle Street. Anyway, while we can't sit in, you can order with Deliveroo. We like the sound of The Feast, £36 for two, with carne asada, street corn, cochinita pibil and sweet potato, and their famous guacamole nacional.
Thomas J Walls, 35 Forrest Road, Edinburgh (0131 261 7582)
This place, in the former premises of an optician, does the best toast with scrambled eggs and smoked salmon. It comes with a pot of marmalade on the side, to spread on leftover toast. A visit is something to look forward to post covid. For now, grab a takeaway coffee.