Restaurant review: Kailzie Courtyard cafe, Kailzie, Scottish Borders
During the pandemic, I have become a bit of a social recluse, if it wasn't for the purpose of reviewing, I wouldn't leave the house.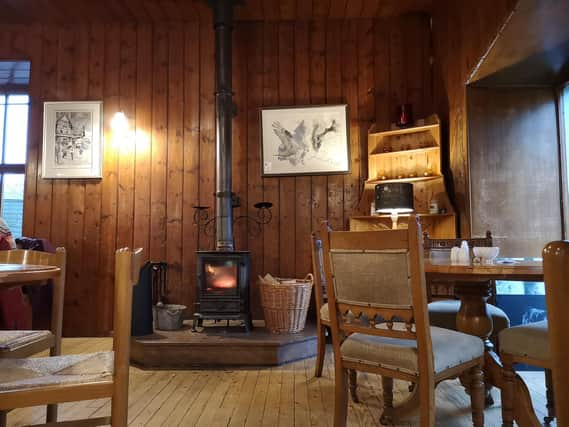 I'm even thankful for travel restrictions, without them I would be forced to interact with people on a regular basis and that really won't do.
These days my most exciting conversations involve redirecting lost delivery drivers. They turn up on the doorstep with a haunted look having driven off-piste and entered the Borders equivalent of the Bermuda triangle.
Although it may not quite be tripping the light fandango, I thought it might be nice to pop out into the big world for a change.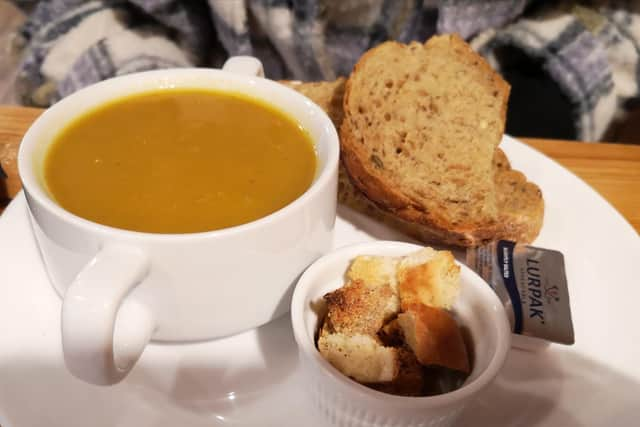 I've twisted the arm of my eldest daughter to accompany me; the last time we dined out, I got into trouble for having zero chat, so I'm a bit apprehensive to see how things go this time.
I haven't done anything of note since, so if she thought my chat was boring then, I've reached a new zenith of dull. I'm hoping that I'll be able to redeem myself before she starts ordering brochures for retirement homes for the slightly dondered mothers.Now the word on the mean streets of Peebles, by the soup and a sandwich brigade is that Kailzie Courtyard Cafe is worth a visit. I hoped we might combine this with a saunter around the garden. However, the weather is downright miserable, and we both agreed we should head straight inside.
The courtyard cafe is situated in the old stable building with well spaced out tables and attentive staff, so we wanted for nothing. We'd also bagged a spot right next to the radiator with a great view of the burning log fire, and were warm as toast.The cafe clientele is slightly mature and there were quite a few winter knits getting an airing. This place is pooch-friendly so a couple of pedigree dogs add to the general excitement, raising the mood level to sedate.Kailzie, the estate, has been around even longer than I have. King David II confirmed a grant of land to James of Tweedie in 1326, and it remained in the Tweedie family for centuries, then it was owned the Earls of Traquair, before passing through the hands a roll call of border names: Burnetts, Balfours, Plenderleith, Kennedy, Stoddart, Campbell.
In 1794, Robert and Margaret Campbell owned the place, his father Mungo was a wealthy plantation owner and slave owner in the West Indies and Robert's own Carriere estate on the east coast of Grenada helped funded the improvements to his country estate. He built a sizeable house here, with a walled garden, coach houses with stables, where we are sitting now, all set in extensive parkland overlooking the Tweed valley. Appearing every bit the country squire he even commissioned a portrait of himself and the missus, by Sir Henry Raeburn. But by 1830 Robert Nutter Campbell (yup that was his name) had got into financial trouble and Kailzie was then subsequently owned by the Giles and the Blacks before the Georgian house was demolished in 1962.As we ponder the past history a pot of tea for one, £2.00 is just the ticket, served in a floral china teacup with a tiny cow milk jug, while it is a diet coke for her ladyship, £1.50.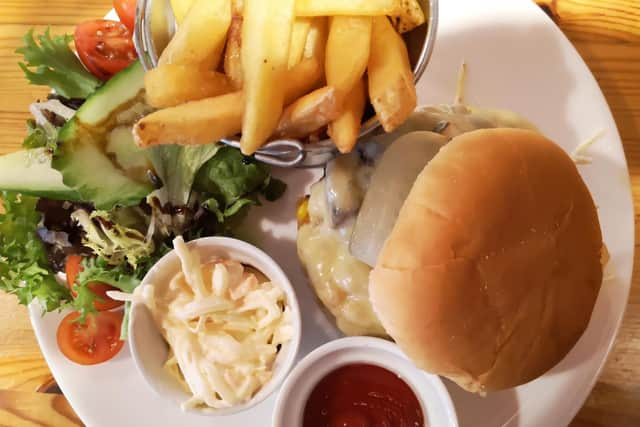 Today is most definitely a day for soup, I select leek and potato, £4.50 a babbling brook of taste with mighty chunks of tattie which sink to the depths, but it all tastes great. While the young one is delighted by her warming carrot and coriander bowlful, £4.20 both arrive with slabs of wholesome bread and a pot of homemade crisp croutons which you can scatter about with gay abandon if you like that sort of reckless thing.Then the wean ordered the scampi and bucketful of chips, £9.95 it arrives with a wedge of lemon and pots of ketchup and coleslaw which made her squeal with delight whilst I opted for the spicy bean burger £8.95. There are times when you can scoff a burger with your bare hands but on this occasion, it was very much a knife and fork affair, mainly because the patty was more malleable than solid but it was tasty nonetheless, smothered in melted cheese, and damn fine dark sweet caramelised onion chutney, and a gherkin on top for good measure.I then sashayed across the floor to peer into the glass cabinet of delights, to peruse the tiffin, rocky road, shortbread and glad to report all the favourites were present and correct.
I stuck with my original choice of an old school dinner style pudding of fruit crumble £4.50. Digging into the custard to investigate the submerged dessert, I was delighted to see the familiar rosy complexion of a solitary cherry from a tin of fruit cocktail topped with crumbled topping. Nostalgia, eat your heart out. I polished off the lot, scraping the bowl clean. Meanwhile junior had been tempted by a hearty slice of lemon drizzle cake, £2.95 which was described as being 'not too shabby'.
Although the courtyard cafe might not for the bright young things, going out might just be my new favourite thing courtesy of this place.The Courtyard cafe Kailzie GardensKailzie estate, Peebles EH45 9HTTel: 01721 722807
£32.85 lunch for two without drinks