Restaurant review: Julie's Kopitiam at home, Glasgow
Bring a little Malaysian street food spice to life thanks to Julie's Kopitiam at home, says Rosalind Erskine.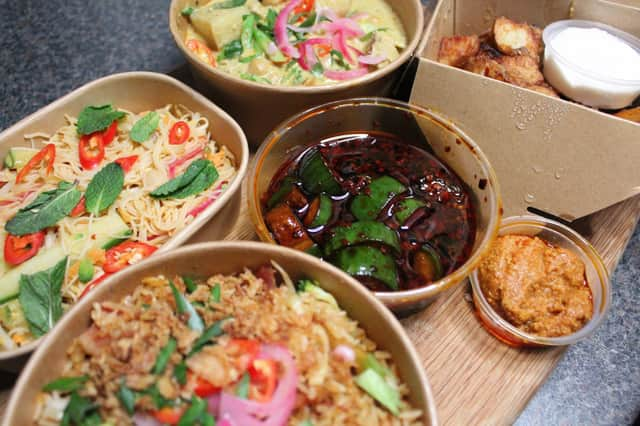 During those weird, non days between Christmas and New Year (which were infinitely more non-descript this year), I end up craving something that's the polar opposite of roast turkey, roast potatoes and huge, heaped leftover sandwiches. While these things are a delight, you can sometimes have too much of a good thing, so it was with a sigh of relief that I saw that Julie's Kopitiam was open for orders in that weird week where every day feels like Sunday.
Originally opened as a street food pop up, Julie's Street Kitchen, the food had such success across the city that owner and former Masterchef contestant, Julie Lin Mcleod, opened Julie's Kopitiam in late 2017. Kopitiam is the term for a traditional coffee shop in Southeast Asia, and Julie's serves authentic street food dishes, light bites and hot drinks.
Due to its continued popularity, the team announced that they were moving to larger premises across the road in Shawlands in 2019, with another big name in the southside foodie scene, Cafe Strangebrew, taking their original home. Keen to bring a little slice of Malaysia to the west of the city, Julie also set up camp at SWG3's Acid Bar in 2019 and, during the strange summer of 2020, went back to her street food roots with the opening of Ga-Ga Chicken in the venue's Ronnie's Bar & Bike Shop in the Galvanizers Yard.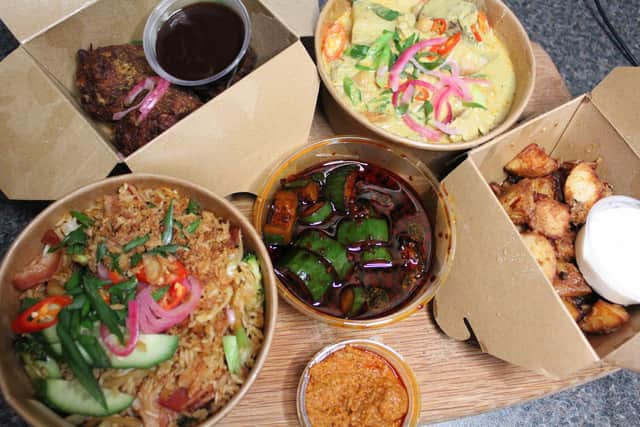 As with many restaurants, Julie's hasn't been able to reopen at all, given how cosy the space is, but the team have kept bringing a ray of sunshine to the takeaway scene since the summer, with an evolving menu of delicious Malaysian and south Asian dishes.
Orders are placed online, with socially distanced collection in person from the restaurant on Pollokshaws Road in Shawlands. Not keen to slim down our servings and still in holiday mode, we opted for the set menu for two (meat option), which includes corn fritters, Gado Gado salad, nonya chicken curry with rice, breakfast nasi goreng and smashed cucumber, andsides of prawn crackers, hot and fiery (numbing) tatties and a peanut dip.
After a pleasant drive through deserted, freezing Glasgow streets, adorned by fairy lit windows I arrived as Julie's and, after a short wait, collected our order along with a deep amber jar of newly made (secret recipe) chilli oil - a belated Christmas present to myself, which has now been used to flavour everything from scrambled eggs to stir frys.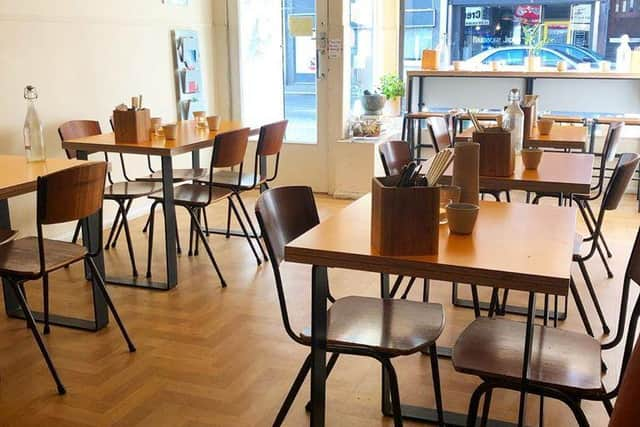 Once home, we started our fragrant feast by tucking into the corn fritters and Gado Gado salad. These dense, darkly coloured soft patties got us off to a great start with the crisp sweetness of the corn balancing perfectly with the sour tamarind chutney. The salad, in which small bursts of flavourful peanuts were hidden along with soft chickpeas and thin noodles, was brightened by seasonal vegetables, Asian herbs and a kick of dressing - making it a light, refreshing palate cleanser before the next course.
When it comes to curries, I am one of those people that hovers somewhere between korma and jalfrezi, so I tend to favour the creamy, coconut laden creations from Asia and the nonya chicken curry is right up my street. Bowl food at its best, the tender pieces of chicken thigh are livened up by a broth of spices, ginger, galangal and lemongrass served, and soaked up, by steamed Jasmine rice.
Next up is the breakfast nasi goreng and a dish that may be familiar to those who have devoured it in the hopes of staving off a hangover.
Usually served at the Kopitiam with a fried egg, this dish has saved me from writing off a Sunday more than once. While the takeaway option doesn't include the soft yolked finishing touch, the team do recommend adding one at home if you can. We didn't, so keen as we were to get stuck in but this didn't detract from the moreish sticky yet crispy fried rice which is peppered with salty lardons, crunchy carrots, beansprouts and fiery chillies. A real mix of flavours and textures, it's easy to see why this is a mainstay on the menu at the restaurant.
After a few days of carb on carb meals (who says roast potatoes can't go on a sandwich, it's Christmas) our sides of numbing tatties were, despite sounding extremely hot, actually just spicy enough and offered the much needed potato fix of the season. Consisting of small pieces of fried tattie with Sichuan spices, these small morsels pack a punch, and did not last long on our plates. When it comes to the smashed cucumbers, forget everything you know of these watery, occasionally tasteless crudités. Marinated in black vinegar, soy sauce, and chilli oil, there's a salty warmth and depth to this dish that belies the salad-staple heart of the creation.
Like putting on a favourite woolly jumper, this is the type of food that seems to be made for cold winter nights, bringing an air of warmer climes and a comfort that beats leftover turkey sandwiches.
Julie's Kopitiam is open Thursday - Sunday with pick up between 4pm-9pm. Orders are also now being taken on Uber Eats.
£36.50 including sides for two