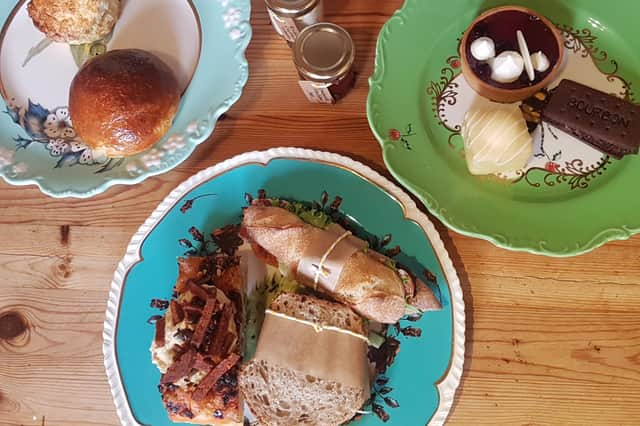 How much? Afternoon tea for two people, £50, excluding drinks
Afternoon tea is a logistical nightmare.
I always want to go straight to the frilly and pink iced things, but the law is that you have to pad yourself out with sarnies and savoury geegaws first.
Once they're done, it's onto the bollard-sized and stodgy scones.
Maybe it's a failing on my part, but you may as well scrape the top deck of cakes into the bin at that late point in proceedings.
And keep your lapsang souchong, since caffeine is an appetite suppressant.
Anyway, grinchy-ness aside, I love the idea of a takeaway afternoon tea, so you can pace yourself and pay appropriate attention to each element.
This lockdown business is owned by Rose Gregory, who was the chef at The Fat Pony on Bread Street, which shut down last year. Now she's a baker at Edinburgh's Company Bakery. This one-woman-band brings her wares (or you can collect from her Leith premises) to your door once a month on a weekend.
This date is promoted on her social media accounts and sells out fast.
I ordered mine through direct message a few weeks early, so I had plenty of time to dust off the chintz-y cake stand that gets used once every three years.
However, it's in a haunted cupboard that's a bit too high for me to reach, and is probably covered in spiders. Plates it is.
The drop off was from 12.30pm-1.30pm, and Rose appeared within the time window, face-masked-up, on our doorstep with brown paper bags and boxes.
We each had an aerated wad of Company Bakery dukkah-sprinkled focaccia, which was topped by a generous blob of rustic and garlicky hummus, as well as fingers of nduja, and a smear of lipstick red harissa. It was so much burlier and better than a cucumber bap with the crusts cut off.
I sometimes struggle with a sourdough sarnie and all those abrasive crusts, which make it feel like your gums are being sanded down by a Black & Decker.
These were perfect though - pleasingly chewy.
The demi baguette, with each end pointy like a waxed moustache, was filled with East Coast Cured fennel salami, and the meaty-ness was lifted by a sunny tang of cured tomatoes as well as sun-dried tomato mayonnaise. This piece de resistance was sealed neatly shut with a square of brown paper and yellow striped string.
An egg sandwich might have been an unimaginative addition, but this version was a lovely door stopper - the perfect size and bounce for a dormouse's Hypnos mattress.
It was filled with egg mayo, tiny little half moons of cucumber and a handful of salty capers.
And then, hooray, we could pause, without a clock ticking on our sweet course.
There was a game of Scrabble (I won, and I have done ever since I started overusing my qi).
To celebrate this victory, after streaking round the house and garden, we were ready for scones.
We each had a little fruit one, which we slathered in the contents of Rose's fun-sized jars of fragrant homemade strawberry jam and clotted cream. There was also a pair of soft and buttery brioche-y buns, one of which was studded with chocolate chips.
Another break, to Hoover and meditate.
One of my low rent pleasures is Mr Kipling's Fondant Fancies. Rose's take on these were a sophisticated take to assuage any shame.
The apricot, orange and almond versions were, inside and out, the pastel shade of a My Little Pony. They were draped in icing and, in the central reservation, was a lush cream. Eat your heart out, Seamus Kipling.
Another quirky take on retro favourites was a beurre noisette bourbon biscuit sandwich. You took a bite, and salted caramel, along with a rich and silky dark chocolate cremeux squelched out the sides.
Cake number three was the blackberry curd tart, with a perfect pastry and a dramatically dark and jammy filling. On top, there were two tiny meringues and a white chocolate coin, stamped with Rose's logo.
I don't know how she does all this solo. She could possibly be a genius or a magician.
This is the best afternoon tea I've had (apart from, maybe, Gleneagles, but that's a proper splurge).
And, safe in the knowledge that I haven't wasted a bite of food, now I'll take that cup of tea.
A message from the Editor:
Thank you for reading this article. We're more reliant on your support than ever as the shift in consumer habits brought about by Coronavirus impacts our advertisers.
If you haven't already, please consider supporting our trusted, fact-checked journalism by taking out a digital subscription.