Quinn's: the cafe serving tasty all day breakfasts and a selection of breakfast and lunch options on West Port
Cafe owner Michael Quinn made the decision to open his new cafe Quinn's during the pandemic after his previous Edinburgh bakery was broken into in 2011.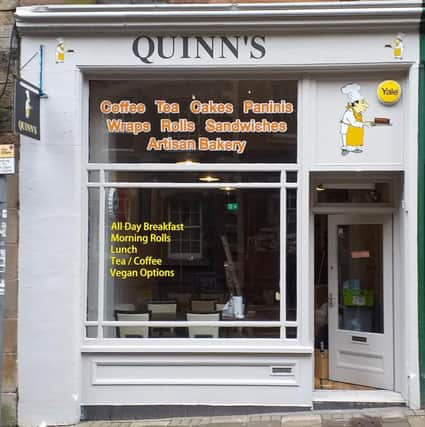 Mike Quinn took the challenges posed to Edinburgh's hospitality sector by the pandemic in his stride when he opened his new cafe Quinn's at the end of August. Having previously owned Quinn's Bakery Takeaway in Granton – a site which suffered multiple break-ins in 2011 – from 2009 to 2014, Quinn has spent the last six years working in hospitality venues across Edinburgh.
The opportunity to open a new cafe was realised after Quinn was placed on furlough from his previous role as a hospitality manager for Tynecastle Park's Strongbow lounge. Quinn tracked down the new spot for his cafe after posting business cards through properties in and around Edinburgh city centre – getting lucky when the site previously housing West Port Coffee became available. "The new cafe sees me doing completely different things to what I was doing before at the bakery," Quinn tells me "here I'm doing full breakfasts, bacon rolls, paninis, wraps."
Quinn took over the site at 62 West Port in August, opening his cafe Quinn's on Thursday 28th August. The cafe hosts a selections of rolls, wraps and eggs on toast alongside tasty all day breakfasts. Quinn's also offers a range of soft drinks, speciality teas and coffees similarly available to either sit in or take away. Throughout September, Quinn says that the business had been doing well despite the looming presence of coronavirus, with busy weekends helping to keep Quinn's going.
Since new restrictions on hospitality businesses in Edinburgh and the central belt were announced in early October, Quinn says that business has been "awfully challenging". "We took a chance obviously" he continues, adding that the impact of the pandemic and recent new restrictions has been "horrendous" for nearby businesses in the usually bustling Grassmarket and West Port area.
Quinn's can be found at 62 West Port in the heart of Edinburgh's Old Town, offering a perfect spot for tourists, workers and passers-by to grab an affordable and tasty meal to sit in or take away. It is currently running reduced opening hours from 8am to 2pm each day.