Passions: Bring on the Christmas aisle as early as possible - I love it
I know people can find it frustrating – but I love it when shops start selling Christmas stuff.
We can all picture the scene. It's August and we've popped to the supermarket to pick up some bread and milk, and no. It can't be. Is that a tin of Quality Streets? Do those paper napkins have holly on them? ARE THOSE BAUBLES??
Every year, there's always someone grumbling about how the summer isn't even over. It's not even been Halloween yet, I can't BELIEVE the shop is selling Christmas stuff already.
And I get it. I do. Nothing makes time feel like it's passing too quickly more than leaping from holiday to holiday, the space in between melting into barely a memory.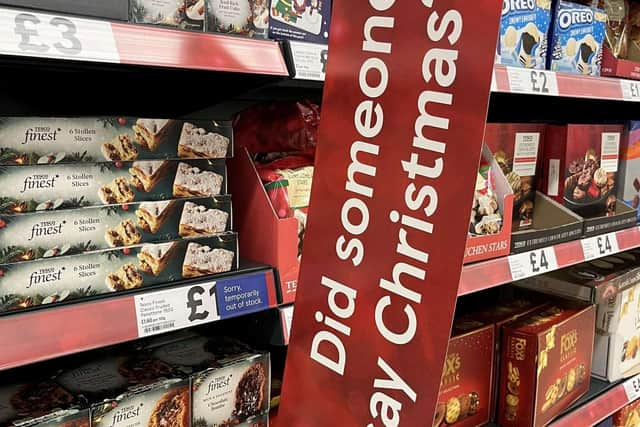 But growing up, there was nothing better than when the local supermarket started selling Christmas things.
I have a fairly large family, me with three older brothers and my parents, with often a grandparent, aunt or uncle appearing around the festive season.
Financially, it wasn't possible to buy everything we'd need – all the food, the booze, the boxes of chocolates, the presents – in one go. We couldn't do one big Christmas shop to get everything we'd need in one massive shopping trip, we had to build it up over the months.
As soon as the Festive colours started appearing in the shops, my parents, bit by bit, would start building the Christmas hamper.
Every Friday, from late summer onwards, after the weekly big shop, either my mum or dad would smile, and hand me or one of my brothers a tin of chocolates or biscuits, or a bottle of fancy alcohol or posh fizzy juice, or tubs of Pringles (other crisps are available) and tell us to stash them away in "The Box" upstairs.
"The Box" was literally just a cardboard box in my parents' room that would grow and grow until it was spilling over with delicious treats.
Reader, I will never be able to put into words how exciting this was as a young child. The anticipation of Christmas is already all-consuming at that age, but racing up stairs each week with shiny tins and brightly wrapped packages is a memory that will glow warm and blissful in my mind forever.
Even as an adult, I smile when I see the supermarket signs signalling stocking fillers and chocolate tins. Time to start preparations, I think.
Rachel Mackie is Engagement Editor at The Scotsman​
Comments
 0 comments
Want to join the conversation? Please or to comment on this article.