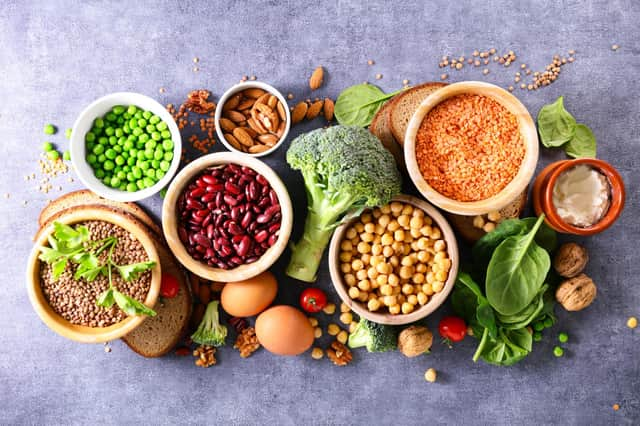 The main mission of National Vegetarian Week is proving that it is easy to make a tasty, nutritious and filling vegetarian meal without spending a lot of money or taking up much time (Shutterstock)
Veganuary, a movement when the whole month of January is dedicated to trying out vegan food, has taken off in recent years.
Organised by the Vegetarian Society the week is all about showing people that vegetarian food doesn't need to be bland or boring.
This year, some high profile celebs have signed up to take part, from Stephen Fry and Joanna Lumley to Chris Packham.
So what is National Vegetarian Week all about, when does it fall in 2021 and what is this year's theme?
Here is everything you need to know.
What is National Vegetarian Week?
Quite simply, National Vegetarian Week is one week of the year when people are encouraged to cut out meat.
Run by the Vegetarian Society, the charity raises money for food banks and sends out emergency vegetarian and vegan food parcels to families in need.
It's not about making the switch permanent but more focused on swapping vegetarian meals for your usual meat dishes.
There is also much focus on educating school children and families about the benefits of incorporating veggie meals into their diets.
Big name celebrity chefs and supermarkets usually join in on the action each year.
When is National Vegetarian Week in 2021?
This year, Vegetarian Week falls on 10 May 2021 and lasts until 16 May.
The week actually started off as a single day back in 1992 but gradually increased in popularity and expanded to a full week thanks to a public desire to know more about vegetarianism.
That was coupled with an increased demand for vegetarian options in restaurants.
Many people opt to go vegetarian to help the environment, as experts believe replacing meat with vegetarian options helps to reduce carbon and other greenhouse gas emissions.
According to the Vegetarian Society, eating a vegetarian diet equates to 2.5 times less carbon emissions than a meat diet and it also uses less water.
What is this year's theme?
For this National Vegetarian Week, people are being asked to take part in the Veggie 123 challenge.
You're asked to try eating vegetarian food only for the week, and to nominate two friends to do it with you by either posting on social media or sending them an invitation.
At the end of the week, you donate £3 to the Vegetarian Society, so it's also for a good cause.
If you wish to join, all you need to do is register on the National Vegetarian Week website to receive your free challenge kit.
You'll then be sent emails packed with vegetarian recipes, tips and discounts to help you through the week.
How can I get involved?
The whole purpose of National Vegetarian Week is proving that adopting a veggie diet is straightforward and inexpensive, meaning it's easy to get involved.
If you do join the Veggie 123 challenge, you'll be able to download the designated meal planner which also includes some recipe suggestions.
But if you fancy whipping up your own vegetarian dishes, there are plenty of great and varied recipes online for inspiration.
Look out for ones which include beans and nuts - two staple foods of the veggie diet which are high in protein.
As vegetarianism has become more popular over the years, there are a plethora of meat alternatives - from mince to sausages - which are often cheaper than the real deal.
After the week is over, you don't need to go vegetarian full-time but can try meat-free Mondays - a designated day each week for eating veggie-only recipes.