"I love visiting Scotland two to three times a year" says Alan Murchison, 50, the Scottish chef and sports nutritionist. "The north west coast and central Highlands are my two favourite areas. I recently rode the North Coast 500. My family is from Aultbea so the roads in that area are full of great memories".
Murchison has 25 years' experience working in Michelin starred restaurants, including Berkshire's L'Ortolan, where he was executive chef, but he's also a multiple world and European age-group duathlon champion, national level master's cyclist and ex-international endurance runner.
He puts paid to the idea that chefs are usually a bit grey-looking and unfit.
His new book, The Cycling Chef: Recipes for Getting Lean and Fuelling the Machine, is out today, and is a follow up to his last book, The Cycling Chef: Recipes for Performance and Pleasure.
"I can't think of a finer chef to have written a book on nutrition and diet for athletes", says Tom Kerridge, in his endorsement on the front of the hardback.
This read has a focus on shrinking that lockdown paunch, so it's not pressing up against your handlebars or making your jersey look painted on. However, the recipes also provide balanced nutrition and enough fuel, so you're not hitting the dreaded bonk when you're miles from home.
To suit a Scot, oats feature heavily.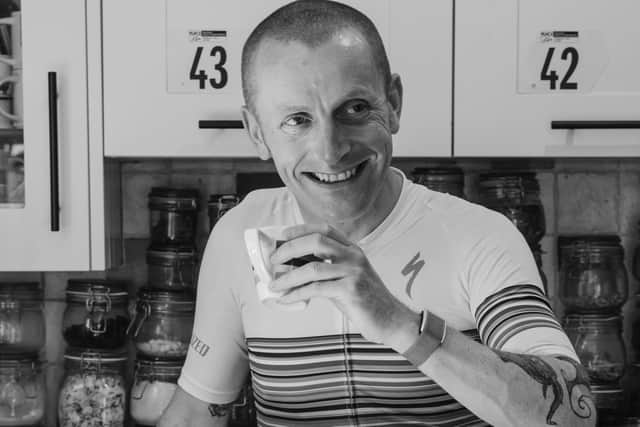 "They're hard to beat, " Murchison says. "I have included three baked oat recipes in the book as I love the richness and different textures which soaking and then baking the oats give you. They're also included in many of the bike snacks. The cracking cherry and coconut granola bar has a good dose of rolled oats".
These and all the other recipes have been tried out on the ultimate critics.
"Most of the recipes have been tested on the GB elite cycling team and the Canyon- SRAM women's world tour riders", he says. "A number of the riders have been sent recipe packs to home test the dishes for me to make sure they work without the input from a Michelin starred chef. However the most honest and strictest critics are my teenage daughters. If a recipe gets signed off by them then I know it's good to go".
Proof that the recipes are for everyone, not just athletes.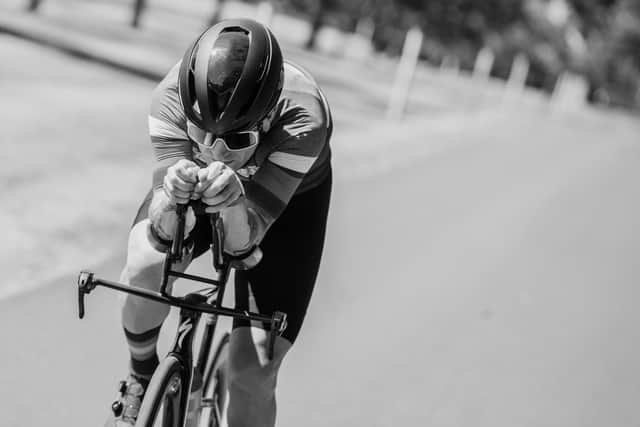 They're also easy enough for home cooks. You definitely won't need tweezers, a sous vide machine and edible flowers.
There are chapters including Soft Pedalling Days, with recipes including smoky green pea broth and DIY muesli; Pre-race, which includes Cheryl's coconut oat balls, and Hard Days: Fuelling the Machine, with recipes like the chocolate chickpea mocha brownies (below) and turkey "Keith Reynolds", named after the logistics manager for British Cycling.
We imagine that the latter section is mega fit Murchison's most used chapter.
"My last trip involved a 10 day training stint in Aviemore," he says. "We did 35 hours riding all over the Cairngorms and surrounding area. It was stunning and the sun even came out. Once lockdown lifts we will be heading north to do the Hebridean way".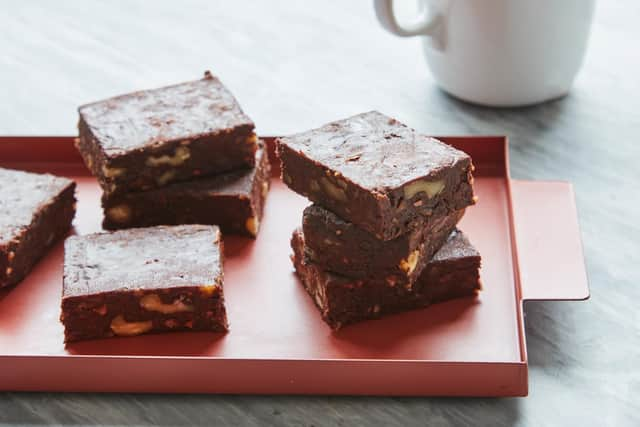 Although the back pocket of Murchison's jersey is probably full of delicious energy bars that he's whipped up himself, he does have a few preferred stop-offs en route.
"When passing through Inverness, I always head to Inverness Coffee Roasting Co to get a good brew, which is served with some traditional tablet on the side, and I'll stock up with some whole beans to take back home," he says. "Our favourite place to refuel after an honest day out on the bike is the best fish 'n' chip shop ever, Smiffy's in Aviemore".
Everyone is allowed a cheat day.
Alan Murchison's new book The Cycling Chef: Recipes for Getting Lean and Fuelling the Machine is available now (Bloomsbury, £22.00)
These brownies are ideal for snacking because, being quite rich, you don't need to eat too big a portion – perfect for on the bike or as a pre-ride snack. Or try one of these bad boys chopped up and mixed with a large spoonful of Greek yoghurt for dessert. It's snacking that's good for vegan types, too, as no coconuts were harmed in the development of this recipe.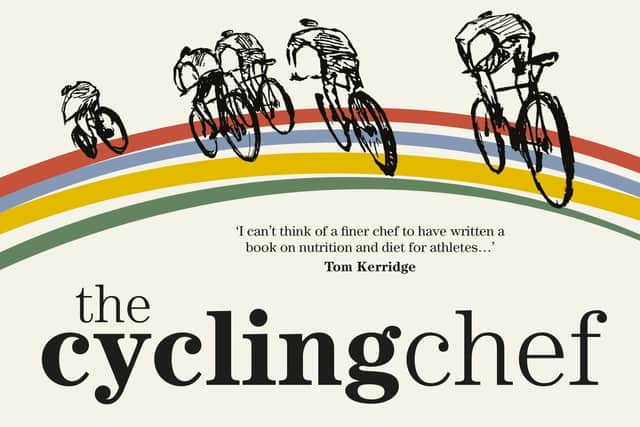 Makes 24 x 35g bars (snack-size)
1 teaspoon vanilla extract
2 teaspoons good-quality instant coffee (optional)
Total carbohydrate: 10 g (of which sugars: 7.2 g)
Fat: 9.5 g (of which saturates: 4.6 g)
Fibre: 2.1 g | Protein: 3.4 g | Salt: 0.05 g
1. Fit a food processor with the paddle attachment and into the bowl add the chickpeas, dates, nut butter, coconut oil, vanilla extract and salt. Beat until fairly smooth.
2. Gradually add the cocoa powder, coffee (if using) and the cocoa nibs until the mixture forms a paste.
3. Finally, add the walnuts and whizz for 20 seconds max to ensure the texture of the nuts is retained.
4. Transfer the mixture to a 22 x 22 cm (9 x 9 in) tin and smooth with a palette knife. Place in the fridge to set for 1 hour, then slice into bars. Store in the fridge for up to 2 weeks, although it's highly unlikely they will last that long!
A message from the Editor:
Thank you for reading this article. We're more reliant on your support than ever as the shift in consumer habits brought about by coronavirus impacts our advertisers.
If you haven't already, please consider supporting our trusted, fact-checked journalism by taking out a digital subscription.