Meet the Glaswegian chef set to open Auld Hag - a Scottish cafe and deli in London
What started as a lockdown project has grown into a thriving business. Rosalind Erskine finds out what Londoners can expect from the Auld Hag Scottish cafe and deli, and the motivation behind bringing a little slice of Scotland to Islington.
As with some people, Gregg Boyd started a side project in lockdown. What had been a thought in the back of his mind for years took on a life of its own during the pandemic.
"I was working as an economist down in London, and had been there for about six years by that point, and was always frustrated at the lack of Scottish food and drink options available," he said. "That had been on my mind for years – the lack of things like a roll and square sausage or glass bottles of Irn-Bru – but it took a global pandemic to force my hand to do something about it."
That something was to set up an Instagram page, Auld Hag, and deliver haggis, neeps and tatties to whoever got in touch. "I was actually delivering it for free at the start and just asking for feedback, just to see how that kind of food was perceived locally in Hackney," Mr Boyd said.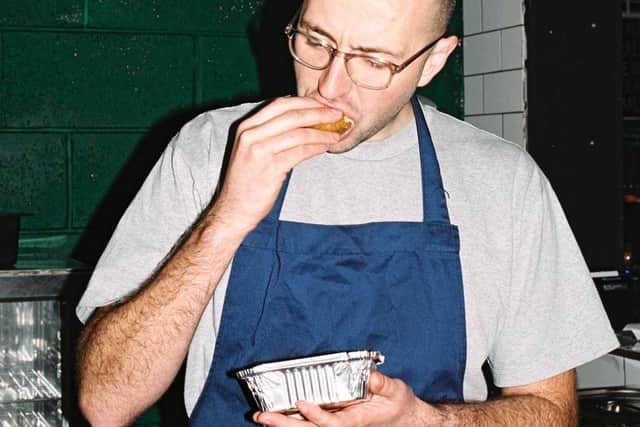 "That area has cool pizza places as well as lots of international food, but nothing Scottish. So it all started out as a bit of an experiment."
After lockdown restrictions were lifted that spring, Mr Boyd bought a gazebo and cooking equipment and set up at a local market in the east end. "We started trading under the name Auld Hag, selling haggis, neeps and tatties, but very quickly realised there was a bunch of other Scottish food we could move into, so we started playing about with the menu.
"Other food traders then started to hear about us, so we partnered with them and did some pop-ups over that summer. We then moved to another market, close to Kings Cross – a bit closer to where people are getting off the train from Edinburgh – and one of the people to visit that market one weekend was a Scottish Government representative.
"They got in touch and asked us to be the caterer for them at Scotland House at Blackfriars. We then got asked to take over a residency at a pop-up brewery in Walthamstow, which was run by a guy from Cumbernauld. Things just all came together a year into us just messing around really, while working full time."
It was at this time that Mr Boyd decided to give up his day job and really throw himself into Auld Hag – a name designed to take the stuffiness out of how haggis is perceived. Mr Boyd said: "I thought, why do we only get haggis when there's tartan and bagpipes, and on the 25th of January? Why can't we make it more casual or even creative and funny?
"So I came up with the name Auld Hag and thought we could make the haggis like an old granny and then it becomes our character as a kind of spin on the haggis as a mythical creature. It has allowed people to approach Scottish food in another way as it's not formal and over the top with tradition. It's more light hearted and I think it has allowed people to try it for the first time or try it again, in a more casual setting."
While Auld Hag may be named after, and started out serving, haggis, Mr Boyd's plans for the business include widening people's palettes and perceptions of Scottish food.
He is gearing up to open the Auld Hag Scottish cafe and deli in North London. While it will serve haggis, macaroni pies, homemade morning rolls with square sausage, homemade tattie scones, Tennent's on tap, and glass bottles of Irn-Bru, he is also going to sell produce from small, independent businesses that people may not realise are based in Scotland. These include Bare Bones chocolate, Rapscallion sodas, Blackthorn salt, East Coast Cured Charcuterie, beers from Newbarns Brewery and Dookit Brewery, and coffee roasted on Skye.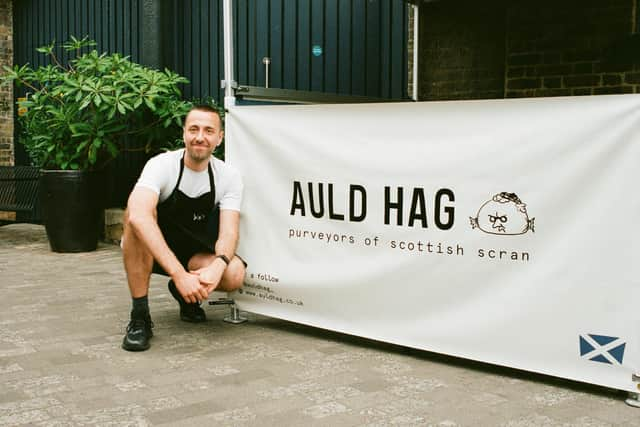 "During the pop-ups, although we had a fully Scottish menu, it became pretty clear that people had an appetite for more as they kept saying they'd love to try crispy (morning) rolls and Tennent's etc," Mr Boyd said.
"At the same time, I realised that the suppliers I was working with, to create the menus, didn't have a presence in London, so it made sense for us to not just do food, but become a shop as well. The shop will stock all the Scottish products that we have discovered and think are really good as well as a cafe, which will have freshly made pies, rolls, tattie scones and cakes and bakes such as fruit slice and tablet, as well as hot filled sandwiches made with Scottish meats and cheeses.
"But as well as this, there's products that people might not know are from Scotland, and the main focus is to show people outside of Scotland, and some from Scotland, what we offer as a nation from a larder point of view. A lot of people don't really appreciate what we do in terms of food and drink and I think there's so much to shout about. Some of that is traditional, but some of these brands are also doing something brand new."
Mr Boyd is clear on his dislike of the deep fried Mars bar trope that has dogged Scottish food for years. He has used it as 'fuel for the fire' for his business.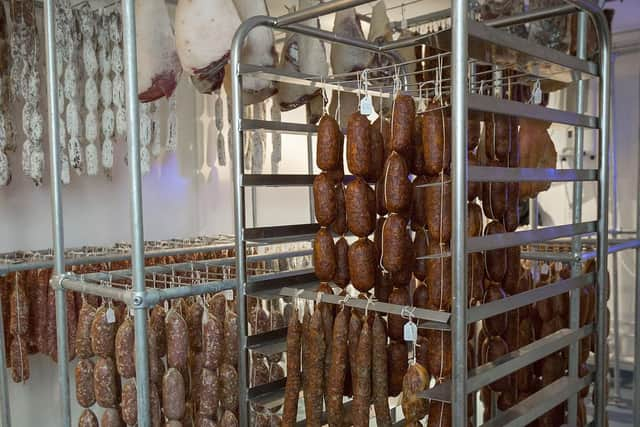 With Auld Hag's tagline 'purveyors of Scottish scran', Mr Boyd has had to explain what that means to visitors from across the globe. He said: "I've had Americans or people from Nepal or all over the world who ask what scran is, and then go on to ask what Scottish food is, and reference the deep fried Mars bar. Although it's disappointing to hear that every time, it's fuel for the fire for what we're doing.
"I just did a pizza crunch pop up a few weeks ago, so I am not trying to discredit the deep fried side of our food, but there's just so much more than that. Look at wild venison, raspberries, cheese – and for me a roll and square sausage is equally as good – but a lot of people don't really know that we have those ingredients in Scotland. People also don't really know that we have these dishes that mean a lot to people all over Scotland, and I think that's a shame, so I am trying to sort it."
Auld Hag will open in late September in Islington. To find out more, visit their website – www.auldhag.co.uk.
Comments
Want to join the conversation? Please or to comment on this article.