After reopening all of its drive throughs earlier this month, McDonald's has announced plans to open more than 280 branches for walk-in takeaway service - including several in Scotland.
The takeaway service will launch at locations across the UK from Wednesday 24 June, with Edinburgh and West Lothian among the list of Scottish branches.
What safety measures will there be?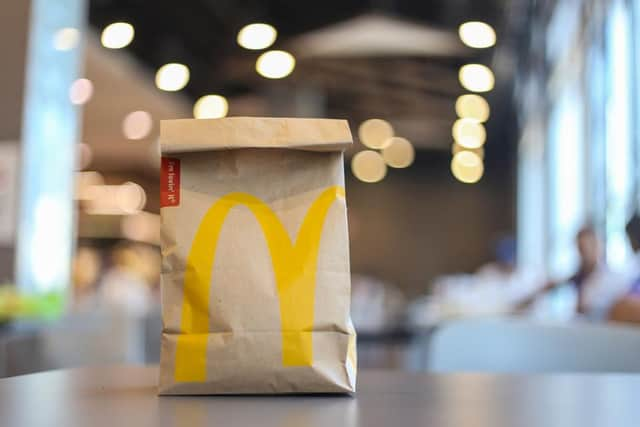 As of 24 June, people will be able to walk into McDonald's branches around the UK and pick up their food.
McDonald's has warned that its restaurants may look a little different inside and food orders may take slightly longer than normal, as its teams adjust to new working procedures.
The fast food chain has introduced a number of new safety measures as it rolls out its walk-in takeaway service.
These are the changes customers can expect:
- Clear signposting and floor-markings to create a one-way system around restaurants where possible
- A limited number of people to be allowed inside at one time as part of efforts to adhere to social distancing guidance. This will vary across different restaurants depending on their size and layout. Customers will be welcomed inside when a space becomes available
- Customers will be asked to sanitise their hands on entry at newly installed cleaning stations at all restaurants
- Fewer self-order screens will be available and those that are in use will be sanitised at least every 30 minutes. Customers can also order via the My McDonald's app
- Customers are encouraged to visit alone to collect their food where possible
- Restaurant seating areas, customer toilets, lifts, recycling points, play and digital play areas will all remain closed
- Customers are asked to use contactless payment methods and cap their spend at £25 where possible
McDonald's has asked customers not to visit if they feel unwell.
These safety measures come following a number of changes that have already been introduced at reopened drive thru and McDelivery restaurants.
Such changes include perspex screens installed in the kitchens, service areas and drive thru windows, disposable gloves for staff in customer and courier facing positions, and face coverings for staff.
Restaurants have reopened with fewer staff on each shift, reduced menus and reduced hours, with branches open from 11am to 10pm.
While only a limited menu is available, it still includes the bulk of McDonald's favourites, including the Big Mac, McChicken sandwich, chicken McNuggets, filet-o-fish, fries, mozzarella dippers and McFlurry's.
McDonald's is continuing to encourage customers to use the My McDonald's App to view the menu, order and pay before arrival.
However, fans will have to make do with a reduced menu for the time being, with no porridge, bagels or breakfast wraps on offer.
But the revised menu will include all of the classics, with customers able to enjoy favourites including McMuffins, hash browns and pancakes.
If the breakfast trial proves successful, McDonald's will roll out the menu nationwide in July.
Which restaurants are open in Scotland?
These are all the McDonald's restaurants in Scotland that are open for walk-in takeaway from 24 June:
- 137/138 Princes Street, Edinburgh
- 165/167 Trongate, Glasgow
- Unit 37 Silverburn Shopping Centre, Glasgow
- Designer Outlet, Livingston, West Lothian
- Hamilton Motorway Service Area, Roadchef Hamilton, North Lanarkshire