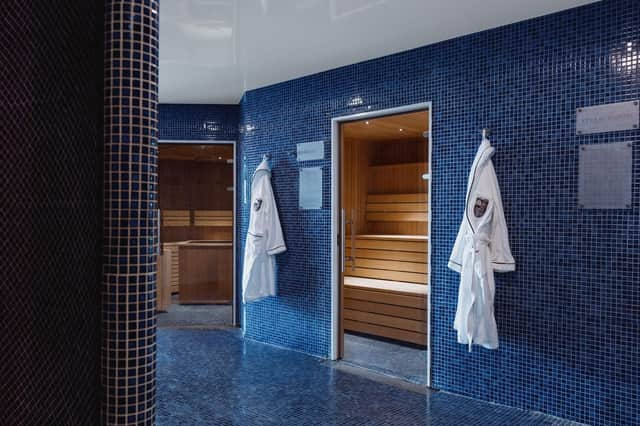 Marine North Berwick Spa Pic: A Baxter
"Do you want to have access to the spa before or after Sunday lunch?" they asked, at the Marine North Berwick.
There is only one sensible answer to that question.
Nobody wants to be seen in their swimwear after stuffing their face. I would resemble Moby Dick. It would frighten the other guests.
We were taking advantage of this East Lothian hotel's new Sunday Dine and Unwind package. If you eat from the Sunday menu, with no minimum spend, they'll chuck in two hours of complimentary spa access.
We turned up at 11am, to take full advantage of our time. It's not my first visit here, and the spa, which now offers treatments from French brand Caudalie, is pretty much as I remember, though the 19th-century Victorian golf hotel was taken over by US company Marine & Lawn last year.
There's the swimming pool, but we dodged that as we weren't planning on any exercise. However, there's also a bubbly hydropool, which extends outdoors, and features a swan-neck fountain and tiled beds.
Inside, you'll find two saunas, including an infra red one, a pair of steam rooms, massage showers, and an ice fountain, to cool down. We circuited round each, twice.
Although we were booked in for lunch at 1pm, something about the heat treatments combined with the North Berwick air stimulated our appetites. Thankfully, The Lawn restaurant could slot us in earlier, at 12.30pm.
There seemed to be quite a few other tables who were taking advantage of the deal. We identified them by their pink cheeks and wet hair.
There is a decent selection of dishes on the Sunday Lunch menu. We both had starters of citrus-cured salmon (£11), which was great, but we should have just skipped the precursor and gone straight for the roast beef (£22) main, as it featured such a monolithic portion. You really don't need anything else.
We each had three huge slices of dry aged rump cap of Scotch roast beef, duck fat roast potatoes, a herby carrot, creamed greens, horseradish sauce, loads of gravy and copper-coloured Yorkshire puddings that were so huge we could've sailed to the Bass Rock in them. There are other options to choose, like plaice (£24), and truffle mac and cheese (£14), but, unless you're a vegetarian or vegan, why would you want something else when they do an excellent plateful like that?
Puddings include sticky toffee (£8) or apple tart tatin (£8), but we were replete.
This is such a great deal, with no closing date. Just remember to eat after the spa, not before.