Lindores Bear Burning 2023: This modern ritual is served with whisky at Fife's Lindores Abbey Distillery
It takes place every year in the town of Newburgh
It's the 50th anniversary of The Wicker Man, and the classic horror film is in my thoughts when I'm invited along to the annual Lindores Bear Burning in Newburgh, Fife.
Thankfully, or sadly, depending on your perspective, there's to be no human, animal or even teddy sacrifice at this ritual.
It looks like I will be spared a Sergeant Howie-esque fate.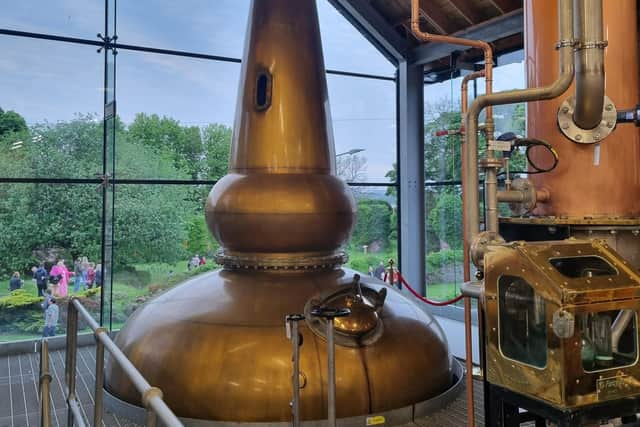 Although the event may sound a bit Pagan, this is a relatively contemporary tradition in the small Fife town, which has a population of just over 2000 and is at the south shore of the Firth of Tay.
The subject is the 300ft bear and staff symbol that is carved into the hillside overlooking Lindores Abbey and the eponymous distillery, who are the largest employer in an area that was once famous for lino production.
The emblem is a medieval household badge, which dates from the 14th and 15th century. It was used by the Earls of Warwick, and the Newburgh connection is that this title was offered to William the Lion, who gave it to his brother, David, founder of Lindores Abbey. You can also see it on the 'bear stone', which was originally part of the abbot's residence, but now hangs above the Bear Tavern on the High Street. It presumably ended up here as the villagers built their houses using some of the Lindores Abbey stones after it was torn down by John Knox's crew in 1559.
These days, that bear appears on the Lindores Abbey Distillery labels. These include their Lindores Single Malt Scotch Whisky MCDXCIV and the botanical spirit, Aqua Vitae, a precursor of which was produced at the abbey in the 15th century and prompted the earliest written reference to Scotch whisky in the exchequer roll of 1494.
I suppose the hillside carving is reminiscent of something like the Uffington White Horse, though that is prehistoric, and Newburgh's take on the genre has only been here since 1980, when it was created as part of a community project.
Since then, it's been regularly burned, either to clear vegetation or as an excuse for a shindig. The McKenzies, who have owned the land and abbey for over a century, and now have the six-year-old distillery, organise an annual ticketed viewing of the burning, over two nights, to celebrate a good year of distilling and the arrival of spring. They even continued through Covid, in order to keep locals' spirits up.
"This is our third one for our wider Lindores family and friends, but we have been burning the bear in Newburgh for decades," says communications manager Poppy McKenzie Smith. "It has been lit for everything from family weddings to celebrating the primary school kids heading off to high school. It's hard to explain to people who haven't seen it before, but it's unforgettable once you do".
They attract guests from all over the globe to this event. Indeed, there are many accents on our visit.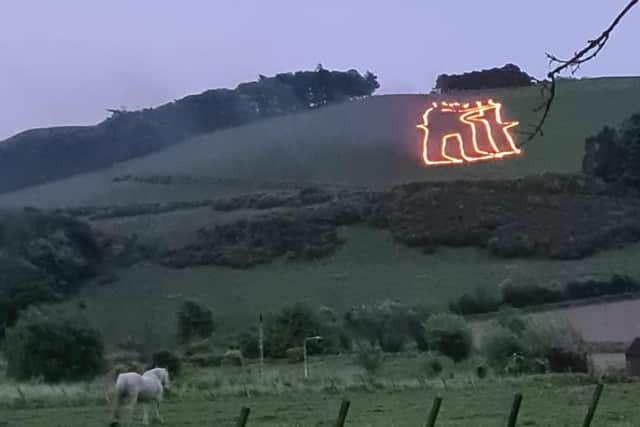 "We've had visitors from Germany, the Netherlands, Sweden, Italy, Finland, London, Belgium, Switzerland, Canada and the US among others. It's such a special event, and we love that so many people gather to come and see it," says McKenzie Smith.
First, we all have to wait for it to get dark.
Since I've arrived at 7-ish, that allows a bit of time to explore the smart and modern distillery. Obviously, the whisky is the main attraction, but I'm keeping an eye out for their mousers, Vesper and Friar John Claw, who recently starred in a Netflix documentary, Inside the Mind of a Cat. Unfortunately, these celebs have made themselves scarce, but I do get to meet the distillery's new puppy, Onion. I hope that he'll soon be appearing on their shop merchandise like his feline sisters.
There's also a bit of a tasting session. Seated at a long table beside the copper stills, we experience a few not-yet-on-sale cask strength - between 59 and 60 per cent alcohol - drams with blender Lorena Baez Subiabre and manager Gary Haggart. There's a Thiron Virgin Oak Quarter Cask, Ruby Port Wine Barrique, 1494 Marrying Cask and the mouthful that is Friar John Cor Cask Strength Congregation Chapter 2, plus another "surprise nip" for the road.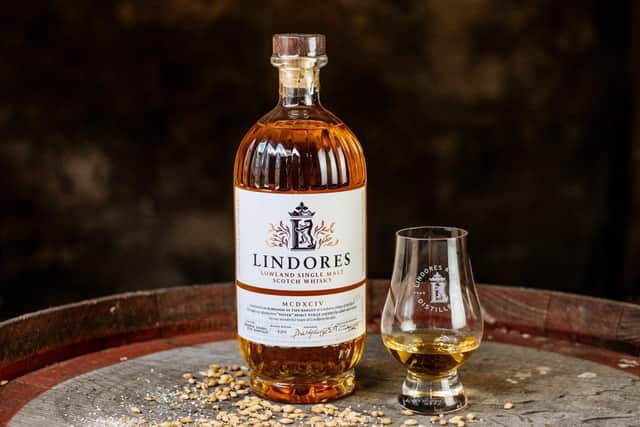 We definitely won't be chilly, when it's time to venture into the grounds of the ruined Tironese abbey, where William Wallace once hung out. As the light fades, we creep around its walls and arcades, as well as remaining features include the 14th-century moss-lined coffin of Sir James Douglas, aka Black Douglas, and the tiny slots for the baby princes, who were the sons of David I.
It's very atmospheric, as a pipe band plays and the bats cruise overhead.
We clutch our drams, and slowly watch the bear outline go up in flames.
"It's lit by a wonderful team of guys from the village led by Jim Lee and with the help of our cousin Roger Howison. They place hundreds of cans, which are recycled afterwards, along the outline of the bear and fill them with rags that are then set alight," says McKenzie Smith. "It takes a very long time to set up, and they are so patient. The bear is carved into Roger's farmland, and his farm Parkhill supplies some of the barley which goes into the whisky. The bear burns for a few hours, rain permitting, and can be seen for several miles on a clear night".
Indeed, after a few minutes, it burns SO brightly in an aptly amber hue. I wait for the human sacrifices to commence, but there's nothing but bonhomie among the ghosts of Lindores Abbey's monks.
Comments
 0 comments
Want to join the conversation? Please or to comment on this article.