Johnnie Walker Princes Street: Story behind innovative menu from Michelin starred duo & world-class cocktails
In the latest bonus episode of our Scran podcast, Rosalind Erskine finds out about a new pairing menu that's available at Johnnie Walker Princes Street
Johnnie Walker Princes Street is serving up a new culinary sensation for Scotland with STIR - a ground-breaking cocktail and cuisine concept in partnership with team Chef James Close and his wife, Head of Pastry, Maria Close, owners of the renowned two Michelin-starred global experience restaurant, Raby Hunt. James and Maria's unique menu of stunningly innovative small-bite plates are served alongside meticulously curated cocktails from Johnnie Walker Princes Street Head Bartender, Miran Chauhan, in a collaboration that aims to completely redefine the concept of whisky and food pairing.
Each cocktail offers a unique story with a focus on flavour, that will be shared with the guests during their experience. From a Hedgerow Aquavit, created from foraging for berries nearby the Glenkinchie distillery, to a Cliff Edge Vermouth, using botanicals from the Four Corners of Scotland distilleries, Miran has embraced new techniques to capture each guest's attention by bringing the whiskies into a new light. Known for their new age approach to fine dining and storytelling through micro dishes, Chefs James and Maria Close have created six small bites, to match the cocktails, with layers of luminous flavour and textures to delight.
Guests can expect a culinary showcase of unexplored food combinations, from rich, umami intensity within the Aguachile Oyster bite, to soft, sweet indulgence within the Green Apple.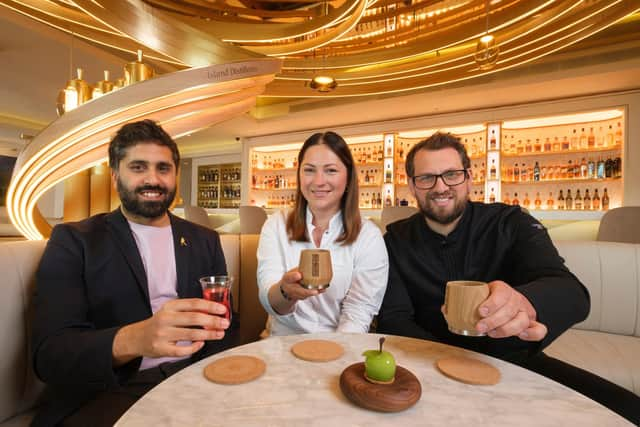 Miran Chauhan, Head Bartender at Johnnie Walker Princes Street, said: 'We see STIR as the portal to a new world of whisky and food combinations, in the heart of Edinburgh at Johnnie Walker Princes Street. James and I have a shared obsession for flavours and techniques and together we've created an enticing and highly original taste experience for everyone to enjoy."
James Close, two Michelin-starred-Chef of Raby Hunt Restaurant, added: "We approached this challenge with the same energy and enthusiasm as we always do, creating a set of signature dishes that derive from a single ingredient, inspired by a global adventure. And then just like Miran does with his cocktails, we bring layers and textures together to tell a unique story through taste."