Johnnie Walker Princes Street stirs up the Scottish culinary scene with Michelin collaboration
Exclusive collaboration with two Michelin-starred team James and Maria Close combines world-class cocktails with innovative cuisine.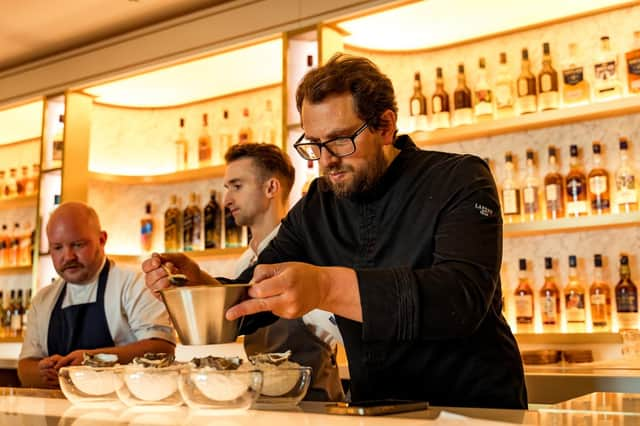 Multi-award winning Johnnie Walker Princes Street is the centrepiece of Diageo's £185 million pound investment in Scotch whisky tourism in Scotland – the largest single investment programme of its kind. Offering more than 800 flavour combinations, immersive tours and breath-taking views of the Edinburgh skyline, one person could visit Johnnie Walker Princes Street every day for more than two years still and not have the same experience twice.
Now, Johnnie Walker Princes Street is serving up a new culinary sensation for Scotland with STIR - a ground-breaking cocktail and cuisine concept in partnership with two Michelin-starred team Chef James Close and his wife, Head of Pastry, Maria Close, owners of the global experience restaurant, Raby Hunt.
James and Maria's menu of stunningly innovative small-bite plates are served alongside meticulously curated cocktails from Johnnie Walker Princes Street Head Bartender, Miran Chauhan, in a collaboration that aims to completely redefine the concept of whisky and food pairing.
Every season STIR, will evolve the menu with a twist on the Seasonal Cocktail Flight, as the cocktail and small bite influenced by the limited-edition Johnnie Walker Princes Street blend of whisky, changes with the time of year.
Jurica Gojevic, Food and Beverage Manager at Johnnie Walker Princes Street, says: "What makes James' success so remarkable is that he is completely self-taught and has a curiosity for international ingredients. I knew his innovative approach would perfectly match Miran's unorthodox methods of mixology and give us an opportunity to truly push the boundaries of flavour and fun with a one-of-a-kind menu. Through STIR we're creating something totally unexpected and delivering an unforgettable experience for our guests at Johnnie Walker Princes Street."
Miran Chauhan, Head Bartender at Johnnie Walker Princes Street, said: 'We see STIR as the portal to a new world of whisky and food combinations, in the heart of Edinburgh at Johnnie Walker Princes Street. James and I have a shared obsession for flavours and techniques and together we've created an enticing and highly original taste experience for everyone to enjoy."
Back in Edinburgh for the collaboration, James is returning to the capital after living in Scotland as a young man, when he worked in the menswear department of House of Fraser, in the very building that is now Johnnie Walker Princes Street Edinburgh.
James Close said: "We approached this challenge with the same energy and enthusiasm as we always do, creating a set of signature dishes that derive from a single ingredient, inspired by a global adventure. And then just like Miran does with his cocktails, we bring layers and textures together to tell a unique story through taste."
STIR features three flights:
The Four Corners Cocktail Flight takes guests on a beautiful journey exploring the Four Corners of Scotland distilleries, Glenkinchie (Lowlands), Cardhu (Speyside), Clynelish (Highlands) and Caol Ila (Islands), with each one integral to blending Johnnie Walker whisky. The combination is a complete experience carefully curated to highlight the landscape of the distillery, with locally grown and foraged ingredients from the naturally occurring flora and fauna.
Guests can choose to extend their experience via two additional pairings:
The Seasonal Cocktail pairing allows guests to take a short trip, experiencing a rotation of exclusive whiskies and seasonal ingredients, selected by the Johnnie Walker Princes Street team. The Spring Season highlights the unique Johnnie Walker Princes Street Spring blend.
The Johnnie Walker Blue Label pairing is an opportunity to savour this iconic whisky in an unexpected way. The cocktail is paired with the most exquisite small bite, a luxurious moment of indulgence for Johnnie Walker Blue Label connoisseurs.