Fife strawberry, Scottish tablet, peach bellini, Dime, orange and mascarpone, cranachan, blueberry cheesecake, Turkish delight.
Who could possibly visit Jannetta's Gelateria and order plain old boring vanilla?
This St Andrews cafe and takeaway offers more than fifty varieties of gelato, created by owners Owen Hazel, 56, and his wife Nicola Hazel, 51 - the great granddaughter of Bennett Jannetta, who set up the Fife business in 1908.
Soon they'll be bringing their scoops to a modern building at Slessor Gardens, on Dundee's Waterfront development, just a short walk from the V&A.
"We hope to open in April. It will be an intimate gelateria very much like those found in Italy, but with a modern twist", says Owen.
"Our interest in the location was generated before the pandemic. We were eager to play our part in the culture of the Dundee Waterfront. The surrounding architecture, play areas, benches and open grass provides a peaceful atmosphere among the city traffic. This unique feeling is one of the reasons why we were so eager to be involved".
They'll also be producing a new Dundee-themed secret flavour, to be launched at the opening.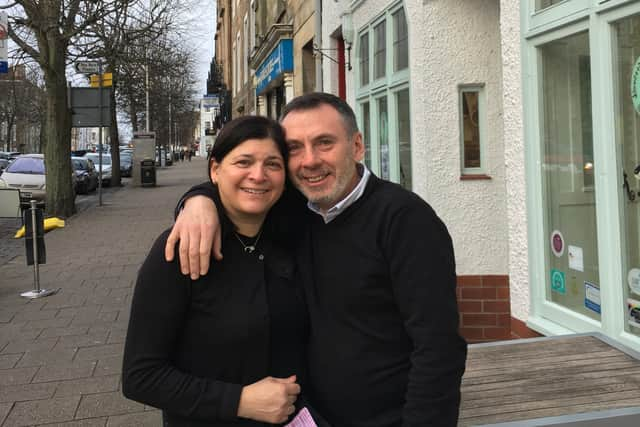 Since jute and journalism don't taste of much, we're guessing fruit cake or marmalade, though they're keeping schtum.
We imagine the new premises might be a chilly and exposed spot, with the wind whipping off the Tay.
However, according to Owen, the Scottish climate doesn't quash gelato cravings, and customers will be happy to use their outdoor seating or take a wander.
"It's never too cold for gelato", he says "The flavours, the creaminess, the crunch, the sharpness, the indulgence - no matter your order, when you eat it you forget about the weather and are so focused on the taste that the cold doesn't matter".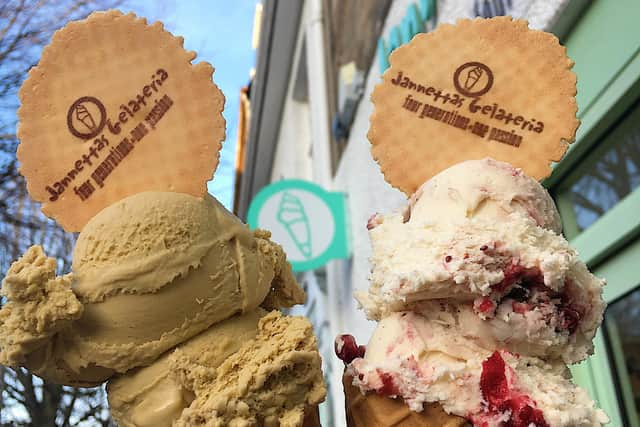 His St Andrews business has survived the last year by focusing on takeaway, and deliveries to Fife and Tayside.
There's also been a big push on social media, which has encouraged customers to design flavours. (Hazelnut, espresso and shortbread, as well as vegan Biscoff were among the results of this engagement).
"We have found ourselves experimenting with new products to continually provide a fresh and exciting experience", Owen says.
People definitely don't want vanilla, and a wafer cone isn't necessarily enough either.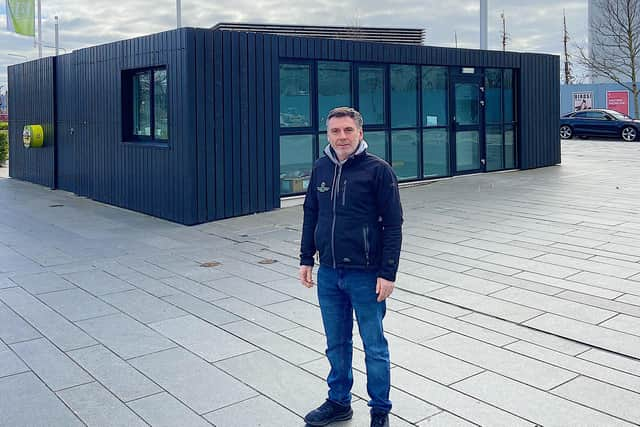 Thus, they've also been offering scoops that are teamed with desserts, so a Mars bar crispy cake filled with fudge ganache is topped with your choice of gelato and crushed Flake, or brownie cubes can jazz up your scoop of chocolate ice-cream. It's enough to make Mr Whippy quake in his boots.
According to Hazel, visiting Jannetta's for goodies, then taking some sugar-fuelled exercise, has been a tonic for lockdown fatigue.
"We believe that the demand for gelato hasn't changed during the pandemic, but customers enjoy the activity of visiting us to get one." he says. "Going for a walk along the beach and stopping off for an ice cream is an enjoyable way to spend your time while paying regard to the restrictions".
A message from the Editor:
Thank you for reading this article. We're more reliant on your support than ever as the shift in consumer habits brought about by coronavirus impacts our advertisers.
If you haven't already, please consider supporting our trusted, fact-checked journalism by taking out a digital subscription.