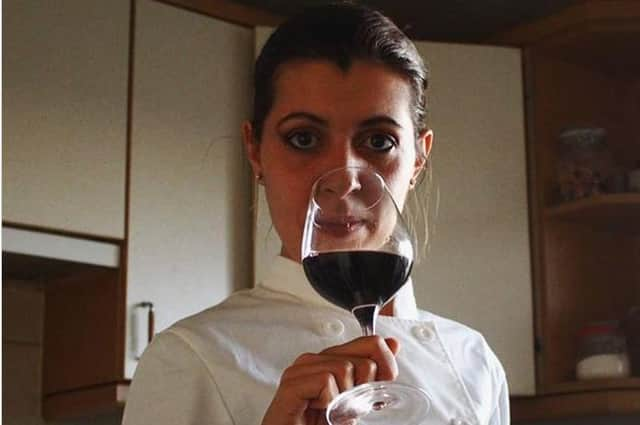 Chef's prergogative: Chef Luisa of Sardinia Meets Scotland
But this, however, hasn't stopped Sardinian chef Luisa Dore from meeting Edinburgh's demand for a taste of the Mediterranean.
Hailing from the Italian island of Sardinia, Luisa has spent some 18 years working in hospitality; moving to Edinburgh two years ago after managing Michelin Star restaurants in England.
Having always dreamed of opening her own restaurant, the supper club trend realised a more affordable option for Luisa - starting 'Scotland Meets Sardinia' in her home last year.
At the table: A typical evening of Sardinia Meets Scotlsand with Chef Luisa
Given her extensive hospitality experience, Luisa seized the opportunity to have the freedom of running her own kitchen organising and divining dishes inspired by her upbringing spent learning to cook with her mother.
She said: "Italian culture is so much about food and cooking with your mama as a child. I love my culture in Sardinia and especially Sardinian food, so it felt important to show this to people and let them taste the food from my region."
Chef Luisa's cosy Pilton flat provides the perfect setting for a true supper club experience - bringing diners together in a warm, intimate environment to sample Sardinian cuisine.
Here, a nine course tasting menu is served with locally sourced, seasonal Scottish fish blended with traditional Sardinian dishes.
Zichi, a traditional bread of Bonorva cooking in a vegetable stock with courgette, sun-dried tomatoes and ricotta mustia, Sardinian smoked ricotta
And while Luisa willingly provides meaty alternatives for diners who aren't fans of fish (and vibrant options for veggies too!) her love of cooking with fish means she can indulge with Scotland's own offerings. "Sardinian food has lots of variety, we are very good with meat and fish, and here in Scotland I can always find very good fish."
Dishes like Luisa's Monkfish a la Catalana, a dish typical of south-western Sardinian city Alghero and heavily influenced by the nearby Catalonia region, reflect her creativity in forging a Scottish-Sardinian cultural crossover - blending Scottish monkfish with a Sardinian salad of tomatoes and onions.
"Doing my supperclub is always really nice because I can speak about such dishes", she tells me, speaking to the added appeal of supper clubs in giving diners direct insights from chefs often condemned to the back rooms of restaurants. particularly enjoys being able to share with customers what makes Sardinian food so special. "In Sardinia, as in Italy, every different region has its different foods" she explains "but in Sardinia, every coast has its own different food." With the aim of bringing Sardinia to life for diners in her own living room, she hopes "to make the food from recipes reflecting different cities in Sardinia, so that during the dinner I can speak about them all in detail".
Perhaps the biggest stars of the Scottish-Sardinian show feature on Luisa's a la carte menu, currently available for take-away and local delivery in Edinburgh.
Alongside mesmerizing mains featuring Sardinian specialities such as fregola (a Sardinian couscous) which Luisa likes to serve with mussels or langoustine, and malloreddus (Sardinian) pasta shells, you can enjoy a mixed platter of canapes sourced directly from Sardinia. Among a whole host of colourful, tantalising aperitifs you'll find Sardinian olives, smoked ricotta and smoked Sardinian sausage served with Pane Guttiau - a crisp, salted bread served with extra virgin olive oil.
"The business was at first a lot more popular with tourists looking to try Sardinian food", says Luisa, adding that much to her joy it has proved increasingly popular with locals recently. As a chef who loves living in Edinburgh and building her own "little Sardinia", she hopes to become more established with locals in search of independent eateries and new restaurants to explore.
"It's really easy to adapt Sardinian dishes" says Luisa, when asked how she manages to keep her menu so fresh and exciting, "I can always find excellent Scottish fish to keep up with any seasonal changes and create new flavours."
"I really want to work and meet with local people, so this is really important to me. I think the experience [offers] something really different because usually - before and after lockdown - there is a maximum of only 12 people, or 3 or 4 tables." Even when lockdown restrictions were lifted and the chef could only permit groups of six at a time, Luisa enjoyed being able to create an intimate, friendly experience for those seeking a level of warmth and comfort somewhat lost in restaurants.
Available to order online for delivery or take-away, Luisa has adapted to new lockdown restrictions by making her tasting menu available to order for £38pp (the usual price per head for her supper club) alongside her extensive a la carte menu. Daily pickups and deliveries are available in Pilton if placed before 12pm, while Friday and Saturday delivery is available for EH1-EH6 postcodes before 10pm every Wednesday.
While the full supper club experience might be on pause due to Covid for now, Chef Luisa shows no signs of slowing down in adding to Edinburgh's exciting range of restaurants; creating dynamic culinary experiences you can now enjoy at home.