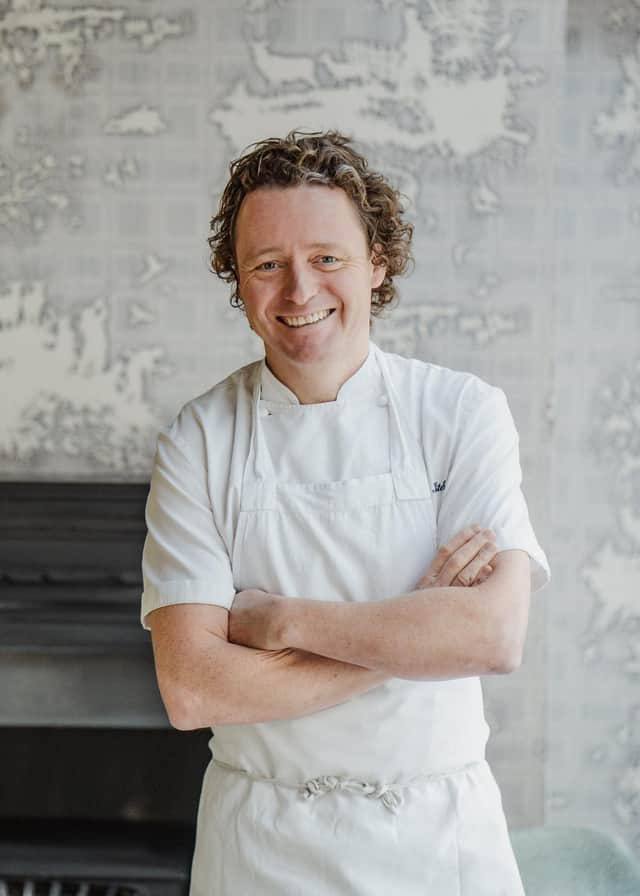 Michelin-star chef and restaurateur Tom Kitchin
Covid or not, Tom Kitchin is in the kitchen of his Michelin-starred Edinburgh shoreside restaurant in Leith as usual, preparing for lunch bookings and on the menu today is wild duck. It's game season, one of his favourites, but this year is different and when he comes on the phone, he's every bit as passionate about saving the Scottish restaurant industry as he usually is about what he puts on the plate.
The multi-award winning chef proprietor, ginger curls familiar from TV from appearances on BBC's Saturday Kitchen and The Great British Menu and UKTV Food's Market Kitchen, along with wife Michaela runs The Kitchin fine dining restaurant, Scran and Scallie gastropub, Southside Scran bistro, all in Edinburgh, and The Bonnie Badger hotel restaurant pub with rooms and garden in Gullane, East Lothian.
Like all restaurateurs, the Kitchin team has felt the impact of Covid and at The Kitchin it's sit-in only until 6pm, while the Michelin Bib Gourmand-winning Scran and Scallie in Stockbridge which is also serving until 6pm, is doing online orders and deliveries, as is The Bonnie Badger. Sister restaurant Castle Terrace closed permanently in June and Southside Scran is mothballed for now.
Tom Kitchin's Mallard En Croute is one of the dishes featured on our Scotsman Christmas Recipe Cards.
Despite it all, Kitchin recently had something to smile about, winning The Catey's 2020 Chef Award and for a moment he pauses to reflect.
"I was humbled," he says. "Every award is a great achievement and you're proud, but this one is very special because it's awarded by people in the industry. It's a UK title as well, so it's great for us and it's great for Scotland.
It's a gratifying moment in what has been a long year in hospitality as, like everyone else in the industry, the Kitchins and their staff cope with lockdown and restrictions.
"We've only got the three restaurants just now," he says. "Scran & Scallie and The Kitchin in Tier 3, and they are operating - we opened as soon as we could and take on the challenges of the restrictions - so we're closing at 6pm with no alcohol sales, and offering delivery service from Scran & Scallie.
Tom Kitchin in conversation with First Minister Nicola Sturgeon
Meanwhile Bonnie Badger in East Lothian is open and was moved into Tier 2 in the latest changes.
"You have that moment of 'Yes! We're in Tier 2'," he says, "then of course the travel restrictions are even worse. So as much as the people of East Lothian have been amazing, it throws up different problems because people travelling for the weekend or a night are often in different tiers. But I'm not here to whinge, everyone's got wounds, everyone's hurting…"
He's not here to whinge but as one of the biggest names in hospitality he has a voice and a platform which he's keen to use to champion the industry he loves.
"It's very, very difficult right now and I'm really concerned about our industry and suppliers. It's really worrying because hotels and restaurants are the lynchpin. If they close, it's a knock-on effect with suppliers and farmers. Some of the suppliers are working at ten percent of what they were last year and for farmers, the suppliers are not buying the livestock, but it needs fed and can't be killed."
Kitchin has long been a champion of local suppliers in his restaurants, books and media appearances and credits the quality of our produce with the revolution that has taken place in Scottish hospitality in recent years.
"Local suppliers are really why we've come so far as a nation. We're not talking about massive farmers who are supplying supermarkets, we're talking about wee individual farmers, Peelham Farm, Castle Game, Welch Fishmongers, people like that. And the fear in the suppliers eyes... because if the restaurants are not trading, it doesn't work."
While he praises the furlough scheme, he fears it isn't enough, especially for smaller businesses who may not be able to weather the storm.
"The furlough scheme is incredible for the staff, of course, but as a restaurateur and business the furlough is very challenging because you've got no money coming in but you are still paying rent, rates, overheads, national insurance and pensions. That's why businesses are closing, and there's a knock-on effect."
What Kitchin would like to see is less of a one-size fits all approach to hospitality restrictions while adhering to covid precautions.
"We understand we need to work within restrictions but we need to keep the chain moving, and - I can only talk about my own restaurants - if we don't have dinner service or alcohol sales, it's not, and that means people are going to lose their businesses and jobs."
"All of hospitality is under the same umbrella and I don't understand that. Restaurants are a controlled, safe environment, so are hotels. You have your temperature taken, do track and trace, wear a mask, are taken to your table, sit with the person in your bubble, wear a mask to go to the toilet, when you leave your table is disinfected."
What, more specifically, would he like to see the government doing to "keep the chain moving"?
"Even if you're only allowed to come with your own household but could have alcohol, that would help. If we're NOT allowed alcohol, why can't we stay open till 11 pm to generate business from the evening trade? Because the evening trade is 70-75% of daily takings, and with no alcohol sales…," he says and sighs.
Another issue is the changing restrictions from full lockdown to tiers system, and the movement of areas within tier categories.
"When restaurants are opening then closing - and I can only talk about how much it costs in my different restaurants, between £2,500 to £4,500 to close the business, the same again to re-open - think of those poor restaurants in Midlothian, closed because they were in Tier 3, thinking they're going into Tier 2, buying the stock, bringing staff back from furlough, then it changes."
For Kitchin the easing of restrictions for Christmas doesn't make much difference to the long-term damage currently being wrought on the industry.
"Everyone's talking about Christmas, but for us in hospitality it's not about Christmas, it's about the build-up. We've lost everything this year already: festival, summer, tourists... No-one's making reservations for Christmas because they can't plan ahead. Imagine wee hotels in the country, on the West Coast, up north… it's very difficult."
"I'm not here to whinge, we understand we need restrictions, and I'm not here to be political in any shape or form, I'm just here to talk about my industry and how worrying this is, and this is DEEPLY, DEEPLY concerning now.
"From day one as an industry we've dealt with everything in a responsible way but the restrictions are so severe. We need something to be able to pass on to keep it moving because there are a lot of young people working in hospitality and there are going to be a lot of young people out of work. People talk about the effect on mental health, well the mental health situation is happening NOW."
The emotional trauma and the effects are something that Kitchin has seen first-hand in his own kitchens, among his own staff - where numbers have gone from 240 to 140 as a result of Covid.
"I had to make 100 people redundant within my company. A hundred people, phoning them up personally and telling them... having people crying down the phone... and it's just… That's the worst thing I've ever had to do in business. Absolutely," he says quietly.
"I'm not being political, I'm only saying we understand we need to work within the restrictions to curb this virus, but we also need to keep the economy moving a little bit please, please, please, because Scotland has come so, so far."
Like the rest of us Kitchin knows he won't be getting everything he wishes for this Christmas, but when talk turns to his own family's festive plans, he brightens. With a house full of four children (twins Lachlan and Logan, seven), Axel 10, and Kasper 12, it's beginning to feel a little bit like Christmas and with The Kitchin closed on December 25th, Kitchin will enjoy the day off.
With a Swedish mum and a Scottish dad there are plenty of traditions to be enjoyed by the young Kitchins, not least the celebration of Christmas twice - once Swedish-style on the 24th and again the next day.
"Christmas in our house is always a big occasion and there's a lot of excitement already. Michaela's Swedish Christmas involves cured fish - herring, and her gravadlax recipe with a special honey mustard sauce that I can't make as good as mum. And we do these crazy potatoes, like potato dauphinoise but cut into matchsticks, with anchovies. There's cured fish, herring, schnaps, ham, and we all sing really funny songs that we pretend we know the words to," he says and laughs. "And then on Christmas Day there's my sister and all the family, and of course it's magic."
Growing up in the Kitchin household, it would be surprising if the boys didn't like to help out with the cooking occasionally.
"They like getting involved and then they make a mess, yeah," he says, "but they're still scarred from my lockdown videos," he says referring to earlier this year when they joined him to cook online, giving a glimpse of a more relaxed Kitchin, singing along with his kids as they chopped, the family dog curled up on a cushion.
"I enjoyed the first few…" he laughs. "Naw, it was good. It was funny and there was such lovely feedback from families who were getting their kids to cook. In that crazy time of lockdown doing something positive like learning to cook, I thought that was beautiful, really nice."
While some children benefited from cooked-from-scratch meals during lockdown, Kitchin is quick to point out that for many that wasn't the case. "There are a lot of kids, who WEREN'T getting home cooked meals."
Children's nutrition is a subject he feels very strongly about and tries to make a difference locally as an ambassador for The Spartans Community Football Academy, a football club that is also a social enterprise and charity that delivers youth work, education and health and well-being programmes in North Edinburgh.
"Anything to do with food and kids and sport is a passion of mine and I work really closely with Spartans. I'm in awe of the incredible work they do with kids in places not too far from the restaurant, Muirhouse, Pilton...they go into schools and work with kids, offer breakfast clubs, refugee clubs, summer holidays, an incredible amount."
Kitchin also works with The Citadel Youth Centre, a voluntary organisation doing community based youth work across the road from his Leith restaurant.
"It's something I've always been aware of, that you have this prestigious, glamorous Michelin-starred restaurant in Leith and 100 yards away you have The Citadel. You couldn't have two more contrasting worlds. "How do we bring them together? We've done some great stuff like dinners at The Citadel and kids have come to the restaurant to learn watering and cooking and it's just brilliant. Kids are amazing, they want to learn new skills, they want to taste new things and it's beautiful."
"I try to concentrate on my patch, people that I see daily, and I want my own kids to know they're very lucky; where they live, the life they have, that a mile down the road it's not so lucky."
With four football mad sons, the Kitchins are a five a side team and often found kicking a ball about outside.
"Is there anything more frustrating than a kid kicking a football in the house? he says. "So, four boys, me in goals, and mum's not bad either. I'm not a good goalie, but I love running, gym, PT, squash, badminton, anything.
"I think exercise is more important than ever, it's got me through this period without a shadow of a doubt. I'm always saying to my staff, 'you've got to get out, be active, it clears your mind, the world's a better place after doing exercise.'"
Kitchens are often a pressure cooker environment and with the hospitality industry having its worst year ever, does the chef think we have learnt any long-term lessons through Covid?
"I think we've all been guilty of maybe not being kind enough, of taking things for granted and we've all learned great moral lessons from this whole experience. I can certainly feel that in the friendship and spirit of camaraderie in the hospitality industry. It's broken down so many walls because we're all in it together. It's not about I'm better than you or you're better than me, we're one industry, we love to provide, look after people, we're an industry that cares. We want to make people happy, the joy of hospitality, that's what it's all about.
"So in the restaurant we're trying to look after everyone, keep people's spirits up. They've never been so fit, my chefs. They're out running, exercising, which was never associated with hospitality and chefs before. It was always long hours and work hard, play hard," he laughs. "But they're doing great, I'm really proud of them."
Now 43, Kitchin has had a long career working in world class kitchens and the benefit of the wisdom of chefs such as Alain Ducasse and Pierre Kaufmann. His own advice to youngsters, even without the challenges of Covid, is to work hard and keep going.
"You can achieve whatever you want to achieve. Hard work opens so many doors. I always say to chefs, I don't care where you come from or where you've worked, it's about that glint in the eye, that determination to succeed.
"I remember as a young chef when you have a bad day it's the end of the world, but really the next day was a better day - that's how you overcome those bad days. If you push yourself the bad day will become a good day."
For Kitchin this philosophy also applies to Covid and the place we find ourselves in at the moment.
"We need to keep fighting, we can't give up. I'm saying that daily, speaking with restaurateurs, chefs and suppliers because a lot of people are fed up, broken, tired - with the daily changes that hospitality has gone through – and they just don't see a way out.
"What I'm saying is 'don't give up, we're gonnae win this, we HAVE to keep going. We're not here to make a profit, we're not here to make money, we are literally here to get through this with as many staff employed as possible, businesses and suppliers intact. That is the goal. And I hope we'll be better people, better employers, better humans, We have to look for the positives. We have to."
One thing's for sure, we'll all be better cooks after this.
"Absolutely! And that's brilliant," he says.
But he wouldn't be Tom Kitchin if he was content to leave it there.
"Of course we can always be better."
Credit: Tom Kitchin is one of the chefs on our Scotsman Christmas Recipe Cards with his Mallard En Croute.
The Kitchin, 78 Commercial Quay, Leith, Edinburgh EH6 6LX, thekitchin.com, @TheKitchin: Scran and Scallie, 1 Comely Bank Road, Stockbridge, Edinburgh EH4 1DR, scranandscallie.com, @ScranandScallie: Southside Scran, 14-17 Bruntsfield Place, Edinburgh, EH10 4HN, southsidescran.com, @southsidescran: The Bonnie Badger, Main St, Gullane, EH31 2AB, bonniebadger.com, @bonniebadgerg
A message from the Editor:
Thank you for reading this article. We're more reliant on your support than ever as the shift in consumer habits brought about by coronavirus impacts our advertisers.
If you haven't already, please consider supporting our trusted, fact-checked journalism by taking out a digital subscription.