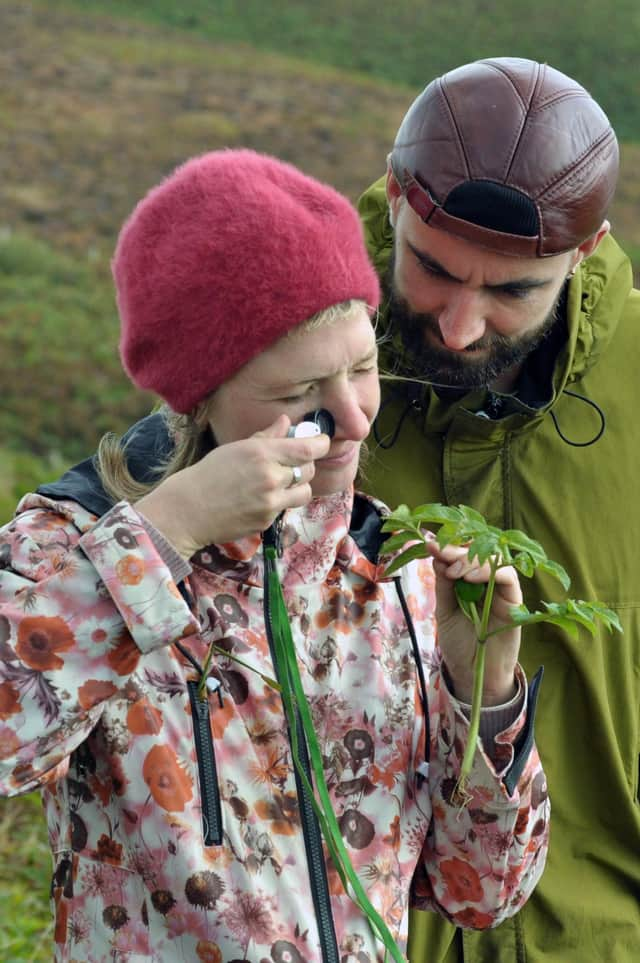 Foragers explore the rich, wild coastal landscapes on Orkney as part of Foraging Fortnight 2019
Foraging, the practice which hails a collective return to sourcing fruit and vegetables from our local habitats and land, has grown in popularity over recent years - particularly in Scotland, where our great expanse of rich, fertile wildlife offers great potential for finding delicious wild produce. It comes as no surprise that organisations and individuals across Edinburgh and central Scotland are trying to encourage us to turn back to nature and seek more sustainable methods of farming and cooking.
With new enterprises like Yarrow Cookery School in Leith looking to meet demand for locals in search of fun, productive activities by using naturally sourced and foraged ingredients, there are plenty of forays into foraging taking place in and outwith Edinburgh. Iain Nicholson is a chef based in West Lothian who hopes to change the food production and sourcing game for other chefs with his business, No Bad Food Lab.
Iain is championing foraging as being a great way to source food sustainably and create dishes celebrating the Scottish natural climate. While his work as a chef has seen him travel the world, it is Scotland's landscape and resources Iain wants to promote and celebrate on his home soil.
Chef Iain Nicholson is behind 'No Bad Food Lab', the organisation hoping to highlight the possibilities of cooking with locally-sourced and foraged foods to celebrate the Scottish climate and its stunning landscapes.
In defining the No Bad Food Lab manifesto on his website, Iain puts his mission across as one 'to invoke a sense of time and place in the food we serve' by creating dishes using ingredients and food 'whose characteristics are particularly found in our climates, landscapes and waters' that reflect Scotland's seasonal changes and distinct flavours.
I spoke to Donna Strachan, who runs a popular Facebook page 'Foraging in Scotland' to highlight the wonders of foraging in Dalkeith. As a youth worker employed at Big Wild Life, an outdoors education hub Donna runs with partner Eve Reid in Dalkeith, Donna enjoys putting an emphasis on foraging as a way to encourage both healthy eating and living. "It's a great way of getting kids to eat their healthy greens" says Donna, adding that the sense of adventure accompanied by foraging adds a layer of fun and excitement to searching for edible fruits and vegetables outdoors that are rich in vitamins.
Having moved to Edinburgh from Australia some 15 years ago, Donna has loved learning about how to make the most of the Scottish natural landscape through foraging. "Foraging just started off as a passion," says Donna "I was really curious about what you could eat naturally and survive off" in Scotland's abundance of wildlife. "I started collecting books and finding out as much as I could about foraging, and have kids too so began to teach them at the same time as I was learning."
Her job as a youth worker has allowed her to demonstrate to local kids just how exciting the outdoors can be, giving them skills to understand the natural world and appreciate the wonders of Scotland's natural habitats. "I just found it absolutely fascinating to discover the sheer amount of things that you can forage and eat locally" Donna adds, speaking of her burgeoning interest in foraging which quickly became infectious, with friends and family asking her to share her insights and offer foraging tours.
Foraging Fortnight festival in Orkney, held virtually this year, is just one of the endeavours to demonstrate the sustainability and accessibility of foraging safely.
The popularity of the Foraging in Scotland page on Facebook, where Donna snaps pictures of vivid varieties of mushrooms, nuts and berries found on her tours of local spots like Dalkeith Country Park, reflects a trend of Scots bonding over foraging groups and pages online – with one public group for Foraging in Edinburgh and Lothian boasting over four and a half thousand members. As people from across Scotland come together to share information and safety guidelines, identify foods found while foraging and establish networks in different parts of the country, it is clear that people are in search of a sustainable way to enjoy and reconnect with their natural environments in lockdown.
A historic, sustainable activity with roots all over Scotland, foraging was recently highlighted as a way to support and strengthen rural communities beyond their urban counterparts in the central belt. Orkney is one such area that has benefitted from the launch of LEADER-funded festival Foraging Fortnight last year. In navigating the challenges posed to holding large events by the coronavirus pandemic, this year's Foraging Fortnight festival took place online to great success – attracting a wide range of viewers from all across the world by broadcasting events on platforms like Zoom and YouTube.
While primarily based in Orkney as part of Orkney International Science Festival, the event also shone a light on the rife opportunities for foraging in Moray, Fife, Lanarkshire and Forth Valley. For instance, attendees could join Scottish chef star Wendy Barrie for 'Foraging, Fish and Fife Coast Tales' from her Nordic kitchen in Aberdour, where she held a cooking demonstration using locally foraged herbs and berries.
Dr Howie Firth, one of the event managers for Foraging Fortnight, said that "the popularity of foraging has been on the rise with an increasing awareness of the benefits of getting out and exploring nature." In nodding to the success of this year's virtual Foraging Fortnight, which saw events clock up over 11,700 views in one month, Firth added that "this year in particular, we've seen many people engaging with their natural surroundings to focus on both their physical and mental wellbeing – and of course, people have always foraged for food too and enjoyed the benefits of a seasonal harvest."
With the pandemic encouraging us all to support our local businesses and shops as much as we possible, it is perhaps unsurprising that more of us are looking to the possibilities for sourcing food sustainably through our beloved, beautiful local habitats.