Great coffee on the go: Vintage, eco-friendly, mobile coffee bar on a bike is ready to hit Edinburgh streets
A beautiful eco-friendly vintage mobile bike café could soon be seen on the streets of Edinburgh if its enterprising owner gets the go-ahead from the city's council.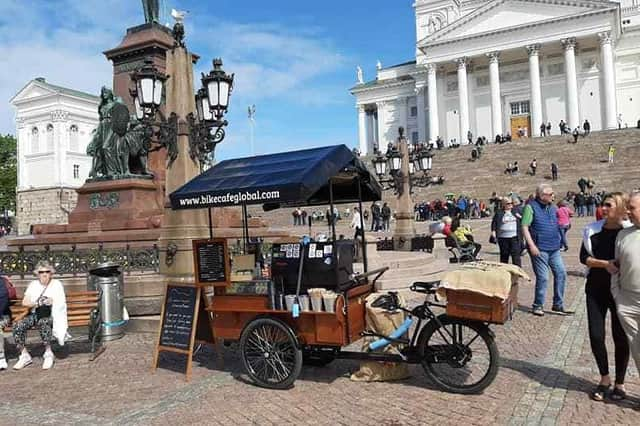 Mariola Kasprzak is no stranger to making great coffee – she and her husband have run The Painted Rooster restaurant, serving food, coffee and snacks in Melville Place in the West End for four years.
But they're now diversifying, investing in a hand-crafted mobile coffee café which they want to take to the city's streets – they're just hoping Edinburgh Council can grant them the street traders' licence they need.
What is the Edinburgh Bike Café?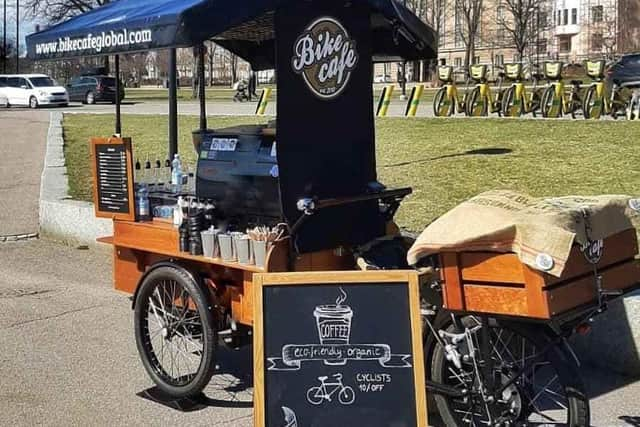 The bike is a purpose-built mobile café designed to be completely eco-friendly and self-sufficient, serving freshly ground coffee for up to 16 hours without the need for noisy or smelly generators.
Batteries power the bike and the coffee machine, grinder and fridge, making it very environmentally friendly. It can make all types of coffee – from a strong espresso, to a cappuccino or latte – also hot chocolate and will carry soft drinks, cold drinks and snacks, such as cinnamon buns.
After seeing the retro three-wheel mobile bike-cafés on the streets of their native Poland five years ago, they decided to find out a bit more. The unique concept came together in 2012 when the first one hit the streets in Poland. In 2014 it became a franchise and in 2016 began to expand globally.
There are now over 100 bikes throughout Europe and beyond – even in Saudi Arabia – which can be set up wherever they are needed, in offices, shopping malls, conference centres, parks, beaches and squares, festivals and events.
Mariola took delivery of her bike two weeks ago and is keen to get it out and about and bring style and excellent coffee, drinks and snacks to Edinburgh.
"I'm a coffee lover myself," she says. "So quality is very important". The beans are 100% Arabica, single-origin speciality coffees, grown responsibly in Cerrado Mineiro in Brazil and roasted by industry experts, say Bike Café.
The bike, which is hand-crafted and has a vintage look, with a stylish black-painted metal frame carrying the wooden 'café' part which incorporates a traditional coffee machine, water tank with filter, dirty water tank, fridge and coffee grinder.
Although Mariola has the restaurant she is keen to diversify – and the couple plan to have two or three bikes in the city.
Anyone wanting to sell to the public on the streets needs a licence but Mariola hopes the idea will be an attractive one to Edinburgh City Council.
"We believe that because it is so environmentally-friendly and has this beautiful retro-look that it is a perfect fit to be seen in some of the popular tourist spots and beauty spots of Edinburgh," she said.
The bike – and a trained barista of course – can also be hired for events, weddings, parties, businesses, Christmas markets, fairs, food events etc.
To find out more or to book the bike for your event please email Mariola on [email protected]