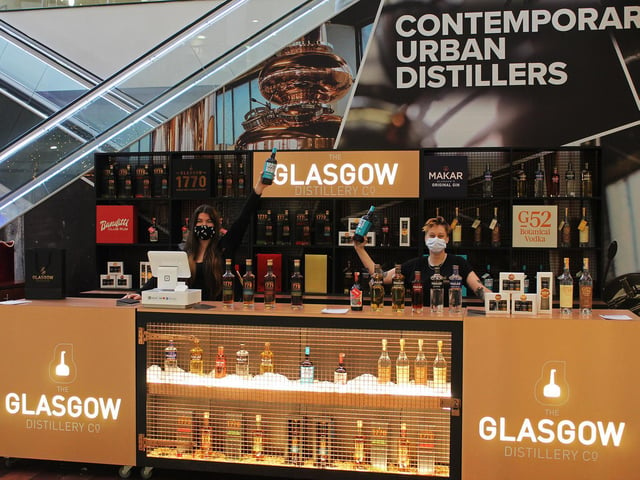 Picture: Glasgow Distillery
Alongside the distillery's multi award-winning Glasgow 1770 Single Malt Scotch Whisky Signature Range and the city's first ever gin brand, Makar Gin, the distillery will also be selling their Glasgow-spiced Banditti Club Rum, G52 Botanical Vodka range and the most recent addition to their portfolio, Malt Riot Blended Malt Scotch Whisky, all of which are handcrafted just a few miles away in their Hillington based distillery.
The shop is also offering a range of gift sets, glassware and merchandise as well as a complementary gift wrapping service.
The shop is open every day until Monday 30th December and offers Glaswegians the opportunity to 'try before you buy', with a knowledgeable team on hand to talk you through each spirit and recommend gift items for friends and family.
The news of the pop up shop comes as the distillery also announce some new and very exciting gift offerings which are now available to pre-order through the Glasgow Distillery website here, including a luxury whisky gift set containing each of the three Glasgow 1770 single malts in miniature form alongside some extremely festive Glasgow 1770 Single Malt Scotch Whisky Christmas crackers, also containing a Glasgow 1770 Single Malt miniature.
Coming very soon, the distillery will also offer a whisky personalisation service, which will allow you to gift the whisky lover in your life their very own bottle. Buyers will be able to personalise the bottle label as well as the gift carton label, all for no additional cost.
Liam Hughes, founder and CEO of The Glasgow Distillery, commented:
"We're thrilled to open our Glasgow city centre pop-up shop and announce some exciting new additions to our gifting range.
"We understand that whilst some people will be more likely to shop online this Christmas, some still like to visit a physical store. For this reason, we are happy to offer both options to our Glasgow based customers!
"All our offerings are available both online and at our physical shop, which has multiple health and safety measures in place to ensure the shopping experience is as safe as possible."