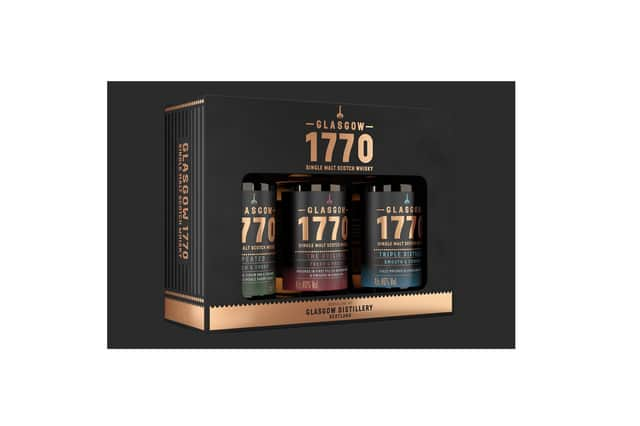 Picture: Glasgow Distillery
There's that moment of anticipation as you watch the bartender carefully removing the cork and pouring your dram.
And then there's that moment of enjoyment as you sniff, swirl, and taste the Scotch.
One of the many, many drawbacks of the coronavirus pandemic is how the restrictions have robbed so many of us of that opportunity to experiment and try something new.
Few of us want to invest in a whole bottle of whisky before we've tasted a dram first in a bar.
Glasgow Distillery has come up with a great way for whisky fans to try its range of single malts before they pick their favourite.
The distillery has released its Glasgow 1770 Miniature Selection Gift Set, which contains three 5cl bottles.
One is The Original, the distillery's maiden single malt, which was first released in 2018 and is their fresh and fruity style malt.
The second is the Peated expression, a rich and smoky single malt which was initially released last year.
And the third is the new Triple Distilled, a smooth and complex whisky which made its debut earlier this year.
"From the very beginning, the distillery's mission has been to bring single malt back to the city and to reinvigorate Glasgow's whisky scene. We've been hard at work over the last few years launching our Signature Range alongside several other premium spirit brands, and we were absolutely thrilled to end this year by picking up the title of Scottish Whisky Distillery of The Year at the 2020 Scottish Whisky Awards" says Sebastian Bunford-Jones, one of the team that introduces the world to the whiskies.
"We wanted to make a range that was accessible, with three very distinctive styles.
"There's a Glasgow 1770 whisky for everybody, whether you like the style of the Lowland, Speyside, or Islay whiskies."
The experimentation doesn't end with the Scotch selection set though.
The distillery has also unveiled its Makar Cask Aged Gin Bundle, which includes a Makar highball glass, one 50cl bottle of Makar Oak Aged Gin, one 50cl bottle of Makar Mulberry Aged Gin, and two premium Fever Tree ginger ale mixers.
Makar Gin was the company's maiden brand, which made its debut in 2014, just two years after founders Mike Hayward, Liam Hughes, and Ian McDougall launched their business.
The mulberry- and oak-aged gins demonstrate the distillery's innovative streak – not content with simply producing the award-winning classic juniper-led Makar Gin, the team has also experimented by placing its spirit in wooden casks, with delicious results.
Whether you want to experiment with whisky or with gin this Christmas, Glasgow Distillery has you covered.
The Glasgow 1770 Miniature Selection Gift Set is priced at £20 and is available from the distillery's website or from its pop-up shop in Glasgow's Buchanan Gallery, when restrictions allow, while the Makar Cask Aged Gin Bundle is priced at £44 and available here.