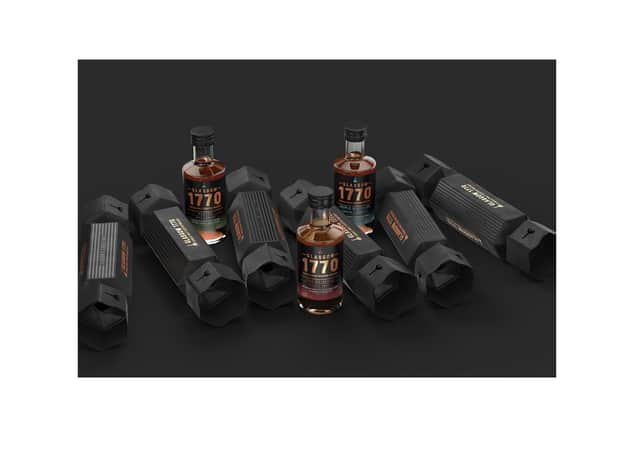 Picture: Glasgow Distillery
Then, the disappointment begins.
In amongst the garish paper hat and the awful Dad joke, you find the usual bits of rubbish.
Another clip-on moustache that falls off, another plastic frog that won't jump, another pencil sharpener that will work once before being chucked in the bin.
Glasgow Distillery may have just provided the answer to our Christmas dinner woes.
The distillery has released its Glasgow 1770 Single Malt Scotch Whisky Crackers just in time for the Christmas party season.
Each cracker contains a 5cl bottle of whisky, wrapped in classy black packaging with gold lettering.
You can choose from the three bottles in the distillery's core range – The Original, Peated, and Triple Distilled.
No more confused expressions and furrowed brows as guests try to work out what the strange gift might be inside the cracker.
Instead, watch as smiles of joy spread across their faces as they look forward to tasting their whisky.
Whether it's Christmas dinner with your support bubble or a socially distanced office Christmas party, the crackers are a great way to say a special "thank you" and to treat the people who have given you support during the past year.
"We've seen a lot of people choosing one of each expression for their crackers," explains Sebastian Bunford-Jones, one of the whisky experts at Glasgow Distillery.
"People have been buying them as stocking fillers, as well as to go on their tables for Christmas day.
"We've even been sent pictures of people who are putting them on their trees already as decorations."
Glasgow Distillery was founded in 2012 by Mike Hayward, Liam Hughes, and Ian McDougall.
They opened their distillery at Hillington the following year and released their Makar Gin – a Glasgow first – in 2014.
The following year, they began laying down the spirit for their first whisky.
Theirs was the first malt distillery to open in the city for more than 100 years.
The company adopted the name of The Glasgow Distillery Company, one of the city's very first licensed distillers, which began life at Dundashill in 1770 and which carried on operating right up until the start of the 20th century.
Glasgow 1770 Single Malt Scotch Whisky Crackers are priced at £6.50 each and are available from the distillery's website or from its pop-up shop in Glasgow's Buchanan Gallery, when restrictions allow.